Best of 1980s Baseball Replay
Standings
AL Batting
AL Pitching
NL Batting
NL Pitching
Team Batting
Team Pitching
Team by Team Stats
---
THE PLAYOFFS
---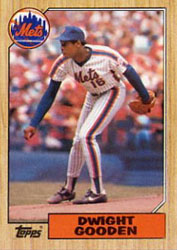 The 1986 New York Mets defeated the 1988 Oakland A's four games to one to win the Best of 1980s World Series. Dwight Gooden is named series MVP with a win in Game one, and 15 scoreless innings with 12 strikeouts.
Game one in New York pits Dave Stewart against Dwight Gooden. It is a good pitching duel as the Mets win 2-0 with Gooden striking out ten in the complete game victory. Keith Hernandez has two hits and an RBI, and Mookie Wilson hits a home run and steals a base. Game two sees Bob Welch against Ron Darling in another pitchers duel. The Mets win again by a 2-1 score. Darryl Strawberry steals two bases and scores a run, while Mookie Wilson drives in a run, scores a run, and steals another base. Carney Lansford has three hits in the loss for the A's who are having offensive struggles.
Out to Oakland for Game three, we see Bob Ojeda against Storm Davis. The Mets score four runs early and win 6-3 to take a three games to none lead in the World Series. Gary Carter homers and drives in three and Wally Backman collects two hits and two runs. Bash Brothers Jose Canseco and Mark McGwire both homer in the loss for the A's. Curt Young takes the mound in Game four as the A's try to avoid being swept. Canseco hits another home run, and Young out-duels Sid Fernandez to keep the A's alive, and headed back to New York. Game five sees another Gooden vs Stewart matchup, and this one is also excellent as the game is scoreless after six innings. A lengthy rain delay ensues, and when the game resumes, the A's take the lead on Canseco's solo shot off Roger McDowell. In the bottom of the 7th, the Mets get two runs on a pinch hit single by Tim Teufel to take the lead. In the 8th, the Mets add an insurance run on Kevin Mitchell's RBI single. Jesse Orosco is in for the save in the 9th, but faces the meat of the order. Canseco pops out, Dave Henderson strikes out, and after a pinch hit by Stan Javier, McGwire strikes out and the Mets celebration begins!
World Series Game 5: '86 Mets 3; '88 A's 1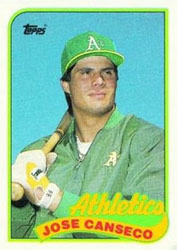 The Oakland A's defeated the 1984 Detroit Tigers four games to three to advance to the World Series and represent the American League. The Tigers take Game one by a 10-8 score as Dave Stewart and Dan Petry are both off. Johnny Grubb's three run home run proves to be the big hit. The A's pull even taking Game two by a 5-2 score as Bob Welch stays hot, beating Jack Morris. Carney Lansford's two run home run proves the difference. The A's take the series lead by winning Game three 4-2 as Storm Davis beats Milt Wilcox. Mark McGwire's two run double proves to be the big blow, as Dennis Eckersley earns the save. The Tigers come from behind in Game four, as Lou Whitaker and Kirk Gibson homer off Eckersley in the 9th in a 7-6 Tigers win, evening the series two games each. The A's take Game five as Stewart beats Petry. Carney Lansford hits a three run home run early, and McGwire's two run shot in the 9th wins it for Oakland. Facing elimination, Jack Morris takes the hill for Detroit and shuts down the A's 4-0. Kirk Gibson doubles in a pair of runs as we look forward to Game seven. It's Davis against Wilcox again at Tiger Stadium for all the marbles. Glenn Hubbard of all people hits a two run home run early. Darrell Evans ties the game late off Rick Honeycutt. In the 9th, Terry Steinbach drives in the go-ahead run off Willie Hernandez as Oakland takes a 4-3 lead. Eckersley is in for the save, and gets Dave Bergman to pop out to end the series. In a classic, Oakland beats the Tigers to advance to the World Series.
The New York Mets defeated the 1985 Los Angeles Dodgers four games to two to advance to the World Series as the National League's representative. The Dodgers steal Game one in New York as Orel Hershiser beats Ron Darling 2-1 in a fine duel. Mike Marshall's two run home run in the 9th off Jesse Orosco blows the game. The Mets bounce back in Game two as Bob Ojeda is on, and New York rolls 8-1 led by Gary Carter's thee run home run. Out west for Game three, the Mets prevail 4-3 as Darryl Strawberry singles home the go-ahead run, and Roger McDowell earns the save. Game four pits Dwight Gooden against Bob Welch, and the Mets win again by a 4-2 count. Lenny Dykstra's 11th inning home run breaks a tie and puts the Mets one game from the World Series. Game five sees Orel Hershiser best Ron Darling as the Dodgers stay alive with a 5-2 win. Actually, the Mets lead 2-1 until the 8th, where Mike Scioscia and Ken Landreaux hit home runs to push the Dodgers to victory. Game six in Los Angeles sees Bob Ojeda against Fernando Valenzuela. The Mets take the lead early and never trail in a 4-2 win as Keith Hernandez collects two RBI. The Mets win the series four games to two, and advance to the World Series.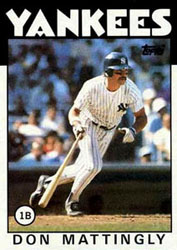 The Detroit Tigers defeated the 1985 New York Yankees three games to one to advance to the American League Championship Series. Darrell Evans' two run home run powers the Tigers to a win in Game one as Dan Petry earns the win. A marque matchup in Game two as Ron Guidry faces Jack Morris, but this one is no pitchers duel. The Yankees earn the win 6-5 in 10 innings as Ron Hassey's home run off Doug Bair proves the difference. Milt Wilcox shuts down the Yankees in Game three as the Tigers get a 7-1 win. Dave Bergman homers twice and collects three RBI, while Lance Parrish and Kirk Gibson also hit two run home runs. Juan Berenguer faces Dennis Rasmussen in Game four. Barbary Garbey hits a three run home run putting Detroit up early. Ron Hassey strikes again with a big home run cutting the lead to one. The Yankees respond on home runs by Don Mattingly and Hassey's 2nd of the game (3rd of series). We go to extra innings tied 6-6. Kirk Gibson hits a solo HR off Rich Bordi in the 12th putting Detroit ahead. The Tigers flirt with disaster as Don Baylor gets to third with no outs, but Roger Mason gets out of the jam, sending Detroit to the next round.
The Oakland A's defeated the 1985 Toronto Blue Jays to advance to the American League Championship Series. Dave Stieb shuts out the A's 2-0 in Game one in Oakland, beating Dave Stewart. Game two sees the Blue Jays roughed up by the Oakland offense (Carney Lansford three RBI) and their own mistakes (three errors in one inning), as Bob Welch earns the win 9-3. Back in Toronto for Game three, Storm Davis beats Jimmy Key, as Jose Canseco hits a two run home run and Dave Henderson adds a solo shot. Dennis Eckersley earns the save. Game four pits Todd Burns against Jim Clancy, and it's a slugfest. The A's prevail 10-6 with Dave Parker leading the A's to a big lead early that they never relinquish. The rematch of Stieb vs Stewart never happens as the A's move on to play the Tigers in the ALCS.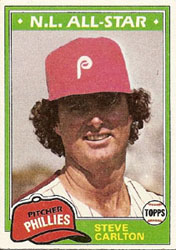 The New York Mets defeated the 1980 Philadelphia Phillies three games to two to advance to the National League Championship Series. With Steve Carlton facing Dwight Gooden in Game one, the Phillies win in New York by a 3-2 count, with Carlton taking the win, and Tug McGraw the save. Roger McDowell gets out of a jam in the 9th in Game two to preserve a 5-4 Mets win. Game three sees Darryl Strawberry homer for the 2nd straight game as Bob Ojeda earns the win putting the Mets up two games to one. The desperate Phillies send Carlton to the hill on short rest for Game four, and it pays off. Pete Rose' RBI single in the 9th gives Philadelphia a 3-2 win and forcing Game five. Back at Shea, it's Dwight Gooden vs Larry Christensen, and amazingly, this game goes scoreless to the 13th where Gary Carter hits a series winning two run home run off Randy Lerch.
The Los Angeles Dodgers defeated the 1985 St. Louis Cardinals to advance to the National League Championship Series. Game 1 features John Tudor vs Bob Welch. Tudor is off, and the Dodgers get the win by a 6-2 score. St. Louis bounces back taking Game two as Joaquin Andujar duels with Orel Hershiser. This one however goes extra innings where Darrell Porter's 11th inning home run is the difference as the Cards even the series. Game three also goes extra innings, where Mike Marshall's home run off Bill Campbell puts the Dodgers back ahead 2-1. Game four in St. Louis is another dramatic one. The Dodgers take a 2-1 lead into the bottom of the 9th ready to clinch the series, but Jack Clark, facing Tom Niedenfuer (of course!), rips a game tying double. Tom Lawless singles home the winning run one batter later and the series is tied and going back to L.A. for Game five. Bob Welch beats John Tudor again, sending the Dodgers to the NLCS, as Pedro Guerrero and R.J. Reynolds each collect a pair of RBI.
---
LEAGUE FORMAT
---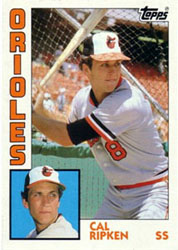 My best of 1980s baseball league uses the general idea of picking each franchise's best team from 1980-1989. Defining what is a franchise's best team isn't so clear, as sometimes a team with a great regular season record my not win a title, when another year's team is statistically inferior, but does win the title (think 2006 Cardinals vs 2004 Cardinals). In some cases, when there were numerous candidates, I simply picked which team had the best collection of players I wanted represented in the league. As with the real 1980s, the National League has two divisions (East and West) with six teams each, and the American League has two divisions (also East and West) with seven teams each. No 1981 teams were allowed due to being a strike-shortened season.
Teams play a full 162 game schedule, no cancellations. The playoff format is that four teams from each league make the post-season. The division winners are seeded 1 and 2, with best record determining placement. The next two best records, regardless of division, are wildcards seeded 3 and 4. In the first round of the playoffs (best of 5), 4 plays 1, 3 plays 2 in a 2-2-1 format. The next two rounds (Championship Series and World Series) are both best of 7, with the team with the better record having home field advantage. I use a 2-2-1-1-1 format in all seven game series. Tie-breakers are typically settled based on head-to-head record, divisional record if applicable and run differential.
---
THE TEAMS
---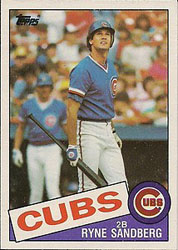 The 1986 New York Mets won the NL East with a 95-67 record after a season-long battle with the Phillies and Cardinals. The Mets pitching staff was the primary reason for their success as Dwight Gooden (21-8, 2.52 ERA, 210 K's), Bobby Ojeda (15-8, 2.15 ERA), Sid Fernandez (16-7, 2.19 ERA, 201 K's) and Ron Darling (12-10, 2.72 ERA) all had fine years. Darryl Strawberry (30 HR, 107 RBI), Keith Hernandez (.311, 88 runs) and Lenny Dykstra (.321, 90 runs, 37 steals) led the offensive attack. The 1985 Cardinals finished tied with the Phillies for second (90-72), but win the tie-break via a superior divisional record. Arguably the fastest team ever, the Cards offense featured Willie McGee (.336, 105 runs, 60 steals), Vince Coleman (.290, MLB best 111 steals, 100 runs), Tom Herr (.292, 102 RBI) and Jack Clark (29 HR, 105 RBI) and the incomparable defense of shortstop Ozzie Smith. The pitching was led by John Tudor (22-10, 2.48 ERA), Joaquin Andujar and Danny Cox (16 wins each).
The 1980 Phillies (90-72) led the division for much of the year, but a late slump would cost them the title. As you might expect, third baseman Mike Schmidt (.283, NL best 45 HR and 125 RBI) and ace pitcher Steve Carlton (22-7, NL best 1.97 ERA and 283 K's) led this team. Other players with fine years included Pete Rose (.285, 90 runs) and reliever Tug McGraw (27 saves). Despite struggling early, the 1984 Chicago Cubs finished fourth with a 80-82 record. The mid-June arrival of Rick Sutcliffe spurred their comeback (13-3, 1.84 ERA). Second baseman Ryne Sandberg had a fine year (NL best .339 average, 18 HR, 107 runs, 83 RBI, 32 steals) while Keith Moreland added 87 RBI, Bob Dernier 97 runs and 51 steals and closer Lee Smith recorded 22 saves.
The 1982 Pittsburgh Pirates finished fifth with a 77-85 record and were a surprisingly fun team. The offense featured Bill Madlock (.302, 84 RBI), Jason Thompson (22 HR), Johnny Ray (180 hits) and Omar Moreno (66 steals) while the pitching was solid with John Candelaria (11-10, 2.40 ERA), Rick Rhoden (great hitting, 259 innings), Don Robinson (14 wins, 235 innings) and closer Kent Tekulve had 28 saves. The 1982 Montreal Expos(75-87) were in playoff contention for much of the year before a horrible late season collapse sunk them to last place. Numerous players had fine years, most notably catcher Gary Carter (33 HR, 106 RBI) who was also MVP of the All Star Game. Andre Dawson (.323, 21 HR, 98 runs, 40 steals), Tim Wallach (29 HR, 92 RBI), Al Oliver (.315, 85 runs, 83 RBI) and Tim Raines (88 runs, 80 steals) led a strong offense, while Steve Rogers (19-11, 2.51 ERA, 198 K's) led the pitching. Despite 21 saves, closer Jeff Reardon had a horrible year.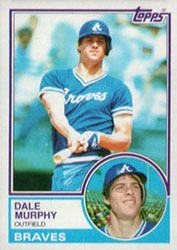 The National League West was a battle of mediocrity for most of the year, with the division leader rarely above .500 until the Dodgers pulled away in September. The 1985 Dodgers won the division with an 85-77 record, led by a formidable pitching rotation featuring Orel Hershiser (19-10, 2.24 ERA), Fernando Valenzuela (18-12, 2.89 ERA, 189 K's) and Bob Welch (12-5, 2.38 ERA). Tom Niedenfuer led the bullpen with 22 saves. The offense featured Mike Marshall (.299, 24 HR, 94 RBI), Pedro Guerrero (23 HR, 94 RBI) and Greg Brock (23 HR). The Astros and Giants tied for second place with 81-81 records. The 1986 Astros started slow but made a late push to threaten the Dodgers. Another solid pitching rotation featured Mike Scott (19-9, 2.31 ERA, 259 K's), Nolan Ryan (14-14, 2.76 ERA, 222 K's) and Bob Knepper (17 wins) as well as MLB save leader Dave Smith with 34. The offense was supplied primarily from Glenn Davis (30 HR, 100 RBI), Kevin Bass (.296, 78 runs, 78 RBI) and Bill Doran (41 steals).
The 1989 Giants felt like a one-man wrecking crew for much of the year as Kevin Mitchell had an outstanding season before a late slump cost him the HR and RBI title. Mitchell hit 42 HRs and collected 124 RBI. Will Clark (.319, 21 HR, 101 runs) and Brett Butler (38 steals) were the other offensive stars. Scott Garrelts (13-10, 2.51 ERA) and Rick Reuschel (13-12, 3.16 ERA) led a pedestrian pitching staff. Relievers Craig Lefferts and Steve Bedrosian combined for 27 saves. Fourth place went to the 1984 San Diego Padres (76-86). Tony Gwynn (.332, 88 runs, 38 steals) led a fairly average offensive attack, while Kevin McReynolds (.315, 19 HR) and Alan Wiggins (76 steals) also had good years. Lacking a true ace, the Padres most effective starter was Mark Thurmond (12-8, 2.68 ERA), while closer Rich Gossage collected 17 saves.
The 1986 Cincinnati Reds (72-90) actually held the division lead for part of the season before a late summer collapse. Stars Eric Davis (26 HR, 94 runs, 73 steals) and Dave Parker (90 RBI) both had good years, but it was Buddy Bell (.292, 22 HR, 86 RBI) who maybe had the best season. The pitching staff was one of the league's worst, with no starters among league leaders in ERA or wins. Closer John Franco did earn 22 saves. The 1982 Atlanta Braves (70-92) finished sixth. Bright spots included Dale Murphy (38 HR, 110 RBI, 103 runs), Bob Horner (28 HR, 88 runs) and Claudell Washington (38 steals) on offense. Pitcher Rick Camp was a surprise winning 13 games, and closer Gene Garber did collect 19 saves, but the rest of the pitching staff was below average.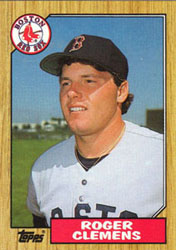 The 1984 Detroit Tigers (97-65) won the AL East after a long battle all summer with Toronto, finishing with the best record in the entire league. A balanced attack featuring Alan Trammell (.318, 88 runs), Lance Parrish, Kirk Gibson and Lou Whitaker formed one of the league's best offenses, while pitching was equally strong behind Jack Morris (20-13, 2.92 ERA), Dan Petry (15 wins) and Milt Wilcox (16 wins) as starters, and ace reliever Willie Hernandez (30 saves) in the bullpen. The 1985 Blue Jays finished 94-68, earning a wildcard berth. Dave Stieb (18-10, 3.08 ERA) had a fine year with support from Doyle Alexander (250 innings) among starters, and a bullpen featuring Bill Caudill and Tom Henke (36 saves combined). The offense was spectacular at times with Jesse Barfield (.302, 33 HR, 109 RBI, 113 runs) and George Bell (115 RBI) standing out most. Lloyd Moseby (39 steals) and Damaso Garcia (38 steals) added speed, while shortstop Tony Fernandez was solid in all phases.
Numerous teams battled for the final wildcard berth all season, but the 1985 Yankees prevailed finishing 87-75. A star laden lineup featuring Don Mattingly (.321, 32 HR, 146 RBI, 114 runs), Rickey Henderson (.306, 25 HR, 125 runs, AL best 84 steals) and Dave Winfield led a formidable offense, while Ron Guidry (19-10, 3.57 ERA), Joe Cowley (14-4, 3.61 ERA) and Dave Righetti (26 saves) had good years pitching. The 1986 Red Sox (82-80) edged Milwaukee for fourth place, largely on the pitching of Roger Clemens (22-6, AL best 1.93 ERA, 256 K's). The rest of the pitching was very suspect, with the exception of Bruce Hurst (16-6, 2.81 ERA, 195 K's). The offense was strong, with Wade Boggs (.332, 120 runs), Jim Rice (.322, 108 RBI), Marty Barrett (.307), Dwight Evans and Bill Buckner all having fine seasons.
The 1982 Milwaukee Brewers (81-81) were another team that was very strong offensively, but lacked top pitching. Robin Yount (.318, 25 HR, 113 RBI, 117 runs), Paul Molitor (.312, 25 HR, 128 runs, 45 steals) and Ben Oglivie (36 HR) had excellent seasons, while Pete Vuckovich (15-14, 2.90 ERA), Mike Caldwell (256 innings) and Rollie Fingers (15 saves) had good years pitching. Finishing sixth was the 1983 Baltimore Orioles (75-87). The Orioles started slow, spending much of the first half in last place, but a strong second half led to a more respectable finish. Eddie Murray (34 HR, 116 RBI) and Cal Ripken Jr. (109 RBI) had predictably good seasons, while Scott McGregor (17-10, 3.33 ERA), Storm Davis (16-12, 3.53 ERA), Mike Boddicker (12-10, 3.62 ERA) and Tippy Martinez (20 saves) all had good seasons as well. The 1986 Cleveland Indians (69-93) had a potent offense, but their bad pitching relegated them to last place. Joe Carter (.306, 30 HR, 122 RBI, 103 runs) had a banner season, while Julio Franco (.320, 92 runs), Brook Jacoby (.305, 85 RBI) and Pat Tabler (.305) all were among batting leaders. Speedy centerfielder Brett Butler collected 38 steals and scored 102 runs. No Indians pitchers placed among ERA or wins leaders, but Tom Candiotti did pitch 269 innings, striking out 212 while closer Ernie Camacho had 17 saves.
The 1988 Oakland A's (94-68) battled Chicago for the division lead for the first half of the season before pulling away and winning comfortably. A balanced attack featuring Jose Canseco (.311, AL best 47 HR, 142 RBI, 112 runs and 37 steals), Mark McGwire (35 HR, 113 RBI) and Dave Henderson (.304, 25 HR, 98 RBI) on offense was complimented with pitching that included Dave Stewart (20-11, 2.78 ERA), Bob Welch (15 wins) and Storm Davis (12-9, 3.46 ERA), while closer Dennis Eckersley overcame a rough start to finish with 29 saves. The 1983 Chicago White Sox (85-77) just missed out on a wildcard spot and had a generally good season. Carlton Fisk (35 HR) had numerous clutch hits, while Greg Luzinski (33 HR) Harold Baines and Rudy Law (71 steals) also had fine years. LaMarr Hoyt (19-15, 3.56 ERA) had a fine season, while Rich Dotson (15 wins) and Floyd Bannister (208 K's) were also adequate. Rod Barojas and Dennis Lamp combined for 29 saves in the bullpen.
Also just missing the playoffs were the 1982 California Angels (84-78). An explosive offense featured Doug DeCinces (.315, 33 HR, 112 RBI, 100 runs), Reggie Jackson (36 HR, 118 RBI), Brian Downing (105 runs), Don Baylor (103 runs), Bobby Grich and Rod Carew. The pitching was not so good, but Geoff Zahn (17 wins) and Mike Witt (15 wins) had good years. The 1985 Kansas City Royals were yet another wildcard contender, finishing 83-79. While the offense was below average, it did feature George Brett (.354, 32 HR, 117 RBI, 110 runs) who had an MVP caliber year. Other contributors included Steve Balboni (31 HR, 113 RBI) and Willie Wilson (46 steals). Pitching was solid with Bret Saberhagen (20-8, 3.12 ERA), Charlie Leibrandt (18-10, 3.03 ERA) and Dan Quisenberry (21 saves) all having good years.
A distant 5th place was the 1987 Seattle Mariners (76-86), another team with a very strong offense and suspect pitching. Phil Bradley was outstanding with a .324 average, 97 runs and 47 steals. Alvin Davis, Jim Presley and Harold Reynolds (67 steals) all had solid seasons as well. Mark Langston (18-14, 3.00 ERA, 260 K's, 285 innings) had a great year, but had little help. The 1987 Minnesota Twins (67-95) and the 1989 Texas Rangers (60-102) struggled all year, and were never in contention. The Twins did feature the AL batting champ in Kirby Puckett (.359, 109 RBI, 101 runs) and a fine year for Kent Hrbek (32 HR) to go with the pitching of Frank Viola (17-12, 3.16 ERA) and Bert Blyleven (17 wins, 196 K's). The Rangers most notable performers were Ruben Sierra (32 HR, 115 RBI), Julio Franco (.303, 82 runs), Jeff Russell (23 saves) and the ageless Nolan Ryan (MLB best 321 K's).
---
HIGHLIGHTS
---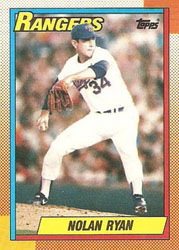 There were no perfect games in the replay, but there were two no-hitters. On April 28th, Oakland's Todd Burns ho-hit the Baltimore Orioles, striking out six and walking five. On May 15th, Texas' Nolan Ryan had perhaps the most dominant pitching performance of the season, striking out 16 and walking just one while no-hitting the Milwaukee Brewers. Both Chicago's LaMarr Hoyt and Houston's Mike Scott threw a pair one-hitters (with both of Hoyt's coming with no walks allowed). Nolan Ryan also had the season's most strikeouts in one game with 17 against the Detroit Tigers on April 28.
St. Louis' Willie McGee had the season's longest hit streak with 27 games, just edging Toronto's Damaso Garcia, who had a 25 game hit streak. Four players hit three home runs in one game. San Francisco's Kevin Mitchell hit three against Cincinnati on June 28, while Los Angeles' Ken Landreaux accomplished the same feat that day against the Houston Astros. On September 28th, Philadelphia's Mike Schmidt hit three against Montreal. A few days later, California's Brian Downing hit three against the Minnesota Twins.
Kansas City's George Brett and California's Don Baylor tied for the most RBI in one game with eight. Philadelphia's Lonnie Smith stole an amazing six bases against the New York Mets on June 28th. Three players hit for the cycle- Milwaukee's Charlie Moore on June 7 against the Royals, Boston's Marty Barrett June 30th against Milwaukee and Texas' Ruben Sierra on July 17 against Detroit.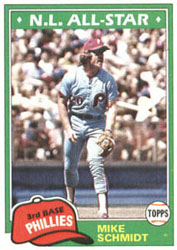 On June 20, the Cardinals defeated the Pirates 9-8 in an 18 inning game that was the longest of the season. The biggest one team offensive performance was on April 26th when the Cubs scored 19 in a 19-10 victory over the Cardinals. Three games featured eight combined home runs by the teams. On May 1st Boston and California combined for eight long balls. On June 22nd, the Angels and the Mariners hit eight, and on August 8th the Brewers and the Tigers produced eight home runs.
The All Star Game was held July 14th at Dodger Stadium (arbitrarilly selected as one of the more prominent teams of the decade. The Best of 1990s All Star Game will be held at Yankee Stadium). Montreal catcher Gary Carter was 2 for 2 with a pair of home runs and four RBI powering the National League to a 7-2 victory and easily taking MVP honors. New York Mets Darryl Strawberry and Cincinnati's Eric Davis each hit solo home runs for the National League, while New York Yankee Don Mattingly collected two hits and an RBI for the American League. Philadelphia's Steve Carlton took the win, while Boston's Roger Clemens took the loss (Clemens started opposed by New York Mets Dwight Gooden).
All Star Game: National 7; American 2
See the complete daily posts on the Action! PC message board
---