Best of 1980s NBA Basketball Replay
Standings
Leaders
Team by Team Stats
Awards
---
THE PLAYOFFS
---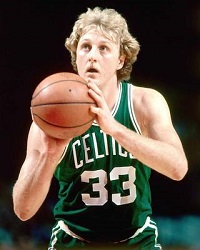 The '85-86 Celtics won the Best of 1980s replay, beating the '86-87 Lakers four games to three. The Celtics won Game 7, 123-113, pulling away in the final minutes of what was a very close deciding game. The Celtics had jumped to a big lead, only to watch the Lakers come roaring back, even taking the lead at points in the 4th quarter. Larry Bird comes up clutch however, converting a three point play, and leading the Celtics with 34 in this game.
The Lakers actually stole home court with a win in Game 1 at the Boston Garden, 128-113 (28 for Byron Scott, 21 for Michael Cooper), but the Celtics came back winning Game 2 by a 122-103 score (32 points, 12 rebounds for Larry Bird). In Los Angeles, Game 3 goes to the Lakers 131-95 in a rout (James Worthy leads the way with 26), while the Celts steal back home court with a 124-103 win in Game 4 (30 and 12 for Bird, 28 for Kevin McHale), sending the series back to Boston for Game 5, tied 2-2.
Game 5 is a classic. The lead changes hands 30 times, including several in the final minutes. Boston prevails 103-101 as Magic Johnson turns the ball over in the final seconds as the Lakers look to tie or take the lead. Bird scores 23 for Boston, while Magic and Kareem each score 22 in defeat for the Lakers. Pushed to the brink, the Lakers respond with a 130-101 blowout win in Game 6 (Magic with 24 points, nine assists), setting the stage for Game 7 in Boston.
Game 7: '86 Celtics 123; '87 Lakers 113
The Los Angeles Lakers finished 57-25, winning the Pacific Division, and earning the top seed in the Western Conference. The Dallas Mavericks and Houston Rockets both finished 47-35, tied atop the Midwest Division, but Dallas earned the tie-breaker, relegating Houston to a #3 seed. The remainder of the Western Conference was #4 San Antonio (44-38), #5 Phoenix (44-38), #6 Utah (43-39), #7 Denver (41-41) and #8 Portland (40-42) who held on to edge Seattle for the final playoff berth.
In the West playoffs – first round, Dallas squeaks past Denver, 4 to 3, winning Game 7 by a 118-117 margin! San Antonio beats Phoenix in another excellent seven game series, 4 to 3. The Lakers predictably beat Portland 4 to 1, while the Jazz upset Houston 4 to 2. In the second round, Utah continues its upsetting ways, beating Dallas surprisingly easily, 4 to 1. The Lakers get a good challenge from San Antonio, but prevail 4 to 2. Surprising Utah runs out of luck in the Western Conference Finals, falling to the Lakers 4 to 1
Game 7: '87 Mavericks 118; '85 Nuggets 117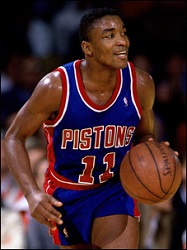 The Boston Celtics finished 61-21, winning the Atlantic Division, and earning the top seed in the Eastern Conference. The Detroit Pistons finished 52-30, winning the Central Division, and earning the #2 seed for the playoffs. The Philadelphia 76ers went 56-26 and earned the #3 seed (although by virtue of better record, they would have home court over Detroit). The #4 seed went to Atlanta (50-32) who won a tie-break with Milwaukee (also 50-32), who gets the #5 seed. #6 is Cleveland (44-38), #7 is Chicago (38-44) and #8 is New York (34-48), who holds off Indiana for the final playoff spot.
In the East playoffs – first round, Boston sweeps New York, Detroit contains Michael Jordan (if you call holding him to 31.8ppg containing) and sweeps the Bulls, the 76ers beat Cleveland easily, 4 to 1, while Atlanta beats Milwaukee in the marque matchup of Round 1, 4 to 2. The second round sees Boston take down Atlanta 4 to 1, while Philadelphia uses that home court to beat Detroit 4 to 3. In the Eastern Conference Finals, Boston beats Philadelphia 4 to 2, as their frontcourt does a fine job shutting down Moses Malone. Game 2 features a Bird vs Dr. J duel, with Bird scoring 39 in the win, while Erving scores 38 in defeat.
Game 2: '86 Celtics 122; '83 76ers 111
---
LEAGUE FORMAT
---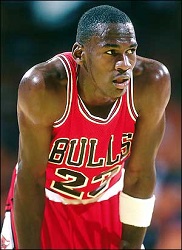 The Best of 1980s NBA league was a 23 team league, modeled largely after the format of the NBA for most of that decade. 11 teams are in the Eastern Conference (Atlantic and Central Divisions) and 12 are in the Western Conference (Midwest and Pacific Divisions). Just like the NBA, the top eight teams from each conference make the playoffs, with division winners getting the top two seeds, and the remaining spots going to the teams with the best records. Teams play a full 82 game schedule.
As with other replays of mine, the goal is to pick the best team from each franchise within the decade, but in many cases, the choice is difficult. In those situations, I tend to pick the team that I find most appealing to this replay. For example, the 1983-84 New York Knicks were probably not quite their best team of the decade, but since Patrick Ewing will be represented very well with their 1993-94 team when I play my Best of 1990s replay, I picked the 1983-84 squad so Bernard King, a pretty significant player in New York history, would have a chance to appear in one of my leagues.
The Boston Celtics provided many strong options, but their 1985-86 team was the best on paper, and won the title in real life. The Los Angeles Lakers were another franchise with a wealth of options, but their 1986-87 team was the best on paper, and got the choice. One of the more difficult choices was the Seattle Supersonics - their 1979-80 team was the best on paper, but their title winning team of 1979 will be represented in my best of 1970s league eventually, so I opted for their 1988-89 team, which gave players like Dale Ellis and Xavier McDaniel a chance to appear in a league they otherwise would have missed. The same could be said of the Utah Jazz, who had better teams than the 1983-84 squad I picked, but Karl Malone and John Stockton will have their shot in the '90s, and this gives Adrian Dantley and Mark Eaton a chance to play they would otherwise miss.
---
THE TEAMS
---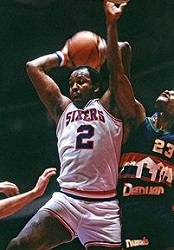 The 1985-86 Boston Celtics need little introduction. Coached by K.C. Jones, and with a 67-15 record (40-1 at home) and a world championship, they are considered one of the great single-season teams of all time. Larry Bird (25.8ppg, 9.8rpg, 6.8apg – league MVP), Kevin McHale (21.3ppg, 8.1rpg, 2.0bpg) and Robert Parish (16.1ppg, 9.5rpg, 1.4bpg) are one of the greatest front courts in NBA history, and with Bill Walton (7.6ppg, 6.8rpg) coming off the bench, this was a very strong unit. The backcourt wasn't bad either, with Dennis Johnson (15.6ppg, 5.8apg) and Danny Ainge (10.7ppg, 5.1apg). The 1982-83 Philadelphia 76ers finally won an elusive championship for Philly. Coached by Billy Cunningham and posting a 65-17 record en route to a 12-1 playoff run, the catalyst to this team was newly acquired center Moses Malone (24.5ppg, 15.3rpg, 2.0bpg). Julius Erving ("Doctor J") added 21.4ppg and 6.8rpg, while the backcourt of Maurice Cheeks (12.5ppg, 6.9apg, 2.3spg) and Andrew Toney (19.7ppg, 4.5apg) was formidable.
The 1983-84 New York Knicks, coached by Hubie Brown, went 47-35 and lost in the Eastern Conference semi-finals. There were other Knicks teams to consider, particularly the 1988-89 team that went 52-20, but I figure the Patrick Ewing era will be represented in the Best of 1990s league, and picking this team allows me to have Bernard King in the replay. King had a fine year (26.3ppg, 5.1rpg), and other notable teammates included Bill Cartwright (17.0ppg, 8.4rpg), Ray Williams (14.8ppg, 5.9apg, 2.1spg), Truck Robinson (10.8ppg, 8.4rpg) and Rory Sparrow (10.4ppg, 6.8apg). The 1980s were not a great decade for the Washington Bullets, and I selected their 1984-85 squad, coached by Gene Shue, that went just 40-42. The 1981-82 team was probably better (43-39), but I liked the combination of players this team gave me better. Gus Williams led this team with 20ppg, 7apg and 2.3spg, with Jeff Malone adding 18.9ppg. The front line featured Jeff Ruland (18.9ppg, 11.1rpg), Cliff Robinson (16.7ppg, 9.1rpg) and Greg Ballard (13.1ppg, 6.5rpg). I picked the 1983-84 New Jersey Nets, even though the 1982-83 team was probably a little better. I can't fully remember why, but I think it had something to do with wanting to have Michael Ray Richardson have a greater impact. The '83-84 team was coached by Stan Albeck, and went 45-37. Otis Birdsong led the team with 19.8ppg, with solid contributions from Darryl Dawkins (16.8ppg, 6.7rpg), Buck Williams (15.7ppg, 12.3rpg), Albert King (14.7ppg) and Richardson (12ppg, 2.1spg).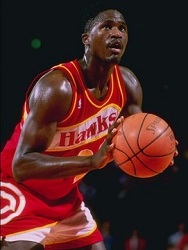 The 1988-89 Detroit Pistons, coached by Chuck Daly, went 63-19 and won the NBA championship. The "Bad Boys" team was led by Isiah Thomas (18.2ppg, 8.3apg) and Joe Dumars (17.2ppg, 5.7apg) in the backcourt, and a frontcourt featuring Bill Laimbeer (13.7ppg, 9.6rpg) and Dennis Rodman (9ppg, 9.4rpg). The Pistons started the year with Adrian Dantley (18.4ppg) but traded him mid-season for Mark Aguirre (15.5ppg). Vinnie "the microwave" Johnson added 13.8ppg off the bench, while Rick Mahorn and John Salley combined for 11.9rpg off the bench. The 1986-87 Atlanta Hawks went 57-25, coached by Mike Fratello, and seemed poised to become a new power in the East, until Detroit eclipsed them in. The Hawks were led by "the human highlight film" Dominique Wilkins (29ppg, 6.3rpg), Kevin Willis (16.1ppg, 10.5rpg) and Glenn "Doc" Rivers (12.8ppg, 10apg, 2.1spg). Randy Wittman (12.7ppg) and Mike McGee (10.4ppg) added shooting, while Cliff Levingston (6.5rpg), Tree Rollins (6.5rpg, 1.9bpg) and Spud Webb added depth off the bench. The 1980s Milwaukee Bucks seemed to always run into stronger Boston teams blocking them from winning any titles. I selected the 1985-86 team for this replay, coached by Don Nelson, that went 57-25. The '80-81 and '84-85 teams had slightly better records, but this one has the best SRS. Sidney Moncrief (20.2ppg, 4.9apg) and Terry Cummings (19.8ppg, 8.5rpg) led this team, which was deep and also featured Paul Pressey (14.3ppg, 7.8apg, 2.1spg), Ricky Pierce (13.9ppg), Craig Hodges (10.8ppg) and Alton Lister (9.8ppg, 7.3rpg, 1.8bpg).
The 1988-89 team represents the Cleveland Cavaliers, who went 57-25 coached by Lenny Wilkens. This is the team that would fall in the final seconds to Michael Jordan's jumper in the 1989 playoffs. The solid roster featured Brad Daugherty (18.9ppg, 9.2rpg), Mark Price (18.9ppg, 8.4apg), Ron Harper (18.6ppg, 5rpg, 5.3apg, 2.3spg) and Larry Nance (17.2ppg, 8rpg, 2.8bpg). Depth came from John "hot rod" Williams (11.6ppg, 5.8rpg, 1.6bpg), Mike Sanders (9.3ppg) and Craig Ehlo (7.4ppg). The 1987-88 Chicago Bulls were their best team of the decade, going 50-32 coached by Doug Collins. Michael Jordan was just beginning to take over the mantle as the NBA's best player, and posted an incredible 35ppg, 5.5rpg, 5.9apg and 3.2spg. His less-than-spectacular supporting cast included Sam Vincent (13ppg, 8.4apg), Charles Oakley (12.4ppg, 13rpg), Dave Corzine (10.1ppg, 6.6rpg), Brad Sellers (9.5ppg), John Paxson (7.9ppg) and a young Scottie Pippen (7.9ppg). They may not be a threat to win the title, but Jordan will almost surely win the league scoring title. The Indiana Pacers did not have a great decade in the '80s. I selected their 41-41 team from 1986-87 (coached by Jack Ramsay), although you could make a case for their 1980-81 team (I preferred the players available on the '87 squad). Chuck Person led the team with 18.8ppg and 8.3rpg. John Long (15.2ppg), Herb Williams (14.9ppg, 7.3rpg) and Wayman Tisdale (14.5ppg, 5.9rpg) were also strong. Depth came from Steve Stipanovich (13.2ppg) and Vern Fleming (12ppg, 5.8apg).
Michael Jordan scores 62 vs Washington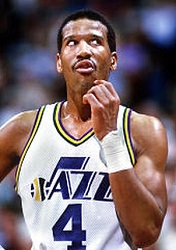 The '86-87 Dallas Mavericks (an expansion team for the '80-81 season) went 55-27, and lost in seven games in the West finals to the Lakers. Coached by Dick Motta, this squad featured Mark Aguirre (25.7ppg, 5.3rpg), Rolando Blackman (21ppg), Derek Harper (16ppg, 7.9apg, 2.2spg) and Sam Perkins (14.8ppg, 7.7rpg). There was quality depth in James Donaldson (10.8ppg, 11.9rpg, 1.7bpg), Detlef Schrempf (9.3ppg), Roy Tarpley (7.5ppg, 7.1rpg) and Brad Davis (7ppg, 4.5apg) as well. They figure to be a favorite in a very balanced Midwest division. The 1985-86 Houston Rockets were a fairly easy choice for this franchise. Coached by Bill Fitch, they went 51-31, upset the L.A. Lakers, before eventually losing to Boston in the finals. They seemed poised to become the next great team in the West, but it would never happen with the "Twin Towers". Akeem Olajuwon (23.5ppg, 11.5rpg, 2spg, 3.4bpg) and Ralph Sampson (18.9ppg, 11.1rpg, 1.6bpg) were the strength of the team, but solid support came from Lewis Lloyd (16.9ppg), John Lucas (15.5ppg, 8.8apg before injury), Robert Reid (12ppg), Rodney McCray (10.3ppg, 6.3rpg) and Allen Leavell (7.9ppg). The 1982-83 San Antonio Spurs would go 53-29, coached by Stan Albeck, and lose in the West finals in six games to the Lakers. This squad was slightly better than their '80-81 team. They were lead by "the iceman" George Gervin (26.2ppg), Mike Mitchell (19.9ppg, 6.7rpg) and Artis Gilmore (18ppg, 12rpg, 2.3bpg). The supporting cast was solid with Johnny Moore (12.2ppg, 9.8apg, 2.5spg), Gene Banks (14.9ppg, 7.6rpg) and Edgar Jones (9.6ppg, 6.3rpg). Another team that could emerge in the Midwest.
There were technically better teams for Utah than the '83-84 Jazz, but the Malone/Stockton era will be represented nicely in the Best of 1990s league. For now, I picked this team, Utah's first playoff team, that went 45-37 coached by Frank Layden. Adrian Dantley (30.6ppg, 5.7rpg) had a fine year again, with support from Darrell Griffith (20ppg), Rickey Green (13.2ppg, 9.2apg, 2.7spg), Thurl Bailey (8.5ppg, 5.7rpg) and Mark Eaton (5.6ppg, 7.3rpg, 4.3bpg). John "the gunslinger" Drew scored 17.7ppg off the bench. There were several candidates for the Denver Nuggets. I picked the '84-85 team, although a strong case could be made for the '87-88 team. The '84-85 team, coached by Doug Moe, went 52-30, and lost in the West finals to the Lakers. Scoring came from forwards Alex English (27.9ppg, 5.7rpg) and Calvin Natt (23.3ppg, 7.8rpg). Other significant players included Dan Issel (12.8ppg), Lafayette "Fat" Lever (12.8ppg, 5rpg, 7.5apg, 2.5spg) and Wayne Cooper (12.1ppg, 7.9rpg, 2.5bpg). Mike Evans (10.1ppg), Bill Hanzlik (7.8ppg) and T.R. Dunn (5.4ppg, 4.8rpg, 1.7spg) add depth off the bench. I picked the '82-83 Kansas City Kings for this franchise (which would move to Sacramento in 1985). This team, coached by Cotton Fitzsimmons, went 45-37. A case could be made for the 1979-80 team. This roster had plenty of talent, with Larry Drew (20.1ppg, 8.1apg), Eddie Johnson (19.8ppg, 6.1rpg) and Mike Woodson (18.2ppg) leading in scoring. Ray Williams (15.4ppg, 7.9apg), Steve Johnson (11.7ppg), Reggie Johnson (8.6ppg), Joe Meriweather (7.9ppg, 5.4rpg) and LaSalle Thompson (5.4ppg, 5.3rpg) added depth.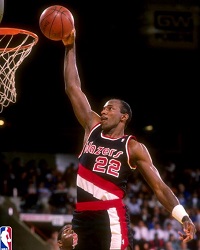 The Los Angeles Lakers, like the Celtics, had numerous candidates. The 1986-87 team however was their best. Coached by Pat Riley, this team would go 65-17 and win their first of back-to-back titles. They were led by Magic Johnson (23.9ppg, 6.3rpg, 12.2apg, 1.7spg), and also had stars in James Worthy (19.4ppg, 5.7rpg) and Kareem Abdul-Jabbar (17.5ppg, 6.7rpg). Byron Scott (17ppg) and Michael Cooper (10.5ppg, 4.5apg) shared the 2-guard spot, while A.C. Green (10.8ppg, 7.8rpg), Mychal Thompson (10.1ppg) and Kurt Rambis (5.7ppg, 5.8rpg) added size and toughness. They figure to be one of the best teams. The Phoenix Suns had some formidable teams in the 1980s. I selected their 1982-83 team (53-29, coached by John MacLeod), although you could make a case for '80-81 or '88-89 (again, personal preference of players led me to the '83 team). Walter "the greyhound" Davis led the team with 19ppg and 5apg, while Larry Nance (16.7ppg, 8.7rpg, 2.6bpg), Maurice Lucas (16.5ppg, 10.4rpg) and Alvin Adams (14.2ppg, 6.9rpg) were strong inside. The backcourt also featured Dennis Johnson (14.2ppg, 5apg) and Kyle Macy (9.9ppg). The Portland Trail Blazers had several good teams in the '80s, with the '87-88 version being their best. This team would go 53-29, coached by Mike Schuler. Clyde Drexler (27ppg, 6.6rpg, 5.8apg, 2.5spg) was one of the best players in the game, and other key players included Kiki Vandeweghe (20.2ppg), Jerome Kersey (19.2ppg, 8.3rpg), Kevin Duckworth (15.8ppg, 7.4rpg), Steve Johnson (15.4ppg, 5.6rpg) and Terry Porter (14.9ppg, 10.1apg). While this team should do well, their stronger team will come in the 1990s replay.
The 1979-80 Seattle SuperSonics team was probably their best of the decade, but since the '78-79 team will represent them in Best of 1970s, and the '95-96 team will represent them in Best of 1990s, I opted for their 1988-89 team, which was 47-35, coached by Bernie Bickerstaff. This team featured the scoring of Dale Ellis (27.5ppg), and a supporting cast of Xavier McDaniel (20.5ppg, 5.3rpg), Derrick McKey (15.9ppg, 5.7rpg), Michael Cage (10.3ppg, 9.6rpg), Nate McMillan (7.1ppg, 9.3apg, 2.1spg), Sedale Threatt (8.6ppg) and Alton Lister (8ppg, 6.6rpg, 2.2bpg). The 1980s were not particularly kind to the Golden State Warriors, but a few good teams could be found. I opted for their 42-40 1986-87 team, coached by George Karl, although teams from '81-82 and '88-89 may have been better. This team gave me a nice mix of players including Eric "Sleepy" Floyd (18.8ppg, 10.3apg, 1.8spg), Joe Barry Carroll (21.2ppg, 7.3rpg), Purvis Short (18.3ppg), Chris Mullin (15.1ppg), Larry Smith (8.8ppg, 11.5rpg). Terry Teagle (11.2ppg) and Rod Higgins (8.6ppg) add depth. The 1980s were even worse for the San Diego/Los Angeles Clippers (moved in 1984). I picked their 1980-81 team (36-46, coached by Paul Silas), which I believe was the only team picked for this replay with a losing record in reality. Freeman Williams (19.3ppg) led the team in scoring, and other key players included Swen Nater (15.6ppg, 12.4rpg), Phil Smith (16.8ppg), Brian Taylor (10.1ppg, 5.5apg), Michael Brooks (14.7ppg) and Joe "jellybean" Bryant (11.6ppg). Unfortunately, the 1990s don't look much better for the Clippers.
See the complete daily posts on the Action! PC message board