Best of 1990s NBA Basketball Replay
Standings
Leaders
Team by Team Stats
Awards
---
THE PLAYOFFS
---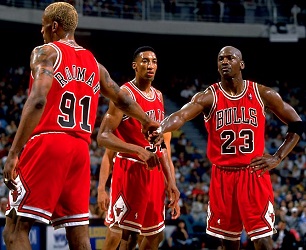 The '95-96 Chicago Bulls won the Best of 1990s replay, beating the '96-97 Utah Jazz four games to three. The Bulls won Game 7 by a 105-101 score, overcoming a 17 point defecit in the 3rd quarter with a furious rally. Michael Jordan lead the Bulls with 35 points, but it was a clutch rebound and pair of free throws made by Dennis Rodman in the waning seconds that clinched the championship (Rodman would finish with 17 rebounds in the game). Jazz star forward Karl Malone scored 32 points in the loss and was outstanding throughout the series.
The Bulls had home court via a better regular season record, and prevailed easily in Game 1 at the United Center by a 119-90 score. Scottie Pippen leads the way with 24 points and 10 rebounds and Michael Jordan scores 23 in just 29 minutes. The Jazz bounce back, stealing Game 2 by a 109-98 score as Karl Malone scores 34 points. The Bulls waste no time taking back home court with a 101-90 win at the Delta Center in Game 3. Jordan scores 29 and Toni Kukoc adds 23 off the bench. With backs to the wall, Utah squeaks past Chicago in Game 4 by a 90-89 score as Malone scores 22 with 12 rebounds to offset another great Jordan game (26 points, 13 rebounds).
With the series now a best of three, the Jazz shock Chicago winning Game 5 by a 111-103 score. Jeff Hornacek leads the Jazz with 23 points, Malone scores 20 with 11 rebounds and John Stockton has his best game of the series, scoring 17 points with 12 assists. Jordan is a one man team in defeat, scoring 38 points with eight rebounds. Back in Utah, the Bulls take an early lead and hang on as the Jazz rally late. Jordan again leads the Bulls with 35 points and Pippen adds 21. Malone with 35 for the Jazz who miss an opportunity and head back to Chicago for Game 7.
Game 7: '96 Bulls 105; '97 Jazz 101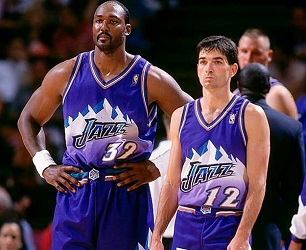 The Utah Jazz finished 55-27, winning the Midwest Division, and earning the top seed in the Western Conference. The Portland Trail Blazers finished 52-30, battling Utah all year for best record in the west, to win the Pacific Division and earn a #2 seed. The next five teams were all within four games of each other. The Seattle Supersonics (48-34) earned the #3 seed, the Golden State Warriors (48-34) claimed the #4 seed, the two-time champion Houston Rockets at 47-35 claimed the #5 seed, the Phoenix Suns (45-37) claimed the #6 seed, the San Antonio Spurs (44-38) claimed the #7 seed and lastly the Minnesota Timberwolves (39-43) outlasted the Los Angeles Clippers to earn the #8 seed.
In the West playoffs, first round series would be best of five, with following series best of seven. Top seeded Utah sweeps Minnesota 3-0 , with none of the games particularly close. The surprise Golden State Warriors would beat the Rockets 3-2, winning Game 5 at home in a surprise blowout. The Spurs upset Portland in Game 1, barely lose Game 2, then win both games 3 and 4 at home easily to eliminate the favored Blazers. In a battle of runner ups to the title, the Phoenix Suns got a mild upset beating Seattle 3 games to 1. In the second round, upstart Golden State gives Utah a scare before the Jazz pull away, winning the series 4 games to 2. David Robinson's dominant play leads the Spurs to a surprise sweep of the Suns in the other second round match. Utah had been the best team in the West all year statistically, and they prevailed over San Antonio in the Western Conference Finals in five games, with Malone averaging 27-11 in the series.
Game 1: '93 Suns 110; '96 Sonics 109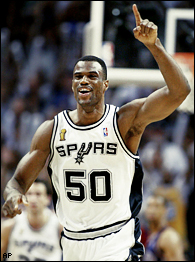 The Chicago Bulls finished 56-26, and had the best record in the league most of the year before a late slump. Still, the Bulls won the Central Division and claimed the top seed. The Orlando Magic and the Miami Heat finished tied atop the Atlantic Division with identical 52-30 records, but Orlando claimed the #2 seed via tie-breaker, with Miami claiming the #3 seed. The Atlanta Hawks (51-31) were a mild surprise, claiming the #4 seed and getting home court in the first round. Indiana (50-32) earned the #5 seed, Boston (46-36) earned the #6 seed and Cleveland (45-37) snuck past New York (44-38) in the final week to claim the #7 seed and sink the Knicks to the #8 spot. Detroit finished two games out of the playoffs.
In the East playoffs, the last week slump of the Knicks set up a marque first round match against the rival Bulls. Chicago prevailed 3 games to 1 after squeaking out a win in Game 1. Miami and Boston would go the distance before the Heat prevail in a Game 5 blowout. The Orlando Magic get past the Cleveland Cavaliers 3 games to 1 and Atlanta wins a good Game 5 over Indiana to advance to the second round. The Hawks push the Bulls to six games in the second round but Chicago prevails and advances. In a classic series, Orlando beats in-state rival Miami in seven games to advance to the conference finals against the heavily favored Bulls. After the Bulls win the first two games, Orlando responds with a pair of home wins and the series looks to possibly go the distance. However Chicago wins Game 5 at home (Jordan scores 47), then squeaks out a win in Game 6 as Jordan scores 42 points with nine rebounds.
Game 6: '96 Bulls 108; '95 Magic 103
---
LEAGUE FORMAT
---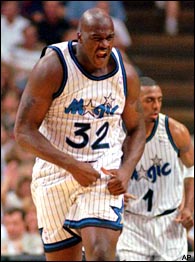 The Best of 1990s NBA league was a 27 team league, modeled on the 27 team format the NBA used for much of the decade. 14 teams are in the Eastern COnference (7 each in the Atlantic and Central Division) and 13 are in the Western Conference (6 in the Midwest Division, 7 in the Pacific Division). Just like the NBA, the top eight teams from each conference make the playoffs, with division winners earning the top two seeds, and the remaining spots going to the teams with the best records. Teams play a full 82 game schedule.
As with other replays of mine, the goal is to pick the best team from each franchise within the decade, but in many cases, the choice is difficult. In those situations, I tend to pick the team that I find most appealing to the replay. Teams from the strike-shortened 1998-99 season were not allowed. Some of the more difficult decisions for this replay included the Los Angeles Lakers, whose 1997-98 team was probably their best, but I opted for their 1990-91 team that lost in the NBA Finals since the '97-98 Laker team is very similar to the 1999-2000 championship team which will be in the Best of 2000s replay. The 1995-96 Orlando Magic won 60 games, but their '94-95 team which won 57 and lost the NBA Finals appeared to be even better statistically, so I chose that team.
The 1989-90 champion Detroit Pistons were a superior team to their 1996-97 team, but the '89-90 team was so close to the even better '88-89 team I included in my Best of 1980s replay that I felt taking the very interesting '96-97 team was the better choice. The Portland Trail Blazers had a couple of contending teams. Their 1990-91 team that was upset in the conference finals by Los Angeles was statistically superior to their 1991-92 team that lost in the NBA Finals to Chicago in six games. The 1992-93 New York Knicks won 60 games, but the 1993-94 team that won 57 proved better statistically plus had the advantage of making the NBA Finals. The 1992-93 Cleveland Cavaliers won 57 games and lost in the conference finals, but the '92-93 team was selected as a better team statistically. Teams like Chicago, Utah, Houston, San Antonio, Indiana, Seattle and Phoenix all had multiple good teams, but had one clear team that was more worthy to be in the replay than the others.
---
THE TEAMS
---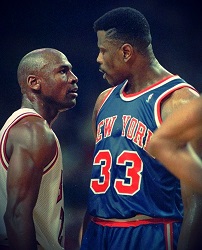 The 1990-91 Boston Celtics went 56-26, coached by Chris Ford. This was a fine year for a team in transition. Larry Bird (19.4ppg), Kevin McHale (18.4ppg) and Robert Parish (10.6rpg) still made a formidable front line, but the Celtics had quality youth in Reggie Lewis (18.7ppg), Brian Shaw and Kevin Gamble. Lewis' untimely death in 1993 helped push the Celtics into obscurity for many years. The 1996-97 Miami Heat finished 61-21, coached by Pat Riley, and lost in the East Conference Finals to Chicago. Alonzo Mourning (19.8ppg, 9.9rpg, 2.9bpg) and Tim Hardaway (20.3ppg, 8.6apg) were the stars, while other contributors included Jamal Mashburn (13.4ppg), Dan Majerle, P.J. Brown and Voshon Leonard. The 1993-94 New Jersey Nets went 45-37, coached by Chuck Daly. Derrick Coleman was a solid power forward, averaging 20.2ppg and 11.3rpg, while young Kenny Anderson was a promising point guard (18.8ppg, 9.6apg). Supporting cast included Kevin Edwards (14.0ppg), Armon Gilliam, P.J. Brown and Benoit Benjamin. Pat Riley strikes with his second team - the 1993-94 New York Knicks. The Knicks went 57-25, losing in the NBA Finals to Houston. Patrick Ewing was the star of these teams, averaging 24.5ppg, 11.2rpg and 2.7bpg. John Starks added 19.0ppg and plenty of attitude. Other key players were Charles Oakley (11.8ppg, 11.8rpg), Greg Anthony and Anthony Mason.
The 1994-95 Orlando Magic went 57-25, coached by Brian Hill, losing in the NBA Finals to Houston. A team built upon back-to-back lottery wins, the team was led by Shaquille O'Neal (29.3ppg, 11.4rpg, 2.4bpg) and Anfernee (Penny) Hardaway (20.9ppg, 7.2apg) but had other solid contributors in Nick Anderson (15.8ppg), Horace Grant (12.8ppg, 9.7rpg), Donald Royal, Brian Shaw and Dennis Scott. The 1989-90 Philadelphia 76ers went 53-29, coached by Jim Lynam, and led by the round-mound-of-rebound Charles Barkley, in his prime at this time, averaging a robust 25.2ppg and 11.5rpg. The supporting cast included Hersey Hawkins (18.5ppg), Johnny Dawkins (14.3ppg, 7.4apg), Mike Gminski (13.7ppg), Rick Mahorn and Ron Anderson. Lynam surfaces as a coach again with the 1996-97 Washington Bullets, who went 44-38 on the year. The Bullets were led by former #1 overall pick Chris Webber (20.1ppg, 10.3rpg), Juwan Howard (19.1ppg, 8.0rpg), Rod Strickland (17.2ppg, 8.9apg) as well as supporting players like Calbert Cheaney, enormous George Muresan, Tracy Murray and Harvey Grant.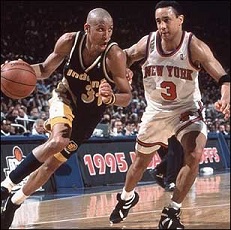 The 1996-97 Atlanta Hawks, coached by Lenny Wilkens, went 56-26. This team was surprisingly strong in this replay and had a solid unit featuring sharp-shooter Steve Smith (20.1ppg), point guard Mookie Blaylock (17.4ppg, 5.9apg, 2.7spg), forward Christian Laettner (18.1ppg, 8.8rpg) and shot-blocking center Dikembe Mutumbo (13.3ppg, 11.6rpg, 3.3bpg). Other contributors included Tyrone Corbin and Eldridge Recasner. The 1997-98 Charlotte Hornets, coached by Dave Cowens, went 51-31 on the year. Forward Glen Rice was a prolific scorer, averaging 22.3ppg. A strong but unspectacular supporting cast included tough guy Anthony Mason (12.8ppg, 10.2rpg), talented big man Vlade Divac (10.4ppg, 8.1rpg), David Wesley (13.0ppg, 6.5apg), Bobby Phills (10.4ppg), Matt Geiger (11.3ppg) and Dell Curry. The 1995-96 Chicago Bulls are one of the greatest, if not THE greatest single-season team of all time. The Bulls, coached by Phil Jackson, went 72-10 on the year, the best record in NBA history. This was the best of their six championship teams from this decade. The great Michael Jordan averaged 30.4ppg, while Scottie Pippen averaged 19.4ppg. Newcomer Dennis Rodman scored little, but averaged 14.9rpg. Other contributors were Toni Kukoc (13.1ppg), Luc Longley, Ron Harper and Steve Kerr.
The 1992-93 Cleveland Cavaliers, coached by Lenny Wilkens, went 54-28 on the year. Center Brad Daugherty averaged 20.2ppg and 10.2rpg. Larry Nance (16.5ppg, 8.7rpg, 2.6bpg) and Mark Price (18.2ppg, 8.0apg) were also solid. Role players included Craig Ehlo (11.6ppg), Gerald Wilkins, John Hot Rod Willaims and Terrell Brandon. The 1996-97 Detroit Pistons, coached by Doug Collins, went 54-28 on the year. Forward Grant Hill had his best season, averaging 21.4ppg to go with 9.0rpg and 7.3apg. Joe Dumars (14.7ppg), Lindsey Hunter (14.2ppg) and Otis Thorpe (13.1ppg, 7.9rpg) made a strong supporting cast, while three point shooting big man Terry Mills, Theo Ratliff, Michael Curry and Grant Long added depth. The 1997-98 Indiana Pacers went 58-24, coached by Larry Bird, and pushed the Bulls to seven games in the East Conference Finals. Reggie Miller, one of the best shooters of this era, averaged 19.5ppg, and notable teammates included center Rik Smits (16.7ppg, 6.9rpg), point guard Mark Jackson (8.3ppg, 8.7apg) and big men Dale Davis and Antonio Davis. Chris Mullin (11.3ppg), Jalen Rose, Travis Best and Derrick McKey made for formidable depth. The 1990-91 Milwaukee Bucks went 48-34, coached by Del Harris. Jay Humphries (15.2ppg, 6.7apg) and Alvin Robertson (13.6ppg, 3.0spg) made a formidable back court, while scoring early in the year came from Ricky Pierce (22.5ppg) then later Dale Ellis (19.3ppg). Other contributors included Danny Schayes, Fred Roberts, Jack Sikma, Frank Brickowski and Jeff Grayer.
Michael Jordan scores 62 vs Philadelphia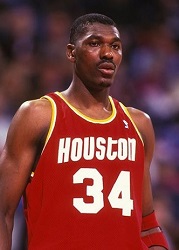 The 1990s were not kind to the Dallas Mavericks. Their best squad was the 1989-90 team that went 47-35 coached by John MacLeod. Rolando Blackman (19.4ppg) was their top scorer, while Derek Harper (18.0ppg, 7.4apg, 2.3spg) was probably their best player. Other key players included Roy Tarpley (16.8ppg, 13.1rpg in an injury-shortened season), Sam Perkins (15.9ppg, 7.5rpg) and James Donaldson (9.1ppg, 8.6rpg). The Denver Nuggets were another team that struggled for most of the 1990s. Their 1993-94 team, coached by Dan Issel, went 45-37 and offered promise. As an eighth seed they pulled a huge upset, beating the top seeded Seattle Supersonics. Mahmoud Abdul-Rauf led the team with 18.0ppg, with support coming from Dikembe Mutumbo (12.0ppg, 11.8rpg, 4.1bpg), a superb defensive presence. Other key players were LaPhonso Ellis (15.4ppg, 8.6rpg), Bryant Stith (12.5ppg), Reggie Williams (13.0ppg) and Robert Pack (9.6ppg, 5.4apg). No team capitalized better on Micahel Jordan's retirement than the Houston Rockets, who won titles in 1994 and 1995. The 1993-94 team was the better of the two statistically, going 58-24 coached by Rudy Tomjanovich, and led by star center Hakeem Olajuwon (27.3ppg, 11.9rpg, 3.7bpg) and supporting cast players like Otis Thorpe (14.0ppg, 10.6rpg), Vernon Maxwell (13.6ppg, 5.1apg), Robert Horry (9.9ppg), Kenny Smith (11.6ppg) and Mario Elie (9.3ppg).
The Minnesota Timberwolves began play in 1990-91, and their 1997-98 team was their best of the decade, going 45-37 coached by Flip Saunders. The team featured young Kevin Garnett (18.5ppg, 9.6rpg, 1.8bpg) along with Tom Gugliotta (20.1ppg, 8.7rpg) and Stephon Marbury (17.7ppg, 8.6apg). Other players of note included Sam Mitchell (12.3ppg), Anthony Peeler, Terry Porter and Chris Carr. The San Antonio Spurs had a strong decade, but wouldn't break through for a title until the strike-shortened 1998-99 season, which was not eligible. The 1995-96 team went 59-23, coached by Bob Hill, and was their best of the decade statistically. Center David Robinson was outstanding, averaging 25.0ppg, 12.2rpg and 3.3bpg. Support came from Sean Elliott (20.0ppg), Avery Johnson (13.1ppg, 9.6apg), Vinny Del Negro (14.5ppg), Chuck Person and Will Perdue. The Utah Jazz were the model of consistency in the 1990s, and twice lost in the finals against Jordan and the Bulls. Their best team was the 1996-97 team coached by Jerry Sloan that went 64-18 before losing in the finals in six games. Durable Karl Malone averaged 27.4ppg and 9.9rpg while sidekick John Stockton averaged 14.4ppg, 10.5apg and 2.0spg. Other key players included sharp-shooter Jeff Hornacek (14.5ppg), Bryon Russell (10.8ppg), Greg Ostertag and Antoine Carr.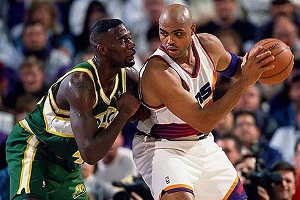 The 1991-92 Golden State Warriors went 55-27, coached by Don Nelson, and led by Tim Hardaway (23.4ppg, 10.0apg, 2.0spg) and Chris Mullin (25.6ppg). Other key players included Billy Owens (14.3ppg, 8.0rpg), Sarunas Marciulionis (18.9ppg), Tyrone Hill (8.2ppg, 7.2rpg) and Mario Elie (7.8ppg). The Los Angeles Clippers followed up a terrible 1980s with an equally bad 1990s, but the 1991-92 team did manage to go 45-37 and make a playoff appearance. Coached by Larry Brown the team was led by Danny Manning (19.3ppg, 6.9rpg) and Ron Harper (18.2ppg). Supporting role players included Doc Rivers, Charles Smith (14.6ppg), Gary Grant (6.9apg), Ken Norman, Olden Polynice and Loy Vaught. The 1990-91 Los Angeles Lakers went 58-24, coached by Mike Dunleavy, and upset the Portland Trail Blazers to advance to the NBA Finals where they were beaten by the Chicago Bulls. While not as strong as their 1980s teams, this squad was still strong with Magic Johnson averaging 19.4ppg and 12.5apg while James Worthy averaged 21.4ppg. Sam Perkins (13.5ppg), Byron Scott (14.5ppg), Vlade Divac (11.2ppg, 8.1rpg) and A.C. Green rounded out the supporting cast. The 1992-93 Phoenix Suns went 62-20 coached by Paul Westphal, and lost in the Finals in six games to Chicago. Charles Barkley had a fine year (25.6ppg, 12.2rpg) while a solid team included point guard Kevin Johnson (16.1ppg, 7.8apg), Dan Majerle (16.9ppg), Richard Dumas (15.8ppg), Danny Ainge (11.8ppg), Tom Chambers (12.2ppg) and Cedric Ceballos (12.8ppg).
The 1989-90 Portland Trail Blazers lost in the NBA Finals, but the 1990-91 team that was upset by the Lakers in the West Finals was better on paper and chosen for this league. The '91 Blazers went 63-19, coached by Rick Adelman, and featured a well-balanced roster that included Clyde Drexler (21.5ppg, 6.7rpg, 6.1apg) along with Terry Porter (17.0ppg, 8.0apg), Buck Williams (11.7ppg, 9.4rpg), Jerome Kersey (14.8ppg), Kevin Duckworth (15.8ppg), Clifford Robinson (11.7ppg) and Danny Ainge (11.1ppg). The Sacramento Kings had a rough decade in the 1990s, and their 1994-95 team was best at just 39-43. Coached by Garry St. Jean, the team did boast some talent with high-scoring guard Mitch Richmond (22.8ppg) along with role players like Walt Williams (16.4ppg), Spud Webb (11.6ppg, 6.2apg), Olden Polynice (10.8ppg, 9.0rpg) and Brian Grant (13.2ppg, 7.5rpg). Finally, the Seattle SuperSonics had several very strong teams in the 1990s, but the 1995-96 team that lost the NBA Finals to Chicago in six games was best. Coached by George Karl, the team went 64-18 and was led by the duo of Shawn Kemp (19.6ppg, 11.4rpg) and Gary Payton (19.3ppg, 7.5apg, 2.9spg). A versatile supporting cast included Detlef Schrempf (17.1ppg), Hersey Hawkins (15.6ppg), Sam Perkins (11.8ppg), Vincent Askew and Ervin Johnson.
See the complete daily posts on the Action! PC message board