Best of 1960s Baseball Replay
Standings
AL Batting
AL Pitching
NL Batting
NL Pitching
Team Batting
Team Pitching
Team by Team Stats
---
THE PLAYOFFS
---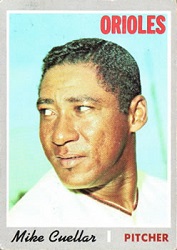 The 1969 Baltimore Orioles swept the 1963 Los Angeles Dodgers in the Best of 1960s World Series. Although the series was a sweep, three of the four games were decided by just one run, and two of the games went into extra innings. In the end, the Orioles pitching and timely hitting proved too much for the Dodgers.
The series opened in Baltimore, and both teams sent their aces to the mound. For the Orioles it was Mike Cuellar, for the Dodgers it was Sandy Koufax. The Dodgers scored a run in the 4th, and the Orioles tied the game with a run in the 6th. Paul Blair led off the 9th with a double of Ron Perranoski, but the Orioles could not get him home. Finally in the bottom of the 11th inning, Blair led off with a double off Ed Roebuck, and scored the winning run when Roebuck walked the next three batters! Koufax allowed four hits in eight innings, striking out five, while Cuellar went ten innings, allowing just two hits, and striking out five.
Game 2 saw the Dodgers going with Don Drysdale while the Orioles went with Dave McNally. Another low-scoring game, the Dodgers got a run in the 1st and the Orioles tied the game with a run in the 3rd (Ellie Hendricks solo home run). The game stayed tied 1-1 until the bottom of the 8th, when Boog Powell ripped a three-run home run off Drysdale and giving the Orioles a 2-0 series lead. McNally got the win, going 7.1 innings, allowing just three hits, and striking out four. Powell went 3 for 4 on the day, collecting as many hits as the Dodgers got off McNally! The series returned to Los Angeles for Game 3, with the Dodgers turning to Johnny Podres, and the Orioles going with Tom Phoebus. As expected, the offense picked up finally, but again the Orioles prevailed, winning 6-5 in extra innings. Baltimore was up 2-1, but in the bottom of the 7th the Dodgers score four runs on four consecutive singles to take a 5-2 lead. It doesn't last, as Baltimore scores three in the 9th to tie the game, with Frank Robinson's two-run home run the big blow. In the 11th, Robinson triples, scoring Don Buford to put Baltimore up 6-5. Eddie Watt strikes out the side and the Orioles take a commanding 3-0 series lead.
Game 4 sees a rematch of the aces from Game 1, and again, it's a pitching duel. The game is scoreless until Baltimore gets two in the top of the 5th on a two-run single by Don Buford. Cuellar continues to stymie the Dodgers bats. In the bottom of the 9th, Tommie Davis triples and scores on Frank Howard's ground out, but Cuellar gets Ron Fairly to fly out to center to end the game and bring the Orioles the championship. Cuellar again is outstanding, going the distance, allowing just four hits and striking out four. Koufax allows just three hits in eight innings, and strikes out six. For the series, MVP Cuellar goes 19 innings, allows just six hits and two runs.
World Series Game 4: '69 Orioles 2; '63 Dodgers 1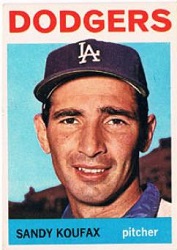 The Giants, Dodgers, Mets and Reds battled all year atop the National League standings. In the final week, it was the Giants who claimed the division and home field advantage. The Dodgers finished second, one game back of the Giants, claiming the second playoff spot. The Mets and Reds both finished two games back of the Dodgers, three games back of San Francisco. The rival Giants and Dodgers faced off in a best of seven in the NLCS. Game 1 sees Sandy Koufax face off against Jack Sanford, and the Dodgers get the 5-2 victory as Koufax and reliever Ron Perranoski shut down the powerful Giants lineup. The Giants actually take a 2-1 lead into the 8th, but the Dodgers rally for four runs off Sanford and Stu Miller and quickly steal home field advantage. Game 2 sees Don Drysdale for the Dodgers and Billy O'Dell for the Giants. Orlando Cepeda's homer gives the Giants an early 2-0 lead, but the Dodgers rally again, taking a 4-2 lead into the 8th. Giants pinch hitter Matty Alou hits a solo homer off Drysdale, but the Dodgers get that run right back in the 9th when Frank Howard hits his own solo homer to put the Dodgers back up 5-3. Drysdale escapes a jam in the 9th, and the Dodgers get out of town with a 2-0 series lead.
Back in Los Angeles, the now desperate Giants turn to Juan Marichal, and he delivers in a 10-0 Giants shutout. Johnny Podres goes for the Dodgers, but he lasts just five innings. Orlando Cepeda collects five hits and drives in three while Jose Pagan drives in four with two hits. The Giants as a team collect 17 hits in the rout, while Marichal allows just two hits. With the Giants threatening to pull even, the Dodgers turn to Koufax again on just three days rest, while the Giants opt for Billy Pierce on full rest. Koufax is again outstanding, as the Dodgers take a 3-1 lead into the 9th, but Tom Haller's two-run homer off Koufax ties the game, forcing extra innings. Both teams threaten in the 10th, but are unable to get the go-ahead run across the plate. In the 11th, Tommy Davis' single brings home Doug Camilli and the Dodgers take a 4-3 win, and a commanding 3-1 series lead back to San Francisco.
Sanford faces Drysdale in Game 5, and the Dodgers waste no time jumping out to a lead when speedy Maury Wills doubles to lead off the game, and scores on Ron Fairly's ground out. The game stays 1-0 into the 7th when the Dodgers add two more on RBI singles from Wills and Tommy Davis, taking a 3-0 lead. Matty Alou's RBI single in the bottom of the 7th cuts it to 3-1, but Frank Howard responds in the 8th with a solo homer to make it 4-1 in favor of the Dodgers. Ron Perranoski slams the door on the Giants with outstanding pitching in relief, as he did all thru this series, and the Dodgers advance to the World Series with a 4-1 series victory.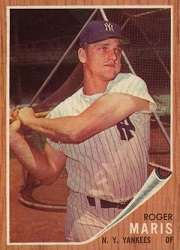 The ALCS is a matchup of two powerhouses - the famous 1961 New York Yankees of Roger Maris and Mickey Mantle against the 1969 Baltimore Orioles, who were of course upset in the World Series by the Miracle Mets, but are widely regarded as one of, if not the best, of any modern era teams. Game 1 comes from Baltimore as they had the best record in the AL, and all of this replay. Mike Cuellar faces Whitey Ford, but this one is all Baltimore as they roll to a 9-1 victory. Brooks Robinson homers and drives in four, while Paul Blair collects four hits and Frank Robinson gets three hits and two RBI. Ford lasts just three innings for the Yankees, whose only run comes on a solo home run from Mickey Mantle. Game 2 from Baltimore sees Ralph Terry going for the Yankees and Dave McNally for the Orioles. This one is closer, but again Baltimore prevails. Ellie Hendricks and Don Buford both hit home runs, and drive in five of Baltimore's six runs in a 6-3 victory. Clete Boyer collects two hits and an RBI for New York in the loss which sends the Yankees home in a two-games-to-none hole.
Back home, the Yankees send Bill Stafford to the mound, opposed by Jim Palmer for Baltimore. Both pitchers are superb, and we go to the 8th inning tied 1-1, but Tex Clevenger, in for Stafford, is wild, and walks four batters, throws a wild pitch and gives up a single which ends up giving Baltimore a 6-1 victory and commanding 3-0 lead in the series. Boog Powell and Ellie Hendricks each collect two hits in the win, while Jim Palmer is outstanding, going 8.1 innings, allowing just five hits and one run.
Both aces return for Game 4 in New York. Ford fares better this time, but Cuellar is outstanding again. In the top of the 5th, Cuellar drives in the game's first run on when shortstop Tony Kubek's error allows Andy Etchebarren to score from third base. In the 6th, Baltimore tacks on two more runs when Paul Blair doubles, Frank Robinson singles, and both come around to score to make it 3-0. The Yankees offense continues to sputter. They get the tying run to the plate in the 9th, but Cuellar gets Elston Howard and Yogi Berra out and the Orioles complete a stunning sweep of the powerful Yankees with a 3-0 victory in Game 4. Cuellar goes the distance, allowing just four hits and giving up no runs, and twice beating Whitey Ford head-to-head. In the series, the Yankees score just five runs.
---
LEAGUE FORMAT
---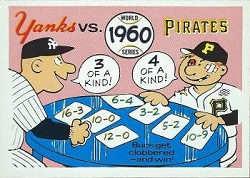 My Best of 1960s baseball league selects either the best or the most interesting team for each franchise for the period 1960-1969. Defining what is a franchise's best team isn't so clear, as sometimes a team with a great regular season record may not win a title, while another year's team is statistically inferior, but does win the championship (think 1969 runner-up Baltimore Orioles vs 1966 championship team that defeated the Los Angeles Dodgers). In some cases there are numerous candidates, and I pick the team that has the best collection of players I wanted represented in the league.
As with most of the real 1960s, the league is 20 total teams, with ten in each of the National and American Leagues. The Montreal Expos, San Diego Padres, Kansas City Royals and Seattle Pilots were not included. I do not allow strike-shortened seasons in my Best of replays, but that is not an issue for this decade fortunately.
Teams play a full, traditional 1960s 162 game schedule, no cancellations. I made my own schedule which includes inter-league play (which did not exist at this time, of course). Most of the inter-league play is in the middle of the season, but also the first two weeks of the regular season is made of several home-and-home inter-league series.
The top two finishers in each league make the playoffs, with the highest finisher getting home field advantage in a best of seven Championship Series. The winners meet in the World Series, also a best of seven. All series are played in a 2-2-1-1-1 format. Any ties for placement are settled based on head-to-head record, and then run differential if necessary.
---
THE TEAMS
---
The 1962 San Francisco Giants (real life 103-62, lost World Series) won a wild race in the National League, posting a 91-71 record, just enough to edge the Dodgers, Mets and Reds. Willie Mays led a powerful lineup, posting a .287 mark to go with 48 home runs (league best), 127 RBI, 105 runs and 17 steals. Other stars on offense included Orlando Cepeda (.291, 33 HR, 101 RBI) and Felipe Alou (.300, 28 HR, 92 RBI). Several other players were strong on offense, including part-time playing Willie McCovey (15 HR in 237 AB), Harvey Kuenn (.295, 70 runs), Jim Davenport (.260, 65 runs), Chuck Hiller (.257, 59 runs) and Jose Pagan (.244, 77 runs). The catching duo of Ed Bailey and Tom Haller combined for 25 HR and 72 RBI. The starting pitching was solid, with Jack Sanford (22-11, 2.66 ERA) and Billy O'Dell (21-11, 3.27 ERA) the leagers, with support from Juan Marichal (17-13, 3.07 ERA) and Billy Pierce (12-8, 2.52 ERA). The bullpen was led by Stu Miller (3.25, 20 saves). The 1963 Los Angeles Dodgers (real life 99-63, won World Series) finished 90-72, just a game back, and good enough to earn the second playoff spot. Ace pitcher Sandy Koufax had a great year, with a 26-9 record, 2.00 ERA and 282 strikeouts. Don Drysdale was also outstanding (19-13, 2.54 ERA) but the starters were weak beyond those two, with Johnny Podres the only other reliable starter (14-13, 3.66 ERA). Ron Perranoski was excellent out of the bullpen (61 games, 2.16 ERA, 14 saves). The offense got a great year from Frank Howard (.269, 38 HR, 92 RBI), while Maury Wills (.317, 79 runs, 45 steals) and Tommy Davis (.303, 93 RBI) finished among league leaders in batting. Other key hitters included Ron Fairly (.258, 80 RBI), Jim Gilliam (.242, 85 runs), Willie Davis (.237, 31 steals) and Johnny Roseboro (.222, 48 runs).
The 1962 Cincinati Reds (real life 98-64) finished tied for third place in the NL with an 88-74 record, missing the playoffs by just two games. A powerful lineup was led by outfielder Frank Robinson, who after a slow start finished with a .328 average, 33 home runs and 128 RBI, as well as 118 runs and 20 steals. Other key hitters included Vada Pinson (.255, 21 HR, 89 RBI, 91 runs), Gordy Coleman (.242, 27 HR, 97 RBI), Eddie Kasko (.293, 76 runs), Wally Post (22 HR, 56 RBI in 283 AB), Leo Cardenas (.280, 68 runs) and Jerry Lynch (.265, 49 RBI). The pitching leaders were Bob Purkey (17-13, 2.59 ERA), Joey Jay (17-12, 3.41 ERA) and Jim O'Toole (16-9, 2.99 ERA). Jim Brosnan, Bill Henry and Johnny Klippstein (22 saves combined) were the best of an erratic bullpen. The 1969 New York Mets (real life 100-62, won World Series) also finished with an 88-74 record, but there would be no miracles as they missed the playoffs. Powerful young pitchers led the Mets - Tom Seaver went 21-14 with a 2.82 ERA and Jerry Koosman went 16-8 with a 2.07 ERA. Number three starter Gary Gentry went 12-14 with a 3.35 ERA. The bullpen was led by Tug McGraw (19 saves, 3.46 ERA) and Ron Taylor (44 games, 1.79 ERA, 8 saves). The offense lacked stars but offered a lot of flexibility. The most notable hitters were Cleon Jones (.331, 17 HR, 83 runs), Tommie Agee (.245, 23 HR, 76 RBI) and Art Shamsky (.287, 15 HR, 54 RBI in part-time play). Other key players included Bud Harrelson (.228, 38 runs), Ken Boswell (.289, 45 runs), Jerry Grote (.260, 38 runs), Ron Swoboda (.258, 49 RBI), Ed Kranepool (.256, 48 RBI) and Wayne Garrett (.194, 40 runs).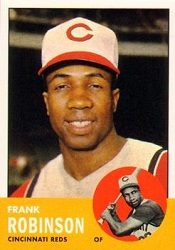 The 1969 Chicago Cubs (real life 92-70, epic collapse to Mets) finished 84-78 in this replay. A fairly balanced team, the offense was led by Ron Santo (.295, 29 HR, 115 RBI) and Billy Williams (.301, 20 HR, 110 runs, 106 RBI) but had other contributors in Glenn Beckert (.307, 67 runs), Ernie Banks (.238, 28 HR, 106 RBI), Randy Hundley (.232, 17 HR, 71 RBI) and Don Kessinger (.253, 105 runs). The pitching featured good starters like Fergie Jenkins (19-17, 3.39 ERA, 274 K's), Bill Hands (18-11, 2.51 ERA) and Kenny Holtzman (17-15, 3.14 ERA). The bullpen was led by Phil Regan (14 saves, 4.45 ERA), Ted Abernathy (42 games, 2.63 ERA) and Hank Aguirre (26 games, 3.10 ERA). After a slow start, the 1967 St. Louis Cardinals (real life 101-60, won World Series) played well, good enough to get back up to sixth place with an 80-82 record. Orlando Cepeda had a banner year, hitting .328 with 27 home runs and 111 RBI. Speedy Lou Brock was also outstanding, hitting .280 with 26 homers, 74 RBI, 99 runs and 52 steals. Other quality hitters included Tim McCarver (.286, 13 HR, 67 RBI), Curt Flood (.302, 78 runs), Julian Javier (.293, 65 RBI) and Mike Shannon (.278, 13 HR, 73 RBI). On the pitching side, Bob Gibson didn't have a great regular season in 1967, and his replay was similar as he went 12-11 with a 3.37 ERA. Other starters of note included Steve Carlton (13-10, 2.78 ERA), Nelson Briles (10-5, 2.85 ERA), Dick Hughes (11-11, 2.92 ERA) and Ray Washburn (10-14, 3.20). Joe Hoerner and Ron Willis combined for 17 saves. The 1960 Pittsburgh Pirates (real life 95-59, won World Series) finished seventh place with a 79-83 record. Bob Friend (19-15, 2.52 ERA) and Vern Law (18-16, 2.69 ERA) were outstanding starters, but there was little quality beyond them. Roy Face pitched often out of the bullpen, appearing in 60 games, collecting 24 saves and a 3.01 ERA. The lineup was very strong, with Dick Groat (.333, 83 runs) winning the NL batting title. Other top hitters included Roberto Clemente (.301, 17 HR, 89 RBI), Bill Mazeroski (.285, 11 HR, 55 RBI), Don Hoak (.278, 12 HR, 71 RBI), Bob Skinner (.261, 17 HR, 81 runs) and Dick Stuart (.256, 22 HR, 66 RBI). Smoky Burgess and Hal Smith shared catching duties and combined for 17 HR and 82 RBI.
The 1969 Atlanta Braves went 78-86, tying Philadelphia for 8th place (real life '69 Braves went 93-69, lost in NLCS). Hank Aaron had a fine year, hitting .296 with 44 home runs and 128 RBI. Other offensive players of note included Orlando Cepeda (.271, 25 HR, 91 RBI), Rico Carty (.358, 16 HR, 55 RBI in limited time) and Clete Boyer (.251, 11 HR, 55 RBI). The pitching staff was led by a young Phil Niekro (18-16, 3.05 ERA), with Ron Reed (14-13, 3.48) and Pat Jarvis (13-14, 4.73) also providing consistency. The bullpen was led by Cecil Upshaw (56 games, 2.69 ERA, 25 saves). The 1964 Philadelphia Phillies (92-70 in real life) went 76-86 in this replay. Much like the Cardinals, they overcame a slow start and moved to the middle of the standings. Richie Allen (.307, 28 HR, 92 RBI) and Johnny Callison (.260, 32 HR, 115 RBI) led the offense, with assistance from Tony Taylor (.238, 61 runs, 13 steals), Tony Gonzalez (.261, 49 runs), Cookie Rojas (.316, 51 runs in limited time) and Ruben Amaro (.279 in limited time). The pitching staff was led by Jim Bunning (17-10, 2.45 ERA), with quality starts also coming from Chris Short (12-16, 2.28 ERA) and Dennis Bennett (6-13, 3.44 ERA). Beyond Jack Baldschun (63 games, 3.01 ERA, 18 saves), the bullpen was a disaster. The 1969 Houston Astros were clearly the worst NL team in this replay, finishing just 66-96 (real life 81-81). They had a couple of solid pitchers in Larry Dierker (18-12, 2.47 ERA), Denny Lemaster (14-14, 3.29) and Don Wilson (7-18, 3.52 ERA). The offense didn't have much power beyond Jimmy Wynn (.261, 34 HR, 89 RBI), but had contributors in Denis Menke (.261, 15 HR, 74 RBI), Curt Blefary (.243, 16 HR, 68 RBI) and Doug Rader (.217, 65 RBI). Speedy Joe Morgan struggled with average all year (.198) but did steal 52 bases.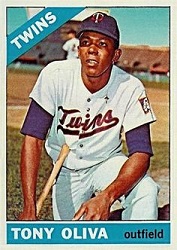 The 1969 Baltimore Orioles (109-53 in real life, losing World Series) were the favorite going in, ranking highly among best teams of modern eras even without winning the World Series. They finished 99-63 in this replay, with strong pitching from Mike Cuellar (24-6, 2.23 ERA) and Dave McNally (17-9, 2.93), as well as depth from Tom Phoebus (12-12, 3.58), Jim Palmer (11-8, 2.88) and Jim Hardin (12-4, 3.28 ERA). Eddie Watt and Pete Richert combined for 27 saves. The offense had several weapons, most notable was powerful first baseman Boog Powell (.303, 48 HR, 112 RBI) and outfielder Frank Robinson (.302, 30 HR, 105 runs). Other key batters included Paul Blair (.262, 27 HR, 89 RBI), Brooks Robinson (.231, 21 HR, 78 RBI) and Don Buford (.263, 91 runs). Mark Belanger and Dave Johnson helped form the best defensive infield in the league, while Ellie Hendricks and Andy Etchebarren shared the catching duties. The powerful 1961 New York Yankees (109-53, won World Series) figured to be another contender for the title of Best of 1960s, finishing 91-71 and earning the second playoff spot. This team is best known for the power of Roger Maris and Mickey Mantle, and both were outstanding in this season. Maris led the league with 60 home runs and 142 RBI, while Mantle finished with 55 home runs and 132 RBI. There was plenty more to like with this lineup - catchers Johnny Blanchard (.313, 21 HR, 51 RBI) and Elston Howard (.314, 19 HR, 62 RBI) were excellent, while Moose Skowron (.272, 33 HR, 92 RBI) and Yogi Berra (.244, 24 HR, 65 RBI) provided yet more power. The rest of the starters included Tony Kubek (.274, 81 runs), Bobby Richardson (.244, 90 runs) and Clete Boyer. Ace Whitey Ford was outstanding, posting a 23-9 record and 2.87 ERA, but the rest of the starters were not as reliable. Bill Stafford (14-8, 3.19 ERA), Ralph Terry (13-4, 2.93 ERA) and Jim Coates (12-3, 2.96 ERA) were all solid but didn't pitch full seasons. Luis Arroyo was outstanding in the bullpen, posting 22 saves in 61 appearances, with a 1.71 ERA.
The 1965 Minnesota Twins (102-60, lost World Series in real life) were very good in this replay, finishing 87-75 and contending all season for a playoff spot. A deep lineup and some good pitching led the way. On offense, Tony Oliva hit an AL best .336 with 20 HR, 95 RBI and 95 runs. Harmon Killebrew didn't play a full season, but still hit .273 with 24 HR and 78 RBI. Other notables included Zoilo Versalles (.262, 22 HR, 106 runs, 31 SB), Jimmie Hall (.263, 16 HR, 77 RBI), Don Mincher (.265, 23 HR, 61 RBI), Bob Allison (.222, 19 HR, 66 RBI) and catcher Earl Battey (.275, 39 RBI). Jim Kaat had a strong year, finishing 16-12 with a 2.90 ERA. Jim (Mudcat) Grant pitched well, but struggled with run support, finishing 13-19 with a 3.70 ERA. Jim Perry (12-9, 3.32 ERA) and Camilo Pascual (10-8, 2.99 ERA) were also quality starters. Al Worthington led the MLB with 35 saves, while Johnny Klippstein also appeared in 60 games with a 3.90 ERA. The 1968 Detroit Tigers (103-59, won World Series) strugged for much of the replay, made a late charge up the standings, but then regressed again, finishing fourth place with an 82-80 record. Ace pitcher Denny McLain led the way, posting a 25-12 mark, 2.33 ERA with 258 strikeouts. Other starters of note included Mickey Lolich (12-12, 3.31 ERA) and powerful Earl Wilson (12-16, 4.04 ERA). A deep lineup included Willie Horton (.258, 36 HR, 85 RBI), Norm Cash (.252, 34 HR, 68 RBI), Jim Northrup (.246, 23 HR, 77 RBI), catcher Bill Freehan (.256, 28 HR, 77 RBI), Al Kaline (.284, 10 HR, 48 runs in limited time), Mickey Stanley (.255, 63 runs), Dick McAuliffe (.220, 15 HR, 79 RBI) and Don Wert (.215, 10 HR, 46 RBI). Plenty of power, but not a lot of hitting for average.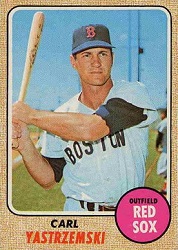 The 1965 Cleveland Indians (87-75 in real life) were a surprise success in this league. I pegged them for the bottom half, yet the hung around all season, and a late slump put them in 5th place with an 80-82 record. Ace Sam McDowell went 15-10 with a 2.28 ERA and 270 strikeouts, while other starters included Luis Tiant (14-11, 3.23 ERA), Ralph Terry (12-10, 3.53 ERA) and Sonny Siebert (11-7, 2.55 ERA). The offense included powerful Rocky Colavito (.286, 23 HR, 106 RBI) as well as Leon Wagner (.259, 27 HR, 84 RBI), Fred Whitfield (.268, 23 HR, 82 RBI), Max Alvis (.243, 17 HR, 70 runs) and Chuck Hinton (.284, 20 HR, 59 RBI). Joe Azcue, Duke Sims, Larry Brown and Dick Howser provided depth and defensive consistency. The 1964 Chicago White Sox (98-64 in real life) also were a strong team for most of this replay, finishing 77-85. A strong pitching staff, led by Gary Peters, was their biggest strength. Peters went 17-12 with a 2.48 ERA. Juan Pizarro (16-13, 2.48 ERA), Joe Horlen (10-8, 2.47 ERA) and John Buzhardt (12-7, 3.72 ERA) provided quality depth to the rotation. The offense was less consistent, but had speed in Don Buford (.261, 53 runs) and Al Weis (.207, 23 steals), average in Floyd Robinson (.306, 10 HR, 72 runs) and power in Pete Ward (.295, 21 HR, 106 RBI) and Ron Hansen (.258, 16 HR, 76 RBI). The bench provided some pop with Bill Skowron and Dave Nicholson, who platooned often with players like Jim Landis, Mike Hershberger and Tommy McCraw. The 1967 Boston Red Sox (92-70 in real life, lost World Series) tied with Chicago for sixth place with a 77-85 record. Carl Yastrzemski led the offense with a fine year, hitting .306 with 43 home runs and 126 RBI. The offense had plenty of depth with players like George Scott (.287, 20 HR, 74 RBI), Reggie Smith (.240, 18 HR, 77 runs) and Rico Petrocelli (.227, 13 HR, 55 RBI). Tony Conigliaro hit .252 with 14 HR and 58 RBI in limited time, while Jerry Adair, Mike Andrews and Joe Foy all hit well at times. Jim Lonborg led the pitching, posting a 16-16 mark with a 3.81 ERA. The rest of the staff was shaky, and no other pitchers hit double-digits in wins or surpassed 200 innings pitched. Closer John Wyatt was excellent, with 25 saves and a 1.69 ERA.
The 1969 Oakland A's (88-74 in real life), on the brink of great success, spent all year in the bottom half of the AL standings, finishing just 73-89. Young Reggie Jackson was a star, hitting .263 with 46 home runs, 119 RBI and scoring 110 runs. Sal Bando also was strong at the plate (.261, 28 HR, 102 RBI), while speedy Bert Campaneris had a fine year (.250, 67 runs, MLB-best 61 steals). Other contributors included Dick Green (.275, 63 runs), Danny Cater (.251, 74 RBI) and Rick Monday (.243, 44 runs). The pitchers included Catfish Hunter (11-13, 4.15 ERA), powerful Blue Moon Odom (13-10, 2.95 ERA) and Chuck Dobson (11-20, 3.96 ERA). Paul Lindblad and Rollie Fingers (19 saves, 3.40 ERA) were the best out of the bullpen. The 1969 Washington Senators finished ninth place with a 72-90 record (86-76 in real life). Powerful Frank Howard carried this offense, hitting .260 with 50 home runs and 126 RBI, with support coming from Mike Epstein (.266, 32 HR, 82 RBI), Ken McMullen (.245, 14 HR, 70 RBI) and Del Unser (.263, 93 runs). Joe Coleman (13-15, 3.45 ERA) and Dick Bosman (13-3, 2.56 ERA) were the best of an average pitching staff, with Bosman particularly strong but limited by injuries. Denny Higgins, Darold Knowles and Bob Humphreys were the most frequently used relief pitchers, with Knowles the most effective (43 games, 2.52 ERA, 9 saves). The 1962 Los Angeles Angels (86-76 in real life) finished just 64-98, last place in the AL and the worst record in all of MLB. Their -207 run differential was considerably worse than Houston's. The offense had some pop with Leon Wagner (.245, 31 HR, 87 RBI, 90 runs) and Lee Thomas (.264, 22 HR, 87 RBI), while depth was provided by Billy Moran (.260, 74 runs), Felix Tores (.274, 13 HR, 53 RBI), Albie Pearson (.228, 77 runs, 18 steals) and catcher Bob Rodgers (.210, 49 RBI). The pitching struggled, but Bo Belinsky (10-12, 2.69 ERA) was a surprise. Dean Chance was limited by some injuries, but was the next most effective pitcher, finishing 8-12 with a 3.34 ERA.
---
HIGHLIGHTS
---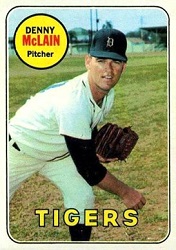 There were no perfect games in this replay, but there were four no hitters. First, on April 23rd Boston's Bucky Brandon no hit the Chicago White Sox. On June 14th, Baltimore's Jim Palmer no hit the Angels with ten strikeouts and just one walk. A few weeks later, on July 2nd, Los Angeles Dodgers' Bob Miller no hit the Astros. Finally, on September 12th, the Astros were once again no hit, this time by the Cubs' Kenny Holtzman. Five pitchers tied for the season high in strikeouts in one game, with 14 (Sam McDowell, Sandy Koufax, Tom Seaver, Nolan Ryan and Fergie Jenkins).
St. Louis Cardinals left fielder Lou Brock had the replay's longest hit streak, with 31 games. New York Mets' Cleon Jones and Minnesota's Jimmie Hall were next, with 22 game hitting streaks. No players hit four home runs in one game, but nine players homered three times in one game, with Oakland's Reggie Jackson doing this twice, April 28th vs Baltimore and July 26th vs Washington. Others with three home run games included Bill Mazeroski, Norm Cash, Johnny Blanchard, Boog Powell, Don Buford, Zoilo Versalles and Mike Epstein.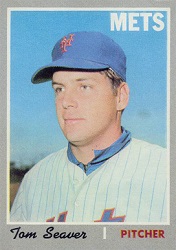 Oakland's Reggie Jackson drove home eight in that three homer game on April 28th, tying Houston's Johnny Edwards for the most RBI in one game in this replay. Eight players stole three bases in one game, with Maury Wills and Joe Morgan doing it twice. No players hit for the cycle in this replay, but Pittsburgh's Dick Groat had an amazing seven hit game on August 13th against Cincinnati.
On May 22nd, the Twins beat the Astros 3-2 in a 20 inning game that was the longest of the season. Early in the season, on April 2nd, the Houston Astros had the season's best offensive performance, scoring 21 runs in a victory over the Angels. On May 22nd, the New York Mets hit six home runs in a victory over the Boston Red Sox.
The All Star Game was played on July 10th at Detroit's Tiger Stadium. Home team star Denny McLain starterd for the American League, while Dodgers ace Sandy Koufax started for the National League. McLain pitched two scoreless innings, striking out two. In the bottom of the 2nd, Oakland's Sal Bando hit a two-run home run off Koufax giving the AL an early lead. In the 3rd inning, Mickey Mantle hit a solo shot off Tom Seaver to make it 3-0 for the AL. In the 5th, Maury Wills' groundout got home the NL's only run, as the AL pitchers dominated the contest. Bando commits two errors, so the MVP goes to hometown hero McLain.
All Star Game: American 3; National 1
See the complete daily posts on the Action! PC message board
---