1981 Replay - coaching San Diego Chargers
Standings
Leaders
Team by Team Stats
Team Offense
Team Defense
Awards
---
THE PLAYOFFS
---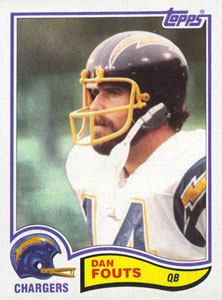 I coached the San Diego Chargers in this replay of the 1981 NFL season, playing the part of Don Coryell. The real-life Chargers finished 10-6, winning the AFC West, winning an epic divisional playoff game in Miami before losing in the AFC Championship to Cincinnati. It would be the last time this juggernaut of an offense would get so close to a title. QB Dan Fouts led a record-setting offense, passing to TE Kellen Winslow, the best of this era, as well as WRs Charlie Joiner and Wes Chandler. RB Chuck Muncie had a fine season and rookie RB James Brooks was also outstanding. Chandler essentially replaced WR John Jefferson, who was traded early in the season to New Orleans. The defense slipped some from previous years when DE Fred Dean held out and was later dealt to the 49ers, however linemen like Gary Johnson and Louie Kelcher kept the unit respectable.
In this replay I got off to a 7-0 start before a rough stretch briefly saw Denver take the division lead. When Denver lost in Week 16 at Chicago, it opened the door for my Chargers to pull into a tie, and they had the tie-breaker by virtue of a better divisional record after splitting the two games head-to-head with Denver. Fouts led the league with 4,846 yards passing and 36 TDs, while Muncie was among rushing leaders with 1,405 yards and 21 total touchdowns. Kellen Winslow led the league with 97 receptions (for 1,219 yards and 11 TDs) while Charlie Joiner (72 catches for 1,088 yards) and Wes Chandler (68 catches for 1,141 yards) were also outstanding. The defense was not great, but the pass rush was a bright spot finishing third in the league in sacks - DT Louie Kelcher finished second in the AFC with 15 sacks, while Big Hands Gary Johnson collected 13.
In the playoffs I beat Miami in the divisional round 38-23, a rematch of the Epic in Miami, this time in San Diego. Also much like 1981, that sent me to Cincinnati for the AFC Championship, a rematch of the Freezer Bowl - this time the Chargers would prevail 17-14. Next up was Super Bowl XVI in Detroit and the NFC Champion San Francisco 49ers - there I would lose 20-10. Trailing late in the 4th quarter 13-10, but driving near mid-field, Fouts throws deep for Wes Chandler, but is intercepted by Dwight Hicks. The 49ers, while running out the clock, add an insurance touchdown to seal the title, with QB Joe Montana MVP.
PLAYOFF RESULTS NFC Wildcard - Detroit 21; Green Bay 13 AFC Wildcard - Buffalo 27; Denver 10 NFC Divisional - Dallas 20; Tampa Bay 26 (OT) AFC Divisional - Buffalo 14; Cincinnati 31 NFC Divisional - Detroit 21; San Francisco 42 AFC Divisional - Miami 23; San Diego 38 NFC Championship - Tampa Bay 14; San Francisco 30 AFC Championship - San Diego 17; Cincinnati 14 Super Bowl - San Francisco 20; San Diego 10
Super Bowl XVI: 49ers 20; Chargers 10
See the complete daily posts on the Action! PC message board