Best of 1960s NFL Football Replay
Standings
AFC Leaders
NFC Leaders
Team by Team Stats
Team Offense
Team Defense
Awards
---
THE PLAYOFFS
---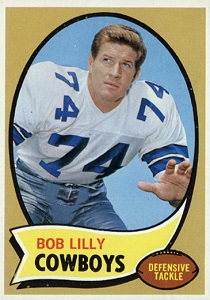 The 1968 Dallas Cowboys defeated the 1968 New York Jets for the Best of 1960s title by a 29-10 score at the Rose Bowl in Los Angeles, California.
The Jets take the opening kickoff and drive into Dallas territory, but Joe Namath throws an interception to Cornell Green, who returns it deep into Jets territory, to end the drive. Dallas' offense stalls, but Mike Clark kicks a short field goal and Dallas leads quickly 3-0. After the Jets' next series ends in a punt, the Cowboys drive into Jets territory, but this time it's Dallas who turns the ball over when Craig Baynham fumbles and the Jets recover. Another Jets drive can't get started, and the 1st quarter ends 3-0 for Dallas. The Cowboys take the ball at their own 46 after a punt, but this time QB Don Meredith fumbles and the Jets recover. The Jets put together a nice six play, 68 yard drive and Emerson Boozer puts it into the end zone to give the Jets a 7-3 lead. Dallas counters with a nice drive of their own, and when it stalls, Clark kicks another field goal to cut the lead to 7-6. Dallas forces a punt, and the Cowboys strike quickly when Meredith hits Lance Rentzel on a 49 yard touchdown strike to put Dallas back ahead 13-7. A long Jets drive just before halftime results in a short Jim Turner field goal that makes it 13-10 for Dallas at the half.
The teams start the 3rd quarter by exchanging punts. Dallas then takes the ball on a long drive into Jets territory, but Meredith throws an interception to Bill Baird, wasting a scoring opportunity. Fortunately Dallas' defense quickly forces a punt as the 3rd quarter comes to an end, still sitting at 13-10 for Dallas. The Cowboys drive, but again settle for a Mike Clark field goal that makes it 16-10 with just under 11 minutes left. Once again, the Doomsday Defense rises up and forces a three-and-out. A long, time-consuming drive sees the Cowboys take seven minutes off the clock, and again settle for a Clark field goal and a 19-10 lead with just over three minutes left. A pressured Namath seals the game when he is intercepted by Larry Cole. Dallas forces the Jets to use up their timeouts, and Clark kicks his fifth field goal to make it 22-10 with just over two minutes to play. The Jets turn the ball over on downs, and Dallas finally puts it into the end zone on Don Perkins 12 yard touchdown run. Final score - '68 Cowboys 29; '68 Jets 10.
Super Bowl: '68 Cowboys 29; '68 Jets 10
The wildcard round gets underway with the #6 seed '64 Colts at the '61 Oilers (division winner, #3 seed). George Blanda's field goal in the final two minutes gives Houston a tough 23-20 victory. Blanda also throws for 279 yards and a pair of touchdowns, while reliable WR Charley Hennigan catches three passes for 127 yards and both touchdowns. Colts QB Johnny Unitas throws for 207 yards in the loss, with TE John Mackey having a good game with seven catches for 92 yards and WR Jimmy Orr adds three catches for 71 yards and a touchdown. Houson DE Ed Husmann adds seven tackles and a sack in the win.
The other AFC wildcard game sees the #4 seed '69 Chiefs host the rival '67 Raiders (#5 seed). Oakland jumps to a quick lead, only to see Kansas City rally to take the lead 23-21 late in the 3rd quarter. Oakland dominates the 4th quarter though and gets a 35-26 victory. Raider QB Daryle Lamonica has a fine game, throwing for 318 yards and three touchdowns. Other standouts include RB Herwitt Dixon (two TD runs, four catches for 63 yards) and TE Billy Cannon (six catches for 129 yards and two touchdowns). For the Chiefs, RB Mike Garrett rushes for 105 yards. Defensive standouts include Raider DE Dan Birdwell, who records six tackles and three sacks, as well as Chiefs LB Jim Lynch, who records eight tackles and two passes defensed.
The '61 Oilers move to the divisional round and visit the '68 Colts at Memorial Stadium on a windy day. Tom Matte rushes for two quick touchdowns as the Colts jump to an early lead. The Oilers fight back, even taking the lead in the 4th quarter, but Baltimore rallies, scoring ten points late for a 33-24 victory. Blanda throws for 260 yards and three touchdowns, but four interceptions prove costly. Colts RB Matte runs for 152 yards and three scores. Colts DT Billy Ray Smith collects three sacks and two forced fumbles, while teammate Bob Boyd has five tackles and two interceptions as the Colts move on to the AFC Championship.
In the other AFC divisional game, the '67 Raiders are at the '68 Jets in a pseudo Heidi game rematch. After a scoreless first quarter, the Jets score three times in the 2nd quarter to take a 21-0 lead at the half. The Raiders slowly recover in the second half, and cut the lead to 21-14 in the final minute. Oakland then recovers an onside kick and has hope, but Jets S Jim Hudson intercepts QB Lamonica to seal the victory for New York. Jets QB Joe Namath has a fine game, throwing for 237 yards and two touchdowns - with WRs George Sauer (seven catches, 147 yards) and Don Maynard (two TD receptions) having good games. Jets DE Gerry Philbin adds three sacks. For the Raiders, RB Herwitt Dixon rushes for 55 yards and catches eight passes for 47 yards and a score. DE Ben Davidson also collects three sacks.
The AFC Championship is a rematch of the Super Bowl III classic - the '68 Jets host the '68 Colts. The Colts again are heavily favored, though they are on the road on a very windy day at Shea Stadium. Baltimore takes the ball and immediately drives 68 yards, settling on a Lou Michaels field goal for a quick 3-0 lead. After an exchange of punts, the Jets get into position for a Jim Turner field goal to tie the game 3-3. Another exchange of punts, and the Colts drive 84 yards in 12 plays, this time finding the end zone on a seven yard TD run from Tom Matte. The Colts defense forces another punt, and the suddenly hot Colts score again on an Earl Morrall to Willie Richardson TD pass to make it 17-3 just before halftime. Late in the 3rd, New York finally hits pay-dirt when Emerson Boozer scores on a short two yard TD run making it 17-10. Early in the 4th, the Jets draw closer when Turner kicks a short field goal to make it 17-13. The Colts are hanging on as time runs down, but they are forced to punt to New York with 1:33 remaining. Taking over at their own 41, Boozer quickly busts a 21 yard run. On the next play, Matt Snell takes the ball and breaks free all the way to the end zone! Jets take a 20-17 lead. A squib kick gives Baltimore the ball at their own 43 with 1:09 to play. A personal foul on the Jets brings the ball into Jet territory, but Morrall can't find his targets and the Colts turn it over on downs. The '68 Jets move on to the Super Bowl! No turnovers in this game, and Matt Snell takes MVP honors rushing for 70 yards and a score, while catching six passes for 89 yards.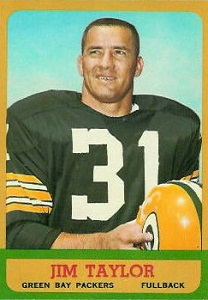 The NFC playoffs begin with a wildcard match of the '63 Giants (#6 seed) at the '67 Rams (#3 seed). The Rams jump to a 24-6 lead at halftime and never look back. Rams' RBs Les Josephson and Dick Bass combine for 164 yards rushing and a touchdown, while QB Roman Gabirel finds WR Jack Snow for a long touchdown pass. DE Deacon Jones collects four of the Rams seven sacks. Giants QB Y.A. Tittle throws for 269 yards and two touchdowns to standout WR Del Shofner, who catches seven passes for 159 yards on the day. Unfortunately for New York, Tittle fumbles twice and and adds an interception in the loss.
In the second NFC wildcard game, the #4 seed '69 Minnesota Vikings host the #5 seed '65 Chicago Bears (who out-performed their championship team of '63). Star Chicago RB Gale Sayers rushes for 114 yards and three scores as the Bears overcome an early blocked punt return for TD to lead the majority of the game. Vikings QB Joe Kapp rallies the troops and the Vikings drive deep into Chicago territory, but time runs out and the Bears move on with a 24-20 victory. Bears LB Dick Butkus records nine tackles and a sack, while standouts for Minnesota include TE John Beasley (seven catches for 71 yards and a touchdown) and LB Roy Winston (ten tackles, one sack).
The first NFC divisional round game sees the wildcard '67 Rams at the #2 seed '68 Cowboys. After a scoreless first, the Cowboys come alive with 17 2nd quarter points, with the highlight a 66 yard punt return for TD by Bob Hayes. While Dallas' offense struggles, their defense dominates, holding the Rams to just 138 total yards, collecting five sacks (two from DT Jethro Pugh) and three interceptions. Rams DT Merlin Olsen collects seven tackles and a sack in the loss, a game which sees the Rams defense also play very well but not get the offensive support they needed.
Next up the top-seeded '62 Packers play host to the rival '65 Bears. Chicago strikes first when Sayers returns a punt 50 yards for an early touchdown, but Green Bay dominates the rest of the game. Green Bay DB Herb Adderly returns a kick for a touchdown, and Max McGee adds a rushing TD to put Green Bay up 14-7 at the half. Green Bay adds two more touchdowns in the second half on runs by Tom Moore and Paul Hornung for a 28-7 victory. Green Bay out-gains Chicago 306-181 and forces three turnovers. Jim Taylor leads the way with 73 yards rushing and TE Ron Kramer catches three passes for 106 yards. The Packer defense limits Sayers to just 33 yards rushing, and DT Henry Jordan collects eight tackles, a sack and a forced fumble.
The '62 Packers host the '68 Cowboys in a pseudo Ice Bowl NFC Championship game. The temperature is a cold 12 degrees, but with almost no wind the weather is not a major factor. Green Bay strikes first, with a 16 play drive that results in a short field goal by Jerry Kramer and a 3-0 lead. After the teams exchange punts, Dallas takes the ball early in the 2nd quarter and drives 54 yards, with Craig Baynham scoring on an 11 yard run, putting the Cowboys ahead 7-3. Defense dominates the rest of the 2nd quarter and that's how we go to the half. Early in the 3rd quarter, Dallas' Don Perkins fumbles and when Green Bay's Willie Davis recovers, the Packers take advantage with a short drive and score on Jim Taylor's 11 yard run for a 10-7 Packer lead. Late in the 3rd, Bob Hayes takes a punt and returns it 71 yards for a touchdown to put Dallas ahead 14-10. The defenses continue to dominate, but mid-way through the 4th quarter Dallas puts the game away with a nice drive that sees Baynham score again, this time on a two yard plunge to go ahead 21-10 with just 3:30 to play. Any last Packer chances are snuffed out when Jim Taylor and Bart Starr lose the ball on fumbles.
---
LEAGUE FORMAT
---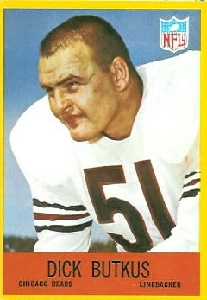 The Best of 1960s NFL league was a 30 team league with 15 teams in the AFC and 15 teams in the NFC. The idea was to pick the best team for each franchise from 1960 to 1969, omitting any strike shortened seasons (there were none in the 1960s). In some cases, where there wasn't a clear best team, the most interesting team (in my opinion) was selected, and you may disagree with some of the teams I selected.
This replay was made extra difficult by the fact that there were two seperate leauges in the 1960s - the NFL and the upstart AFL. To make the divisions and schedule match up, I did my best to move NFL teams into the AFC that seemed appropriate. Divisions are not aligned geographically in this replay, but chronologically by years. AFC Division 1 is made up of AFL teams that were early enough that they never had a chance to prove themselves against the NFL in the Super Bowl.
As always, several franchises were very difficult to choose from. To get to an even 30 teams to help with scheduling some teams were allowed multiple teams. The 1962 and 1966 Packers represent Green Bay. The 1964 and 1968 Colts represent Baltimore and the 1963 and 1965 Bears represent Chicago (not that 1965 Chicago was THAT deserving, but I couldn't do a 1960s replay without Butkus and Sayers). The Chiefs are represented by their 1969 Super Bowl winning squad and their 1962 Dallas Texans edition.
Teams play a full 16 game schedule, with division winners earning the 1,2 and 3 seeds (with the 1 and 2 seeds earning a playoff bye). The next three best records, regardless of division, earn the wildcards (seeds 4,5 and 6). Like the current NFL, the 6 plays the 3 in one wildcard game, and the 5 plays the 4. Winners advance with the 1 seed hosting the worst remaining seed. For this particular project, the Super Bowl was awarded to California's Rose Bowl.
---
THE TEAMS
---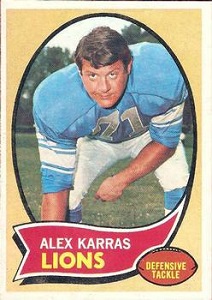 The 1960 Philadelphia Eagles went 10-2 and won the NFL Championship, beating Green Bay. Coach Buck Shaw had a fine leader in QB Norm Van Brocklin and quality receivers in TE Pete Retzlaff and WR Tommy McDonald. RB Clarence Peaks was the best of a rushing by committee group that ran behind a very average offensive line with C Bill Lapham the best of the group. DE Marion Campbell, CBs Don Burroughs and Tom Brookshier and an LB group with Chuck Bednarik, Chuck Weber and a young Maxie Baughan led the defense. The 1961 San Francisco 49ers went just 7-6-1 coached by Red Hickey. QB John Brodie led the offense, throwing often to WR R.C. Owens and TE Monty Stickles. RB J.D. Smith was the top rusher and good receiver out of the backfield. The offensive line was led by T Bob St. Clair, and C Bruce Bosley and G Ted Connolly. The Defense had stars in DT Leo Nomellini, DE Charlie Krueger, LB Matt Hazeltine and CB Eddie Dove. Abe Woodson was a top notch kick returner. The 1962 Detroit Lions went 11-3 coached by George Wilson. The offense wasn't great, but players like QB Milt Plum, RB Nick Pietrosante and WR Gail Cogdill were very good. The offensive line was led by C Harley Sewell and T John Gordy. The Lions defense was outstanding. The defensive line included DTs Alex Karras and Roger Brown. Linebacker Joe Schmidt was outstanding. The secondary featured S Yale Lary and CB Dick Nighttrain Lane, as well as CB Dick LeBeau.
The 1962 Green Bay Packers went 13-1 and defeated the New York Giants for the NFL title, coached by the great Vince Lombardi. A very balanced team was led by QB Bart Starr, who had numerous weapons such as RB Jim Taylor, WRs Boyd Dowler and Max McGee and TE Ron Kramer. A great offensive line included T Forrest Gregg, C Jim Ringo and G Jerry Kramer. A solid defense included players such as DT Henry Jordan, DE Willie Davis, LBs Bill Forester and Ray Nitschke as well as a great secondary led by safeties Willie Wood and Hank Gremminger and cornerbacks Herb Adderly and Jesse Whittenton. George Halas led the 1963 Bears to the NFL Championship by edging the Packers for the division title at 11-1-2, then beating the Giants in the championship game. The Bears offense didn't have stars, but players like QB Billy Wade, RBs Joe Marconi and Ronnie Bull, WR Johnny Morris and T Mike Ditka made for a very adequate unit. The offensive line was led by guards Ted Karras and Roger Davis. Another excellent defense featured DE Doug Atkins, LBs Bill George, Joe Fortunato and Larry Morris. The secondary included safeties Richie Petitbon and Rosey Taylor and CB Bennie McRae.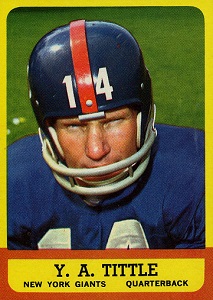 Allie Sherman coached the 1963 New York Giants to an 11-3 record and a loss in the NFL Championship to Chicago. QB Y.A. Tittle was one of the best at his position in this era, and his favorite target was the great WR Del Shofner. Other notable players on the offense included RBs Phil King and Joe Morrison, WR Frank Gifford and quality offensive line players like T Rosey Brown and G Darrell Dess. Another squad featuring several outstanding defensive players, the Giants included DEs Jim Katcavage and Andy Robustelli, DT Dick Modzelweski, LB Sam Huff, cornerbacks Dick Lynch and Erich Barnes and S Jimmy Patton. The 1965 Chicago Bears, also coached by George Halas, finished 9-5 and wouldn't ordinarilly qualify for this league except for the presence of two of the best players of the decade - RB and return specialist Gale Sayers and LB Dick Butkus. There was plenty of other talent on this Chicago team including QB Rudy Bukich, WR Johnny Morris, TE Mike Ditka and a decent offensive line led by T Herm Lee. The defense remained very strong, with players like Butkus, DE Doug Atkins, DT Stan Jones, LBs Joe Fortunato and Larry Morris, cornerbacks Bennie McRae and Dave Whitsell and safeties Rosey Taylor and Richie Petitbon. The 1966 Green Bay Packers are the second Packer team in this league, going 12-2 and winning Super Bowl I over Kansas City for coach Vince Lombardi. Many key players remained the same, such as QB Bart Starr and RB Jim Taylor. Receivers included WRs Carroll Dale and Boyd Dowler and TE Marv Fleming. The offensive line was still great, led by T Forrest Gregg, G Jerry Kramer and C Bill Curry. By now DE Willie Davis had become a star, with a trio of great LBs in Ray Nitschke, Lee Roy Caffey and Dave Robinson in support. The secondary had stars in CB Herb Adderly and S Willie Wood.
The 1967 Los Angeles Rams went a spectacular 11-1-2, coached by George Allen, but were beaten by the Packers in the playoffs. A strong team all-around, they were lead on offense by QB Roman Gabriel, who had primary targets in WRs Bernie Casey and Jack Snow, along with TE Billy Truax. RBs Les Josephson and Dick Bass led a strong ground game that ran behind an offensive line that included C Ken Iman and T Charlie Cowan. The defense featured the Fearsome Foursome defensive line with future hall-of-famers Deacon Jones and Merlin Olsen. The linebacking trio of Myron Pottios, Jack Pardee and Maxie Baughan was very good, and the secondary included S Ed Meador and CB Clancy Williams. The 1968 St. Louis Cardinals went 9-4-1 behind coach Charlie Winner, but did not make the playoffs. Young QB Jim Hart threw often to TE Jackie Smith, and to a lesser degree WRs Dave Williams and Bobby Joe Conrad. The running game was led by Willis Crenshaw, who ran behind a line that included C Bob DeMarco, G Ken Gray and T Ernie McMillan. On the whole, the defense was not great, but S Larry Wilson was one of the very best. Don Brumm and Chuck Walker were the best on the defensive line and LB Larry Stallings was a quality contributor.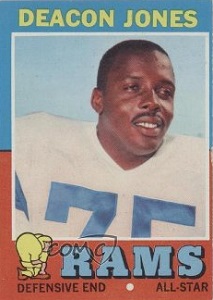 After two seasons of tough losses to eventual champion Green Bay, the 1968 Dallas Cowboys went 12-2 and appeared headed for a showdown with Baltimore for the NFC title, but Cleveland upset Dallas before that matchup could take place. Tom Landry's squad featured QB Don Meredith, who threw to excellent targets in speedy Bob Hayes and reliable Lance Rentzel. The backfield was deep with players like Don Perkins and Craig Baynham. The offensive line featured All Pro tackle Ralph Neely. The defense was equally strong, led by a strong line including Bob Lilly, DE George Andrie and DT Jethro Pugh. Other notable players include LBs Chuck Howley and Lee Roy Jordan, as well as CB Cornell Green and S Mel Renfro. The 1969 Atlanta Falcons figured to be one of the weaker teams in the replay. Norm Van Brocklin coached a squad that went 6-8. Bob Berry was the most reliable QB, and his weapons included RB Cannonball Butler, WR Paul Flatley and young TE Jim Mitchell. Tackle George Kunz was the best of a suspect offensive line. The defense was full of holes, but quality players like DE Claude Humphrey and CB Ken Reaves provided some hope. The 1969 Minnesota Vikings went 12-2 but lost Super Bowl IV to the AFL's Kansas City Chiefs. Minnesota's defense was spectacular, with a line that included DEs Carl Eller and Jim Marshall and DT Alan Page. LBs Wally Hilgenburg and Lonnie Warwick were good, and the secondary included CB Bobby Bryant and all-time interception leader S Paul Krause. The offense was far more average. QB Joe Kapp was not great, and RBs Dave Osborn and Bill Brown led a mediocre rushing attack. Gene Washington, John Henderson and John Beasley were adequate receivers. The best of the offensive line was C Mick Tingelhoff and T Grady Alderman.
Another team not expected to fare well in this replay was the 1969 New Orleans Saints, who went just 5-9 behind coach Tom Fears. QB Billy Kilmer had a star in WR Danny Abramowicz, and Al Dodd and Dave Parks added depth. RBs Andy Livingston and Tony Baker ran behind an offensive line that featured no particularly notable players. The defense was even worse, with only three defensive linemen rated as high as a five in the game - Mike Tilleman, Dave Rowe and Doug Atkins. Kicker Tom Dempsey was capable of long distance kicks. Vince Lombardi coached the 1969 Washington Redskins, who went 7-5-2 on the year. A good squad included QB Sonny Jurgensen, who had excellent targets in WR Charley Taylor and TE Jerry Smith. RBs Larry Brown and Charlie Harraway led a strong ground game that ran behind an offensive line led by C Len Hauss. The defense wasn't great, but had a few quality players in LB Chris Hanburger and CB Pat Fischer.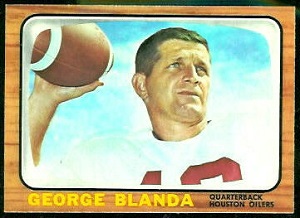 The 1961 Houston Oilers went 10-3-1 and won the AFL title by beating San Diego. An explosive offense was led by QB George Blanda, who threw often to star WR Charley Hennigan, and to a lesser degree fellow WR Bill Groman. RB Billy Cannon was a duel threat running and receiving. The offensive line had quality players in C Bob Schmidt and T Al Jamison. The defense lacked stars, but had several quality players. The secondary included CB Tony Banfield and S Jim Norton, the top LB is Dennit Morris, and Ed Husmann and Don Floyd were the best of the defensive line. The 1962 Dallas Texans, soon to become the Kansas City Chiefs, went 11-3 and won the 1962 AFL Championship. Coach Hank Stram had a good young QB in Len Dawson and a star in RB Abner Haynes, a threat both running and rushing. RB Curtis McClinton added depth, and receivers like Chris Burford and TE Fred Arbanas were quality players. The best of the offensive line was young T Jim Tyrer. The defense had several good players, most notable were LB Sherrill Headrick and S Bobby Hunt. Other quality players included DE Mel Branch and DB Bobby Ply. The 1963 San Diego Chargers went 11-3 and routed Boston for the AFL Championship. Coach Sid Gillman had a fun squad led by QB Tobin Rote, and a great backfield combo in Paul Lowe and Keith Linclon. Young WR Lance Alworth was already playing at a high level, and TE Dave Kocourek was also valuable. The offensive line had a star in T Ron Mix and G Don Rogers was also very good. The best of the defense included DE Earl Faison, LB Chuck Allen and CB Dick Westmoreland.
The 1964 Boston Patriots went 10-3-1 but missed the playoff. Coach Mike Holovak had a good veteran QB in Babe Parilli who threw often to WRs Gino Cappelletti and Art Graham, and TE Tony Romeo. The running attack wasn't great, led by RB Larry Garron. C Jon Morris and G Billy Neighbors were the best of a decent offensive line. Several good players were on the defense, with DE Larry Eisenhauer and LB Nick Buoniconti the best. Other good defenders include LB Tom Addison, S Ron Hall and DT Houston Antwine. The 1964 Buffalo Bills went 12-2, coached by Lou Saban, and won the AFL Championship by beating San Diego. QB Jack Kemp was erratic, but delivered victories. RB Cookie Gilchrist was an excellent runner and receiver, and WRs Glenn Bass and Elbert Dubenion were high quality. G Billy Shaw and T Stew Barber were the best on the offensive line. The defense had excellent players in DT Tom Sestak, LB Mike Stratton and CB Butch Byrd. LB Harry Jacobs, DT Jim Dunaway and DE Ron McDole were also key contributors.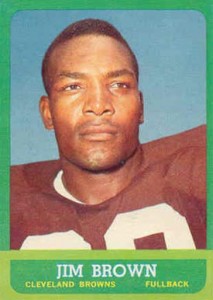 The 1962 Pittsburgh Steelers went 9-5, but missed the playoffs - their best year of a generally down decade. Coach Buddy Parker had erratic QB Bobby Layne throwing to WR Buddy Dial and TE Preston Carpenter, but the key to the offense was the running of John Henry Johnson behind a very average line, with T Charlie Bradshaw the best of the unit. Corners Clendon Thomas and Brady Keyes were strengths in the secondary, and the line featured popular players like DT Gene Lipscomb and DEs Lou Michaels and Ernie Stautner. The Baltimore Colts put two teams into this replay - the first was their 1964 squad that went 12-2 before losing the NFL Championship to Cleveland. A young Don Shula coached a team led by historic QB Johnny Unitas, who threw to WRs Raymond Berry and Jimmy Orr, as well as a great tight end in John Mackey. The running was no slouch either, as Lenny Moore and Tony Lorick were adequate running behind a line that included T Jim Parker. The defense included an aging but still dominant Gino Marchetti at DE. Other notable defenders were CB Bob Boyd, S Jerry Logan and LB Bill Pellington. The 1964 Cleveland Browns went 10-3-1 and won the NFL title. Coach Blanton Collier had plenty of weapons on offense. The passing game was led by QB Frank Ryan, who had primary targets in WRs Paul Warfield and Gary Collins, as well as TE Johnny Brewer. The great Jim Brown led the rushing game, but he had help from Ernie Green, and both were excellent receivers. They ran behind a line that was led by T Dick Schafrath and G Gene Hickerson. The defense was less impressive, but boasted several notable players including CB Bernie Parrish, LB Jim Houston and DE Bill Glass.
The 1967 Oakland Raiders went 13-1, won the AFL Championship, but lost to Green Bay in Super Bowl II. Coach John Rauch had an excellent squad, led by QB Daryle Lamonica, who threw to targets like WRs Fred Biletnikoff and Bill Miller, and TE Billy Cannon. RB Hewritt Dixon was an outstanding receiver, and adequate rusher along with Clem Daniels. The offensive line was led by C Jim Otto, young G Gene Upshaw and T Harry Schuh. The defensive line was outstanding, with DE Ben Davidson the best, supported by Tom Keating, Ike Lassiter and Dan Birdwell. LB Dan Conners and CB Kent McCloughan were also excellent. The 1968 New York Jets need little introduction - they went 11-3, then upset the Raiders in the AFL Championship to advance to Super Bowl III. There, as heavy underdogs, they upset the Baltimore Colts and became the first AFL team to win the Super Bowl, leading to the AFL-NFL merger two years later. Coach Weeb Ewbank had a team that was strong throughout. QB Joe Namath grabbed the headlines, throwing often to a pair of excellent WRs in Don Maynard and Gene Sauer. TE Pete Lammons also proved an adequate target. The running game was led by Matt Snell and Emerson Boozer, rushing behind a line led by C John Schmitt, G Dave Herman and T Winston Hill. The defense is somewhat forgotten, but had many notable players. DE Gerry Philbin anchored a good defensive line that also included John Elliot and Verlon Biggs. LBs Larry Grantham and Al Atkinson were very good, and the secondary was led by CB Johnny Sample and S Jim Hudson.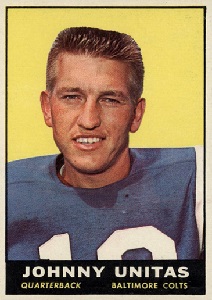 The 1968 Baltimore Colts need little introduction. Coached by Don Shula, they went 13-1 during the regular season, blew out the Browns in the NFL Championship game, and went to the Super Bowl as heavy favorites, before being upset by the Jets. Earl Morrall had a fine year at QB, throwing often to the great TE John Mackey, and to receivers Willie Richardson and Jimmy Orr. The running game saw Tom Matte running behind a good line that included T Bob Vogel and guards Dan Sullivan and Glen Ressler. The defense was outstanding. The defensive line featured DE Bubba Smith and DT Fred Miller. LB Mike Curtis was one of the best in the game at this time, and the secondary included CBs Bob Boyd and Rick Volk, as well as S Jerry Logan. The recent expansion 1968 Miami Dolphins went 5-8-1, coached by George Wilson. Several players who would become legends on their 1970s teams were already here, including QB Bob Griese and RBs Jim Kiick and Larry Csonka. T Norm Evans was the best on the offensive line at this point, and the receivers included Karl Noonan, Howard Twilley and Doug Moreau. The defense needed a lot of work, with only CB Jimmy Warren ranked as high as a six. Young S Dick Anderson led the team in interceptions and DE Manny Fernandez led the team in sacks. Another recent expansion team was the 1969 Cincinnati Bengals, who went 3-10-1 behind coach Paul Brown. Greg Cook and Sam Wyche shared the QB duties, with RB Jess Phillips the top runner. Eric Crabtree, Speedy Thomas and Bob Trumpy were adequate but not great passing targets. The offensive line wasn't great, but C Bob Johnson was a strength. Leaders on the defense included ILB Bill Bergey, CB Ken Riley and S Bobby Hunt.
The Denver Broncos struggled during their AFL years, with the 1969 team coached by Lou Saban their best at just 5-8-1. QB Steve Tensi threw often to WR Al Denson, as well as Mike Haffner and John Embree. The running game was a strength, led by RB Floyd Little who ran behind a decent line that was led by C Larry Kaminski, G George Goeddeke and T Mike Current. The defensive line was outstanding, led by a great DE in Rich Jackson, as well as DT Dave Costa. CB Billy Thompson was also outstanding, while LB John Huard and DBs Grady Kavness and Charlie Greer were of quality. If many thought the Jets winning Super Bowl III was a fluke, the 1969 Kansas City Chiefs winning Super Bowl IV showed that the AFL was on even playing field with the powerful NFL. Hank Stram's team went 11-3, then beat both the Jets and the Raiders en route to the Super Bowl. An outstanding team of much balance, they were led by QB Len Dawson, who threw to WRs Otis Taylor and Frank Pitts, as well as TE Fred Arbanas. Mike Garrett, Robert Holmes and Warren McVea shared the rushing duties and did quite well behind a line that included stars in T Jim Tyrer and G Ed Budde. The defense was outstanding - led by a great line that included DT Buck Buchanan and DEs Aaron Brown and Jerry Mays. The linebackers might have been even better, with Bobby Bell, Willie Lanier and Jim Lynch all being outstanding players. S Johnny Robinson and CB Emmett Thomas were the best of the secondary. K Jan Stenerud was one of the best of his era, as was P Jerrel Wilson.