Best of 1950s Baseball Replay
Standings
AL Batting
AL Pitching
NL Batting
NL Pitching
Team Batting
Team Pitching
Team by Team Stats
---
THE PLAYOFFS
---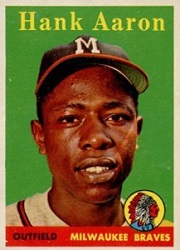 The 1957 Milwaukee Braves defeated the 1954 Cleveland Indians in a dramatic seven game series and particularly dramatic Game 7 to win the Best of 1950s World Series. Hank Aaron collected four home runs and 15 RBI in the post-season, including the game-winning RBI in the ninth inning of Game 7.
Cleveland had the better record and home field advantage in the World Series. Game 1 saw Mike Garcia for the Indians against Lew Burdette for the Braves. This one would go 15 innings before the Indians would win by a 7-4 score. Vic Wertz was the hero with a game-winning three run homer off Bob Trowbridge. Game 2 sees aces Early Wynn and Warren Spahn get the starts. Neither has their best stuff, but it's the Braves who prevail 5-4 with Hank Aaron ripping a three-run homer and Eddie Mathews collecting two hits and an RBI. The Braves leave Cleveland with a split.
The series then shifted to Milwaukee for Game 3, with Bob Buhl going for the home team, and Bob Lemon going for Cleveland. The Indians quickly reclaim homefield with an 11-8 win that sees 26 total hits. Trowbridge blows a Milwaukee lead and Wally Westlake plays the hero with a home run and three RBI, while catcher Jim Hegan adds two hits and two RBI. Del Crandall homers and drives in three in the loss for the Braves. Game 4 sees Bob Feller go for Cleveland against Gene Conley for Milwaukee - and the 4th starters provide the best pitching duel in a series laden with big name pitchers who had disappointing performances. This time it's the Braves who win in 10 innings by a 2-1 score when Frank Torre's sac fly scores Aaron. Al Smith (Cleveland) and Crandall both have big games and play very well in the series.
Game 5 is back in Cleveland and again pits Burdette against Garcia. The Indians win by a 5-3 score with Larry Doby collecting three hits, a home run and two RBI. Pitcher Garcia adds two hits and a run scored. Milwaukee's Red Schoendienst is another having a good series, and in Game 5 he collects two RBI. With backs to the wall, Warren Spahn comes thru in Game 6 in Milwaukee, out-pitching Wynn in a 2-1 victory to force a 7th game. Crandall rips a solo homer, as does Bill Bruton, while Al Rosen goes deep for the Indians. Game 7 is back in Cleveland and sees Buhl vs Lemon on the mound. In a back-and-forth game, the Indians take a 4-2 lead in the 8th and Lemon takes the mound in the 9th to try to close out the title. The Braves are all over him however, scoring 4 runs in the top of the 9th to take a 6-4 lead, with Aaron's two-run single the go-ahead hit. Ernie Johnson takes the mound for Milwaukee in the bottom of the 9th, and while the tying run comes to the plate, the Braves prevail and win the title.
World Series Game 7: '57 Braves 6; '54 Indians 4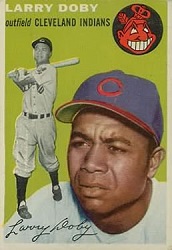 The ALCS pitted the 1954 Cleveland Indians (99-55) against the 1956 New York Yankees (95-59), with Cleveland having home field advantage in the best of seven series. Game 1 sees aces Whitey Ford and Early Wynn take the mound. Cleveland takes a 6-2 lead into the 9th, but Ray Narleski replaces Wynn and the Yankees rally, scoring five runs and winning by a 7-6 score, with Moose Skowron collecting two hits and three RBI. Cleveland bounces right back, taking Game 2 by a 5-3 score. Bob Lemon pitches well for the Indians while Tom Sturdivant struggles for the Yankees. Lemon even contributes at the plate, with a home run and three RBI. Gil McDouglad has two hits and two RBI in the loss for the Yankees.
Back in New York, Mike Garcia faces Don Larsen in Game 3, and Garcia is outstanding in a 3-0 shutout of the Yankees. Bobby Avila hits a solo home run and Al Smith drives in two runs while the Yankees collect just five hits and wasting a solid outing from Larsen. Game 4 is an epic. Art Houtteman goes for Cleveland against Johnny Kucks for New York. Both struggle immediately, and the game is tied 9-9 and goes to extra innings. Suddenly the relief pitching is outstanding, and this game goes to the 15th inning before the Yankees win it on Mickey Mantle's solo home run off Hal Newhouser. Mantle also homered earlier in the game and drives in four. Other heroes at the plate include Andy Carey (four hits, run), Hank Bauer (home run, two RBI) and Yogi Berra (two hits, home run, two RBI). For Cleveland, Wally Westlake collects three hits and Bill Glynn has two hits and three RBI. The Yankees win despite committing four errors.
Back in Cleveland, the Indians re-take the lead in the series with a victory in Game 5. Ford again faces Wynn, and the Indians prevail by a 5-3 score. Dave Philley collects two hits and two RBI while Al Rosen adds two hits and an RBI. Yogi Berra homers in the loss for New York. Game 6 is back at Yankee Stadium and is a rematch between Lemon and Sturdivant. The Indians jump on Sturdivant early, scoring three in the 1st and not looking back in a 6-2 victory that advances them to the World Series. Al Smith, outstanding in the post-season, has two hits and a run, while Vic Wertz adds two hits, a home run and three RBI. Ten errors in the series by New York to just three for Cleveland help to doom the Yankees.
The NLCS sees the 1953 Brooklyn Dodgers (93-61) against the 1957 Milwaukee Braves (92-62), with Brooklyn having home field advantage. This series would likely be determined by how Milwaukee's pitching staff could handle the imposing Dodgers lineup - easily one of the better lineups in MLB history. Game 1 would see a battle of 20 game winners as Warren Spahn takes the mound for the Braves against Carl Erskine of the Dodgers. In a good pitchers duel the Braves win 3-2 with Spahn getting the win, Don McMahon the save and Hank Aaron the hero with a home run and two RBI. Erskine strikes out seven in the loss. While Brooklyn has the advantage in offense (though Milwaukee's offense is no slouch), they are at a disadvantage at starting pitching, where after Erskine it's a pedestrian group.
One of those pedestrian pitchers for Brooklyn is Russ Meyer, who takes the mound for Game 2. After an average regular season, he is outstanding in a 3-1 victory over Lew Burdette that evens the series up. Jackie Robinson collects three hits and scores a run while Carl Furillo has two hits and an RBI in the win. Game 3 is back in Milwaukee, and sees Bob Buhl for the Braves and Billy Loes for the Dodgers on the mound. The Dodgers score three in the 1st, but Milwaukee battles back to tie it in the 2nd. After the Dodgers go ahead again in the 3rd, the Braves score three in the 5th to take a 6-4 lead that holds up. Hank Aaron homers and drives in three while fellow slugger Eddie Mathews homers and drives in two of his own. Jackie Robinson homers and drives in three for the Dodgers, while Furillo adds two more hits and an RBI.
Preacher Roe faces Gene Conley in Game 4 in Milwaukee and is the best pitching duel of the series. Conley (and Bob Trowbridge in relief) combine to shut out the Dodgers on just five hits. The lone run comes on a Del Crandall solo home run off Roe, and is enough to give the Braves a commanding 3-1 lead in the series going back to Brooklyn. Spahn again faces off against Erskine in Game 5, and the Braves get to Erskine early, scoring a run in each of the first four innings, then three in the 6th to take a 7-1 lead. The Dodgers do rally, scoring four runs to cut it to 7-5, but it's not enough and the Braves advance to the World Series. Bill Bruton collects three hits, a home run and two RBI, while Hank Aaron adds two hits and three RBI and Red Schoendienst has three hits and two RBI. Carl Furillo, one of the Dodgers lone bright spots in the series, has three hits and four RBI in the loss. It's a rough series for some of Brooklyn's biggest bats, with Gil Hodges (.118) and Duke Snider (.176) particularly cold.
---
LEAGUE FORMAT
---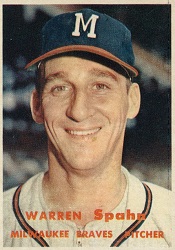 My Best of 1950s baseball league selects either the best or the most interesting team for each franchise for the period 1950-1959. Defining what is a franchise's best team isn't so clear, as sometimes a team with a great regular season record may not win a title, while another year's team is statistically inferior, but does win the championship (think 1953 runner-up Brooklyn Dodgers vs 1956 championship team that finally defeated Yankees). In some cases there are numerous candidates, and I pick the team that has the best collection of players I wanted represented in the league.
As with the real 1950s, the league is 16 total teams, with eight in each of the National and American Leagues. I do not allow strike-shortened seasons in my Best of replays, but that is not an issue for this decade fortunately.
Teams play a full, traditional 1950s 154 game schedule, no cancellations. I made my own schedule which includes inter-league play (which did not exist at this time, of course). Most of the inter-league play is in the middle of the season, but also the first two weeks of the regular season is made of several home-and-home inter-league series.
The top two finishers in each league make the playoffs, with the highest finisher getting home field advantage in a Best of seven Championship Series. The winners meet in the World Series, also a Best of seven. All series are played in a 2-2-1-1-1 format. Any ties for placement are settled based on head-to-head record, and then run differential if necessary.
---
THE TEAMS
---
The 1953 Brooklyn Dodgers (105-49, lost World Series in real life) finished 93-61, taking first place in the National League. A fearsome lineup had many stars. Duke Snider (.308, 40 HR, 129 RBI, NL best 138 runs scored) led the way, with strong support from Jackie Robinson (.317, 87 RBI, 95 runs), Roy Campanella (.302, 31 HR, 116 RBI), Gil Hodges (.299, 28 HR, 108 RBI) and Carl Furillo (.324, 17 HR, 85 RBI). Atop the order, Jim Gilliam (88 runs, 19 steals) and Pee Wee Reese (94 runs, 22 steals) provided speed. The pitching however was not as strong. Carl Erskine (20-10, 2.70 ERA, 179 K's) was a solid ace and had a fine year, but after that the quality dropped significantly. Billy Loes, Russ Meyer and Johnny Podres combined to win 32 games while Preacher Roe (7-10, 4.90 ERA) struggled. The bullpen was solid with Clem Labine, Bob Milliken, Jim Huges and Ben Wade. The 1957 Milwaukee Braves finished second, 92-62, just one game back of the Dodgers. The Braves were a much more balanced lineup than Brooklyn. The pitching was superb, second best in the replay to Cleveland. Warren Spahn (23-6, 2.81 ERA) led the league in wins, Lew Burdette (17-11, 2.90 ERA) and Bob Buhl (15-9, 3.02 ERA) were also outstanding. Depth was provided from Gene Conley, Bob Trowbridge and closer Don McMahon. For offense, Hank Aaron (.346, 39 HR, 134 RBI) just missed the batting title, and players like Eddie Mathews (.259, 30 HR, 93 RBI), Wes Covington (19 HR, 62 RBI), Del Crandall (14 HR, 58 RBI) and Red Schoendienst (.308, 61 runs in limited time) provided depth.
The 1954 New York Giants upset the favored Indians in the real-life World Series, immortalized by Willie Mays' amazing catch of a Vic Wertz drive. In this replay, the Giants hung around all year, but could never catch the top two teams, finishing 82-72. The pitching staff was strong with Johnny Antonelli (19-9, 2.61 ERA, league-best 187 strikeouts), Sal Maglie (17-10, 3.33 ERA) and Ruben Gomez (16-7, 2.80 ERA). The bullpen included Marv Grissom (2.58 ERA, 24 saves) and Hoyt Wilhelm. Mays led the offense as expected, hitting .341 with 41 homers, 115 RBI and 114 runs scored. Other key batters included Hank Thompson (26 HR, 85 RBI), Alvin Dark (.292, 20 HR, 98 runs) and Don Mueller (.332, 49 doubles, 87 runs). Whitey Lockman, Monte Irvin and pinch-hitting Dusty Rhodes (.308, 14 HR) provided depth in a strong lineup. The Cincinnati Reds, much like the Giants, hung around first place for much of the summer before fading as the season wore on. The most powerful lineup in the league, the 1956 Cincinnati Reds (80-74) led the replay with 199 home runs. The lineup included Frank Robinson (.275, 38 HR, 115 runs), Ted Kluszewski (.290, 29 HR, 103 RBI), Wally Post (35 HR, 84 RBI), Ed Bailey (30 HR, 62 RBI) and Gus Bell (.284, 24 HR, 95 RBI). Players like Roy McMillan, Ray Jablonski and Smoky Burgess provided depth. The pitching however was very average. Brooks Lawrence (15-9, 4.24 ERA) was the best of a pedestrian crew, with Joe Nuxhall (14-8, 3.76 ERA), Hal Jeffcoat (13-7, 3.86) and Johnny Klippstein. Hersh Freeman (2.57 ERA, 10 saves) was outstanding in the bullpen.
The 1950 Philadelphia Phillies (Whiz Kids) struggled early in the season, but came on strong in the 2nd half and finished tied with the Reds for 4th place. Robin Roberts was a workhorse, pitching a league-high 296 innings and finishing with an 18-16 record and 2.92 ERA. Curt Simmons (15-7, 3.19 ERA) also had a fine year but the rest of the starters were inconsistent. Jim Konstanty was outstanding in the bullpen, appearing in 66 games, compiling 18 saves and a 2.37 ERA. The lineup was solid. Del Ennis (.316, 26 HR, 106 RBI), Willie Jones (24 HR, 92 RBI), Andy Seminick (.281, 26 HR, 79 RBI) and Dick Sisler (.294, 78 RBI) all had strong seasons, while players like Richie Ashburn, Granny Hamner, Eddie Waitkus and Mike Goliat rounded out the starting lineup. The 1958 Pittsburgh Pirates, two years prior to thier upset victory in the World Series, finished 74-80 and 6th place in the National League. A formidable lineup included Frank Thomas (.293, 35 HR, 110 RBI), Bob Skinner (.313, 76 runs scored) and Bill Mazeroski (23 HR, 70 RBI). A young Roberto Clemente added depth, along with players like Dick Groat and Bill Virdon. Bob Friend (17-12, 3.24 ERA) led the pitching staff, which also featured Ron Kline (13-14, 3.81 ERA) and Vern Law (11-11, 3.59 ERA). Roy Face pitched well out of the bullpen, finishing with 20 saves and a 3.13 ERA.
The 1957 St. Louis Cardinals finished 7th place with a 64-90 record. After a slow start, the Cardinals came on strong mid-season and moved higher up the standings, before ending the season with an 11 game losing streak. Pitching was a weakness, with no established ace, and several journeymen starters. Sam Jones was probably best, finishing 10-10 with a 3.43 ERA and 174 strikeouts. Larry Jackson (10-11, 4.10 ERA) and Lindy McDaniel (8-16, 4.88 ERA) accrued the most innings on the mound. The lineup however was strong. Stan Musial had a fine year, winning the batting title at .347 to go with 29 home runs and 111 RBI. Del Ennis (.299, 26 HR, 83 RBI), Wally Moon (.293, 21 HR, 87 RBI) and Don Blasingame (.280, 87 runs scored) were solid, while Eddie Kasko, Alvin Dark and Ken Boyer rounded out the lineup. The 1959 Chicago Cubs had two high-points in the season - hosting the All Star Game, and the play of shortstop Ernie Banks. Banks led the National League with 44 home runs, while adding 121 RBI, 102 runs and hitting .318 on the year. The rest of the lineup however was mediocre. Tony Taylor provided some speed (24 steals, 83 runs scored), but the rest of the lineup was very average with players like George Altman, Alvin Dark, Walt Moryn and Dale Long. Pitching was probably even worse, with only starters Glen Hobbie (10-15, 4.10 ERA) and Bob Anderson (7-18, 4.87 ERA) providing any consistency. Don Elston did go 11-3 out of the bullpen with a fine 2.13 ERA, but Bill Henry was mildly disappointing, with a 3.42 ERA.
The 1954 Cleveland Indians, who posted a 111-43 record in real life before being upset in the World Series, posted the best record in this replay with a 99-55 record, good enough to edge the rival Yankees by three games. A remarkably balanced team had ace pitchers in Early Wynn (19-11, 2.46 ERA), Bob Lemon (20-9, 2.76 ERA) and Mike Garcia (17-9, 2.58 ERA) as well as quality spot starters in Art Houtteman and Bob Feller. The bullpen was also strong with Don Mossi (1.87 ERA), Ray Narleski and Hal Newhouser. The offense was led by players like Bobby Avila (.340, 107 runs), Larry Doby (35 HR, 116 RBI) and Al Rosen (.323, 23 HR, 88 RBI). Depth was impressive with players like Vic Wertz, Al Smith, Dave Philley, Wally Westlake and Jim Hegan. The 1956 New York Yankees finished 2nd place with a 96-58 record, good enough for the second playoff spot. Mickey Mantle would hit for the triple crown, leading the AL in batting (.342), home runs (50) and RBI (138), while also posting 131 runs scored and ten steals. Yogi Berra (.302, 30 HR, 106 RBI), Moose Skowron (.312, 25 HR, 95 RBI), Hank Bauer (27 HR, 77 RBI) and Gil McDouglad (.321, 75 runs scored) all had good years. Players like Billy Martin and Andy Carey provided depth. Whitey Ford led the pitching staff, winning 20 games and posting a sparkling 2.38 ERA. The rest of the rotation was good, with Tom Sturdivant (13-3, 3.02 ERA), Don Larsen (14-5, 3.15 ERA) and Johnny Kucks doing well. Bob Grim, Tom Morgan and Rip Coleman anchored a respectable bullpen.
The 1950 Boston Red Sox finished 3rd place with a 83-71 record, featuring one of the most powerful offenses in the league, but very suspect pitching beyond ace Mel Parnell (19-7, 2.93 ERA). Other starters like Ellis Kinder, Joe Dobson, Chuck Stobbs, Walt Masterson and Mickey McDermott all struggled with high ERAs. Even in part-time duty, Ted Williams was outstanding with a .313 average, 31 home runs and 93 RBI. Often splitting time with Williams, light-hitting Billy Goodman posted a .313 average and 63 runs. Other big hitters included Walt Dropo (.294, 30 HR, 109 RBI), Vern Stephens (26 HR, 114 RBI) and Bobby Doerr (.277, 29 HR, 106 RBI). Even lesser hitters like Dom DiMaggio (.284, 97 runs scored), Johnny Pesky (.293, 79 runs scored) and Al Zarilla (.307, 63 RBI) had strong years. Finishing 6th were the 1959 Chicago White Sox, with a 78-76 record. Speedy Luis Aparicio easily led the league with 59 steals, while adding 89 runs scored. Catcher Sherm Lollar (24 HR, 91 RBI), Nellie Fox (.286, 73 runs), Al Smith (66 RBI) and Jim Landis (63 RBI) provided some punch. After a slow start, ace pitcher Early Wynn bounced back to finish with a 16-14 record and 2.79 ERA. Other starters like Bob Shaw (13-11, 2.84 ERA), Billy Pierce and Dick Donovan were solid, while Turk Lown (17 saves) and Gerry Staley (10-7, 2.14 ERA) were outstanding in relief duty.
The 1950 Detroit Tigers finished 5th place with a respectable 75-79 record. A balanced unit featured stars on offense in George Kell (.334, 99 runs, 81 RBI, 68 doubles), Vic Wertz (.303, 26 HR, 106 RBI) and Hoot Evers (.307, 22 HR, 96 RBI). A solid supporting cast included Johnny Groth (86 RBI), Johnny Lipon (84 runs), Jerry Priddy (84 runs) and Don Kolloway. The pitching staff was led by Art Houtteman (18-14, disappointing 4.53 ERA) and supported with Hal Newhouser (13-11, 3.89 ERA) and Fred Hutchinson (12-13, 3.96 ERA). Dizzy Trout and Ted Gray rounded out the starters, while Hal White led a suspect bullpen. The 1953 Washington Senators took 6th place with a 63-91 record. This was another team that simply didn't have the offense to compete with the top teams. Players like Mickey Vernon (.308, 17 HR, 100 RBI), Jackie Jensen (80 RBI), Jim Busby (.284, 63 RBI) and Clyde Vollmer (63 RBI) were respectable, the depth was minimal, with players like Wayne Terwilliger, Pete Runnels and Eddie Yost playing full time roles. Ace pitcher Bob Porterfield struggled with run support, finishing with 13-19 record and 3.73 ERA. Connie Marrero, Chuck Stobbs, Spec Shea and Walt Masterson rounded out the starters, while Sonny Dixon and Al Sima were decent in the bullpen.
The 1952 Philadelphia A's finished 7th place with a 60-94 record. Ace pitcher Bobby Shantz had a good year (18-9, 2.47 ERA) despite an offense that was often over-matched in this league. Other pitchers of note included Alex Kellner (10-15, 3.91 ERA), Harry Byrd (7-20, 3.72 ERA) and Carl Scheib. Ferris Fain (.314, 71 runs) had a good year at the plate, while Gus Zernial got hot down the stretch, finishing with 29 home runs and 96 RBI. Other hitters of note included Eddie Joost (22 HR, 83 runs), Dave Philley (71 runs, 14 steals), Elmer Valo and Billy Hitchcock. Allie Clark and Kite Thomas provided some punch off the bench. The 1957 Baltimore Orioles finished last place in the American League with a 56-98 record. The pitching was solid, but run support was lacking. Pitchers like Connie Johnson (9-12, 2.98 ERA) and Ray Moore (8-18, 3.50), as well as spot starters like Billy Loes, Billy O'Dell, Bill Wight and Hal Brown all suffered from the lack of offense. George Zuvernik (2.76 ERA) and Ken Lehman (12 saves) were strong out of the bullpen. The bright spots on offense included Bob Nieman (67 RBI), Gus Triandos (17 HR, 61) RBI and Bob Boyd (.286, 59 runs scored). Billy Gardner (66 runs scored) and Al Pilarcik provided depth, while part-timer Billy Goodman hit .332 on the season.
---
HIGHLIGHTS
---
There were no perfect games in the replay, but Philadelphia A's pitcher Carl Scheib threw a no-hitter on May 16th against the Detroit Tigers (allowing two walks). Five other pitchers threw one hitters, including Baltimore's Art Ceccarelli, Cleveland's Don Mossi, Baltimore's Billy O'Dell, Brooklyn's Carl Erskine and St. Louis' Sam Jones. Jones also had the season-high in strikeouts, fanning 12 Brooklyn Dodgers on May 23rd.
New York Yankee Mickey Mantle, on top of a triple crown, also had the season's longest hit streak at 24 games, with Washington's Mickey Vernon second with a 22 game hit streak. New York Yankee Hank Bauer hit four home runs on June 11th against the Cubs. Five other players hit three home runs in one game (Detroit's Hoot Evers, New York's Willie Mays, Brooklyn's Duke Snider, Milwaukee's Hank Aaron and Cincinnati's Wally Post).
Four players tied for the most RBI in one game with seven (Hoot Evers, Willie Mays, Jim Landis and Gus Zernial). In an era with minimal base stealing, four players tied for the high mark with three in one game (Jim Gilliam, Jim Landis, Don Blasingame and Luis Aparicio). No players hit for the cycle in this replay.
On June 21, the Giants beat the A's 6-4 in a 21 inning game that was the longest of the season. On June 29, the Philadelphia A's had the season's best offensive performance scoring 18 runs in an 18-4 victory over the Cubs. Two games featured eight combined home runs by the two teams. On July 21, the New York Giants hit six home runs in a victory over Brooklyn.
The All Star Game was held July 15th at Wrigley Field. Whitey Ford of the Yankees started for the American League, while Warren Spahn of the Braves started for the National League. In front of his home crowd, Cubs shortstop Ernie Banks took MVP honors with a pair of home runs and five RBI. New York's Mickey Mantle and Detroit's Vic Wertz both hit solo home runs and collected two hits each for the American League. Philly's Robin Roberts was credited with the win, while Chicago's Early Wynn (appearing instead of Cleveland's version) took the loss.
All Star Game: National 6; American 3
See the complete daily posts on the Action! PC message board
---