Best of 1990s Baseball Replay
Standings
AL Batting
AL Pitching
NL Batting
NL Pitching
Team Batting
Team Pitching
Team by Team Stats
---
THE PLAYOFFS
---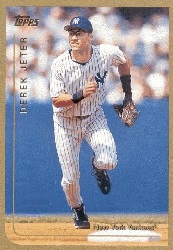 The 1998 New York Yankees defeated the 1993 Atlanta Braves four games to two to win the Best of 1990s World Series. Derek Jeter took series MVP honors hitting .348 in the post-season and coming thru with a two run homer in Game 6.
The World Series started in Atlanta by virtue of the Braves winning one more game than the Yankees in the regular season. Unfortunately for Atlanta, with them using Greg Maddux in Game 7 of the NLCS vs Houston, he would not be available until Game 3 of the World Series. David Wells would start for the Yankees in Game 1 opposed by Steve Avery, and Wells gets the 3-1 victory while collecting a pair of hits. Game 2 would see David Cone against Tom Glavine, and the Yankees win again 5-3. Darryl Strawberry collects a key pinch-hit two run single to break open a tie game. After the Braves drop both games at home, they turn to John Smoltz in Game 3 who goes against Andy Pettitte. The Yankees win again, 9-8 in 13 innings on Scott Brosius' two run double off Mike Stanton. The Braves look like they're going to be swept, but it's not over yet.
The Braves send John Smoltz to the mound facing elimination in the Bronx against Yankees starter Orlando Hernandez. The Braves win this one 8-2, behind strong games from part-time players Damon Berryhill and Deion Sanders. Atlanta, back home, also takes Game 5 with a 7-5 win in a rematch of Game 1 starters Wells and Avery. Terry Pendleton with the go-ahead RBI and some excellent relief work from Greg McMichael. The Yankees go back home for Game 6 knowing if they lose they'll have to face Maddux in Game 7 in Atlanta. The Braves score first on a solo homer by Berryhill in the 3rd inning off Cone, and Glavine holds that 1-0 lead until the bottom of the sixth inning when Derek Jeter rips a two run homer putting the Yankees ahead. In the 9th, Mariano Rivera is in to close it out, and Yankee fans breathe a sigh of relief when David Justice just misses a two run homer that instead falls as a long fly out to right. Rivera gets Pendleton to fly out to Bernie Williams to close out the game, and the series.
World Series Game 6: '98 Yankees 2; '93 Braves 1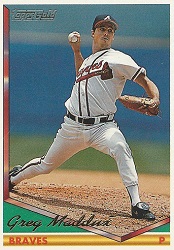 After battling all year for the best record in the NL, the Braves host the Astros in the NLCS. In Game 1, the Astros strike quickly against Tom Glavine and hold on for the 5-4 win. Game 2 sees Randy Johnson dominate Atlanta in a 2-0 win with nine strikeouts, giving Houston a 2-0 series lead coming home. In Houston, Greg Maddux takes the mound for the Braves and delivers a 4-1 win cutting the Astros lead to one game. The road team continues to dominate this series as the Braves and Steve Avery take Game 4 by a 7-2 score and go back to Atlanta with the series even 2-2. Back in Atlanta Randy Johnson is dominant again as the Astros win 7-1 and Johnson strikes out eleven. Facing elimination, the Braves take Game 6 in Houston as John Smoltz beats Mike Hampton 2-1 in a good pitchers duel. In Game 7, the home team finally prevails as Maddux beats Jose Lima and the Astros by a 4-3 score. Ron Gant gets two hits and three RBI for Atlanta in the deciding game. Despite losing this series, Craig Biggio is outstanding this post-season for Houston, batting .500 in two series.
The Yankees play host to the Indians in the ALCS. The Yankees take Game 1 at home, 8-7, as Bernie Williams collects three RBI. The Yanks also take Game 2 by a 7-6 score in 10 innings, winning on Tim Raines RBI single. Cleveland bounces back at home, taking Game 3 easily by a 13-5 score behind big games from Kenny Lofton and Sandy Alomar Jr. A critical Game 4 goes to the Yankees by a 4-3 score behind the hitting of Derek Jeter and Tino Martinez, and a save from Mariano Rivera. The Yankees close out the series at home in Game 5 by a 7-5 score in 11 innings. The Indians lead 5-4 in the 8th, but Paul Shuey walks Derek Jeter with the bases loaded to tie the game. In the bottom of the 11th, Paul O'Neill hits a two run homer off Jose Mesa to win the series for the Yankees, who advance to the World Series with a 4-1 ALCS victory. Albert Belle hits .395 in two playoff series with five home runs, and Kenny Lofton hits .311 and steals three bases.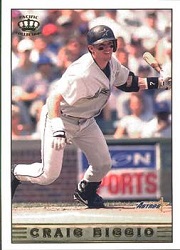 The Reds and Pirates tied for the wildcard spot, and played a one game playoff. Jose Rijo started for Cincinnati while John Smiley went for Pittsburgh. Cincinnati jumped to a 4-0 lead and hung on as Pittsburgh cuts it to 4-3 in the 9th. Barry Larkin with three hits and a home run while Rijo strikes out seven and allows just one run. The Reds take on top seeded Atlanta, and drop Game 1 by a 2-0 score as Greg Maddux beats Tom Browning. Cincinnati bounces back and steals Game 2 in Atlanta with a late rally, with Rob Dibble taking the win in relief. Back in Cincinnati for Game 3, the Braves rally this time and make John Smoltz a winner, taking a 2-1 series lead. The Braves however cannot close it out in Game 4 as Glenn Braggs and Chris Sabo both collect three RBI and beat up on Steve Avery setting up a deciding fifth game in Atlanta. Greg Maddux throws a no-hitter in a 3-0 victory in Game 5 of the NLDS as the Braves hang on to beat the stubborn Reds. Maddux wins both games he starts in the series, allowing no runs in 17 innings, while striking out 14.
The Astros sweep the Giants in three straight and look like the team to beat. Game 1 pits Bill Swift against Randy Johnson in a good pitching matchup. Swift and the Giants take a 3-1 lead into the 9th in Houston, but Rod Beck blows it giving up a two run homer to light-hitting Ricky Gutierrez to tie the game. Houston wins it in the 12th when Craig Biggio walks, steals second, and scores on a Derek Bell double. Game 2 isn't close, as the Giants win 10-3 with Jose Lima beating John Burkett and Jeff Bagwell homering and driving in a pair. Back to San Francisco for Game 3, and this time Houston blows open a 2-2 tie with a big 8th inning. Bagwell homers again, Moises Alou homers twice and Derek Bell homers and drives in four making Doug Henry a winner in relief. The sweep gives the Astros the luxury of starting Johnson in Game 1 while Atlanta has to wait to use Maddux until later in the series.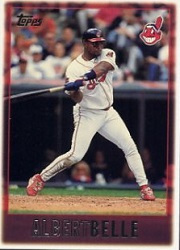 An intriguing matchup between teams who each made three successive trips to the World Series. Game 1 is in New York and pits Dave Stewart against David Cone. The A's jump to a 4-2 lead, but the Yankees rally for the 9-6 win. Tino Martinez homers and drives in three. Game 2 is a pitching duel between Bob Welch and David Wells, and the A's get a 2-1 win as Dennis Eckersley gets the save. We head back to Oakland with the series tied, but Game 3 goes to the Yankees as they rough up Scott Sanderson and make a winner of Andy Pettitte. Big games for Martinez, Chili Davis and Paul O'Neill. With their backs to the wall, Oakland puts Mike Moore on the hill in Game 4. He pitches well, allowing just one run, but Yankee starter Orlando Hernandez is better, and he and reliever Darren Holmes combine for the shutout. Derek Jeter and Martinez combine to score the Yankees only run, and all that they would need as the New York wins the series 3-1.
This series opens in Toronto, but the Indians quickly steal Game 1 with a 6-3 victory. Albert Belle homers and drives in three, Belle also doubles and triples and Charles Nagy collects the win. The Indians also take Game 2 with a 9-0 rout, as Orel Hershiser gets the complete game victory and offense is provided from Sandy Alomar Jr. who homers and drives in three. Looking for a sweep back home in Cleveland, Toronto turns the tables with a 4-3 win. Jack Morris gets the victory and Tom Henke the save, while John Olerud leads the way with a pair of RBI. The Blue Jays also take Game 4 as David Cone and Mark Eichhorn combine to silence the Indians bats. Pat Borders homers and drives in two and Dave Winfield also knocks in a pair. Game 5 is back in Toronto and pits Nagy against Guzman in a rematch of Game 1. Nagy and the Indians get the win, with Jose Mesa collecting the save and offense provided by Albert Belle's bases loaded three run double and another all-around great performance from Kenny Lofton. Cleveland wins this one 3-2 and the Indians move on to face the Yankees.
---
LEAGUE FORMAT
---
My best of 1990s baseball league uses the general idea of picking each franchise's best team from 1990-1999. Defining what is a franchise's best team isn't so clear, as sometimes a team with a great regular season record may not win a title when another year's team is statistically inferior, but does win the title (think 2006 Cardinals vs 2004 Cardinals). In some cases, when there were numerous candidates, like the 1990s Atlanta Braves, in which case I simply picked the team had the best collection of players I wanted represented in the league. As with most of the 1990s, the National League has three divisions (East, Central and West) with five teams in the East and Central, and four in the West. The American League also has three divisions of the same geographic names with the same number of teams, giving the league a total of 28 teams, 14 in each league. I did not include teams from Arizona or Tampa Bay. No strike season teams were allowed, which is unfortunate for 1994 Montreal and 1995 Cleveland.
Teams play a full 162 game schedule, no cancellations. The playoff format is that four teams from each league make the post-season. The division winners are seeded 1, 2 and 3, with the next best record earning the wildcard spot. Best record determines the playoff seeding. In the first round of the playoffs, a best of five, the 4 seed plays the 1 seed, while the 3 plays the 2 in a 2-2-1 format. The next two rounds, the Championship Series and the World Series, are both best of seven, with the team with the higher seed having home field advantage. I use a 2-2-1-1-1 format in all seven game series. Tie-breakers are typically settled based on head-to-head record, divisional record if applicable and then run differential. Ties for the wildcard spot are settled with a one game playoff that does not count in the regular season standings.
---
THE TEAMS
---
The '93 Atlanta Braves won the NL East with a 97-65 record – edging the Yankees and Astros by one game for the best record overall. As one might expect, their pitching was outstanding, leading all of MLB in ERA. Greg Maddux goes 22-8 with a 2.14 ERA and 225 strikeouts to lead the staff. Tom Glavine (18-5, 2.70 ERA), John Smoltz (16-12, 205 K's) and Steve Avery (15-5, 2.59 ERA) were all outstanding as well. Mike Stanton (31 save) and Greg McMichael (18 saves, 2.87 ERA) led the bullpen. Dave Justice (.259, 40 HR, 117 RBI) and Ron Gant (.268, 35 HR, 116 RBI, 27 steals) provided the power, while Otis Nixon (.268, 47 steals) provided the speed. Fred McGriff came over mid-season and hit .324 with 20 home runs and 51 RBI. The '93 Phillies, who upset the Braves in the '93 NLCS, battled with Atlanta in the first half of the year before the Braves pulled away. Philadelphia finished 80-82, several games back of the wildcard spot. Lenny Dykstra was outstanding, hitting .301 with 127 runs scored and 42 stolen bases. John Kruk (.312, 81 RBI), Darren Daulton (24 HR, 87 RBI) and Dave Hollins (25 HR, 85 RBI) also had good years offensively. Tommy Greene had a fine year after a slow start, going 14-9 with a 3.47 ERA and 189 strikeouts. Curt Schilling (14-16, 3.98 ERA, 200 K's) and Danny Jackson (11-11, 3.68 ERA) also pitched well. Mitch Williams collected 34 saves and a 2.27 ERA in relief. The '99 Mets struggled much of the year, and only a late surge brought them to a semi-respectable 77-85 third place finish. Mike Piazza was outstanding all year, hitting .296 with 38 homers and 119 RBI. Roger Cedeno (.287, 66 steals) was a terror on the bases, while Edgardo Alfonzo (.284, 24 HR, 98 RBI) and Robin Ventura (.271, 25 HR, 96 RBI) also had notable seasons. The pitching was below average. Al Leiter had the best year, going 15-6 with a 3.70 ERA. Masato Yoshii (13-11, 3.86 ERA) and Orel Hershiser (11-14, 4.93 ERA) also had double-digit wins. The bullpen was strong with John Franco (23 saves), Armando Benitez (81 K's in 57 innings) and Turk Wendell (74 games, 3.50 ERA).
The '97 Florida Marlins finished fourth with a 72-90 record. Kevin Brown was outstanding (17-11, 2.35 ERA, 205 K's) but the rest of the staff disappointed. Only Alex Fernandez (10-14, 4.56 ERA, 190 K's) notched double-digit wins. Robb Nen had 34 saves, but his 4.01 ERA was hardly impressive. Bobby Bonilla hit .295 with 18 homers and 85 RBI, while other productive hitters included Moises Alou (.279, 25 HR, 90 RBI), Charles Johnson (a surprising 25 HR), Gary Sheffield (20 HR) and Jeff Conine (18 HR). The '93 Montreal Expos bring up the rear, finishing just 66-96. The pitching had some bright spots. Jeff Fassero went 11-12 with a stellar 2.34 ERA as both a starter and reliever while Ken Hill went 10-6 with a 3.21 ERA. Dennis Martinez pitched the most innings on the team and was 9-14 with a 4.42 ERA. John Wetteland did record 29 saves and a 3.09 ERA but set up man Mel Rojas was disappointing (72 games, 5.53 ERA). Marquis Grissom was the Expos' offensive standout, hitting .270 with 15 HR, 102 runs scored and 52 stolen bases. Larry Walker (19 HR, 93 RBI) and Moises Alou (14 HR, 72 RBI) also had decent years, but this team was among the worst offensively.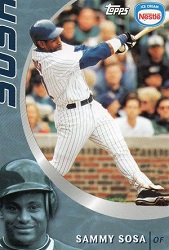 The '98 Houston Astros won the NL Central with a 96-66 record, just one game back of Atlanta overall. On the surface their outstanding performance was something of a surprise, but a closer look at their stats shows this was an outstanding team, with a Pythagorean W/L record of 106-56! The offense was excellent, led by lead-off hitter Craig Biggio (.310, 21 HR, 131 runs and 48 steals) and slugger Jeff Bagwell (.311, 41 HR, 128 RBI), but also had big contributions from Moises Alou (.280, 37 HR, 130 RBI), Derek Bell (.312, 109 runs scored) and Carl Everett (.322, 75 RBI). The pitching was strong, and only got better when Randy Johnson came aboard late in the season. Johnson went just 4-4, but had a 1.59 ERA and obviously minimal run support in his starts. Shane Reynolds (16-8, 4.46 ERA), Jose Lima (15-12, 4.03 ERA) and Mike Hampton (15-7, 3.94 ERA) made for a solid rotation, while Sean Bergman (13-11, 3.30 ERA) and closer Billy Wagner (35 saves, 0.70 ERA) also were excellent. The '90 Cincinnati Reds and '91 Pittsburgh Pirates both finished at 88-74, tying for the one wildcard spot. As mentioned above, that one game playoff went to the Reds. This Reds team was largely known for their bullpen – the Nasty Boys, and they fared well in this replay. Randy Myers collected 42 saves with a 3.20 ERA (much lower through most of the regular season, he had some bad outings in September) and Rob Dibble had a 2.35 ERA in 74 appearances, and struck out 117 in just 88 innings. Jose Rijo (14-11, 3.11 ERA), Tom Browning (14-13, 3.50 ERA) and Jack Armstrong (12-8, 3.99 ERA) all had respectable years among the starters. Eric Davis was outstanding on offense, hitting 36 home runs and driving in 100 despite a low .232 average. Barry Larkin hit .294 with 99 runs scored and 36 steals. Chris Sabo (26 HR, 85 RBI) and Paul O'Neill (.293, 20 HR, 85 RBI) also had fine years. Part-timer Hal Morris hit .360 with 52 RBI in his limited play. The '91 Pirates were led by the hitting of Barry Bonds and Bobby Bonilla to go with a strong pitching staff. Bonds hit .299 with 30 home runs, 99 RBI, 111 runs and 35 steals – an all around outstanding year. Bonilla hit .296 with 19 homers and 109 RBI. Andy Van Slyke (.264, 89 RBI) and Jay Bell (.276, 74 RBI) also had strong contributions to the offense. John Smiley struggled for much of the year, but came on late to finish with a 13-12 record and 3.63 ERA. Zane Smith was outstanding all year, finishing 16-11 with a 2.85 ERA, while Doug Drabek (14-10, 3.72 ERA) and Bob Walk (11 wins) also had good seasons. Stan Belinda saved 27 games, but his 4.64 ERA was poor. Bill Landrum had just nine saves, but his 2.93 ERA was much better.
The '96 Cardinals, who came within just one game of the World Series in real life, struggled and finished fourth place at 77-85. A deep, but not star-studded lineup featured John Mabry (.307, 81 RBI), Ray Lankford (.288, 83 runs, 28 steals), Gary Gaetti (23 HR, 82 RBI), Brian Jordan (.284, 20 HR, 71 RBI, 23 steals) and Ron Gant (24 HR, 61 RBI). Pitching was respectable, led by the Benes brothers. Alan Benes led the staff with 15 wins despite an ugly 5.18 ERA. Brother Andy Benes was better, going 14-10 with a 3.38 ERA. Donovan Osborne (8-15, 3.31 ERA) and Todd Stottlemyre (10-16, 3.56 ERA) were both victims of poor run support. Dennis Eckersley posted 30 saves, but an ugly 4.64 ERA. It was not surprising that the '98 Cubs finished last place in this tough division, with a 75-87 record. Sammy Sosa led all of baseball in home runs with 54 while hitting .277 with 142 RBI. There were other quality performers on this team however. Mark Grace (.285, 86 RBI), Henry Rodriguez (33 HR, 75 RBI) and Jose Hernandez (23 HR, 71 RBI) kept the Cubs putting runs on the board. Kevin Tapani led the team in wins, going 16-15 with a 4.55 ERA, but it was young Kerry Wood who would finish just 8-7 but strike out 216 batters and post a low 3.25 ERA who was best. Mark Clark (11-13, 4.18 ERA) and Steve Trachsel (11-12, 5.28 ERA) also won double-digit games. Rod Beck saved 35 games with a reasonable 3.39 ERA.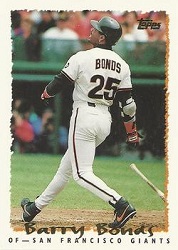 The '93 San Francisco Giants, who won 103 games in real life only to fall one game short of the Braves and miss the playoffs, won the West division with an 85-77 record. No surprise, Barry Bonds had an MVP caliber season, hitting .321 with 48 homers, 122 runs, 129 RBI and 21 steals. Matt Williams also had a big year hitting .293 with 41 home runs and 116 RBI. The offense dropped off significantly after that, with only Robby Thompson (.310, 78 runs scored) and Will Clark (.270, 18 HR, 70 RBI) having productive seasons. Bill Swift had a fine year (18-10, 2.81 ERA) but the rest of the pitching staff was inconsistent. John Burkett ate innings and finished 14-12 with a 3.54 ERA. No other pitcher pitched more than 128 innings, and not surprisingly no other pitcher won more than six games. Rod Beck was outstanding in the bullpen with 40 saves and a 1.80 ERA while set up man Mike Jackson led all relievers with 85 appearances, posting a 3.81 ERA. '98 San Diego finished 82-80, and missed the playoffs after contending most of the year for both the division and the wildcard. Ace Kevin Brown was outstanding, the only pitcher as good as Atlanta's Maddux, finishing at 20-7 with a 2.01 ERA and 226 strikeouts. Other starters were decent including Andy Ashby (15-13, 3.74 ERA), Sterling Hitchcock (11-12, 4.38 ERA) and Joey Hamilton (11-14, 4.50 ERA). Trevor Hoffman had a good year with 35 saves and a 2.98 ERA. Greg Vaughn had a solid year, hitting 45 home runs with 121 RBI, while the supporting cast included Tony Gwynn (.308, 17 HR, 67 RBI), Ken Caminiti (28 HR, 87 RBI), Steve Finley (93 runs, 73 RBI) and Wally Joyner (.293, 62 runs scored).
The '91 Dodgers finished third place, going 74-88. The offense struggled, scoring the fewest runs in baseball. Darryl Strawberry, playing in a more averaged out decade instead of the more dead-ball early 90s hit 35 home runs with 95 RBI while Eddie Murray hit 24 dingers and collected 92 RBI. Brett Butler however was probably the Dodgers best player, hitting .316 with 91 runs scored and 46 stolen bases. Kal Daniels added 21 home runs and 69 RBI. The pitching was strong, posting the second best ERA in all of baseball. The rotation featured Ramon Martinez (16-15, 3.34 ERA), Tim Belcher (11-9, 3.11 ERA), Mike Morgan (11-16, 2.73 ERA) and Bob Ojeda (10-12, 3.47 ERA) – a capable unit. Jay Howell (24 saves, 2.27 ERA) led the bullpen. The 1997 Colorado Rockies were all offense, leading the NL with 207 home runs, and one of the most exciting teams in this replay. Larry Walker was superb, leading MLB in hitting at .356 to go with 42 home runs, 128 runs scored, 123 RBI and 32 steals. Other huge contributions came from Andres Galarraga (.312, 39 HR, 131 RBI), Vinny Castilla (.275, 42 HR, 108 RBI) and Dante Bichette (.274, 20 HR, 86 RBI). The pitching, to nobody's surprise, was the worst in MLB. Roger Bailey (12-11, 4.31 ERA) and John Thomson (11-11, 5.24 ERA) were the only double-digit winners on the pitching staff. Jerry DiPoto collected 24 saves with a 4.50 ERA to lead an equally suspect bullpen.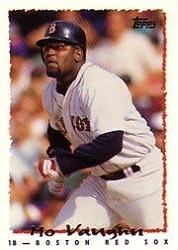 The '98 Yankees easily won the AL East despite some formidable opposition, posting a 96-66 record. This team boasted outstanding hitting and pitching, leading all of baseball in scoring, and separated from the rest of the AL pack quite early. Offensively, the stars were numerous, most notably Paul O'Neill (.316, 26 HR, 118 RBI), Tino Martinez (.281, 26 HR, 114 RBI), Bernie Williams (.330, 27 HR, 98 RBI), Derek Jeter (.322, 23 HR, 120 runs scored) and Chuck Knoblauch (109 runs scored, 28 stolen bases). The starting rotation was strong, David Cone went 15-8 with a 3.40 ERA and 220 strikeouts. Other starters were solid, including Andy Pettitte (16-10, 4.18 ERA), David Wells (14-12, 3.54 ERA) and Orlando Hernandez (13-4, 2.39 ERA). Mariano Rivera missed some time early in the year but still finished with 30 saves and a 1.18 ERA. The '92 Blue Jays, winners of back-to-back titles, finished second posting an 86-76 record, good enough to earn the wildcard berth. Offense was supplied from Joe Carter (37 HR, 111 RBI), Dave Winfield (.286, 30 HR, 97 RBI), Roberto Alomar (.271, 92 runs, 45 stolen bases) and Candy Maldonado (23 HR, 76 RBI). The pitching staff was adequate, with Jack Morris (15-12, 3.93 ERA), Jimmy Key (15-11, 3.44 ERA) tying for the most wins on the staff. Juan Guzman led the American League much of the year in ERA before a late swoon, and finished at 10-6 with a 2.69 ERA. Todd Stottlemyre won 11 games and late addition David Cone posted a low 2.81 ERA in limited starts. The bullpen was one of the best in the game, with Duane Ward (83 appearances, 2.45 ERA) and Tom Henke (42 saves, 2.77 ERA) leading the way. A late season surge brought '97 Baltimore to third place at 85-77, just missing the wildcard spot by one game. Rafael Palmeiro had a horrible start, but managed to finish with 24 homers and 83 RBI. Other offensive top performers were Roberto Alomar (.323 average), Jeffrey Hammonds (22 HR, 63 RBI) and Brady Anderson (16 HR, 92 runs scored). Cal Ripken Jr. struggled, hitting just .224 with 17 HR and 77 RBI. On the mound, Mike Mussina was excellent going 16-6 with a 2.86 ERA and 222 strikeouts. Scott Erickson (18-10, 2.86 ERA) was also outstanding. Jimmy Key (12-13, 3.84 ERA) was the only other reliable starter. In the bullpen, Randy Myers posted 40 saves and a 1.78 ERA while Armando Benitez put up a 2.60 ERA in 51 appearances.
The '98 Red Sox were a wildcard threat much of the year, but fell apart late in the season, finishing at 78-84, well behind the pack. The offense was brilliant at times, and had stars in AL batting champion Mo Vaughn (.331, 33 HR, 118 RBI) and Nomar Garciaparra (.317, 40 HR, 116 RBI). After those two, the offense dropped rapidly, but still got good contributions from John Valentin (21 HR, 80 RBI), Troy O'Leary (.279, 18 HR, 97 runs scored) and Darren Lewis (91 runs scored, 62 RBI and 26 steals). Pedro Martinez was the ace of a mediocre staff, and finished 20-13 with a 2.75 ERA and 250 strikeouts, all among league leaders. After that, Bret Saberhagen (12-9, 4.18 ERA) and Tim Wakefield (11-16, 4.41 ERA) were the next best options. Closer Tom Gordon had a very good season with 36 saves and a 1.97 ERA. The 1991 Detroit Tigers were last place, probably not a huge surprise, finishing at 72-90, but they still had some excellent performances. Slugger Cecil Fielder pounded 41 home runs with 121 RBI. Other top hitters included Travis Fryman (18 HR, 84 RBI), Mickey Tettleton (26 HR, 79 RBI) and Tony Phillips (.306, 89 runs scores) while Milt Cuyler finished among base steal leaders with 43. The pitching staff was pedestrian. Bill Gullickson was best, going 13-13 with a 3.85 ERA. Frank Tanana (12-8, 3.84 ERA) and Walt Terrell (10-15, 4.47 ERA) also were respectable. The closer was Mike Henneman, who collected 28 saves and a 3.32 ERA.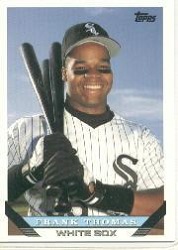 Unable to use their amazing 1995 team, the 1996 Cleveland Indians still cruised to a division title, going 92-70, the second best record in the American League. Predictably, the Indians offense was among the league's best. Albert Belle hit .308 with 41 home runs and an AL best 148 RBI. Kenny Lofton was also outstanding at the top of the order, hitting .322 with 130 runs scored and 72 stolen bases. Other significant seasons came from Manny Ramirez (.290, 28 HR, 110 RBI), Jim Thome (.271, 38 HR, 101 RBI) and Omar Vizquel (89 runs, 32 stolen bases). The pitching is not nearly as good. Still, Charles Nagy had a fine year going 16-10 with a 3.67 ERA, while other starters of note included Chad Ogea (13-8, 4.86 ERA), Orel Hershiser (12-9, 4.02 ERA) and Jack McDowell (11-15, 4.70 ERA). Jose Mesa, more known for his blown save in the '97 World Series nowadays, had a fine year with 39 saves and a 2.51 ERA. The 1993 Chicago White Sox finished second place, going 81-81. Slugger Frank Thomas was outstanding, hitting .301 with 44 home runs and 130 RBI. Other contributors included Robin Ventura (27 HR, 95 RBI), speedy Lance Johnson (.309, 35 steals, 72 runs) and Ellis Burks (16 HR, 73 RBI). The pitching was pretty strong, with Jack McDowell (17-16, 3.73 ERA), Alex Fernandez (16-13, 3.30 ERA) and Wilson Alvarez (14-9, 3.40 ERA) all having solid years. Roberto Hernandez anchored the bullpen with 33 saves and a 2.26 ERA. The '92 Brewers finished tied for third place with the '91 Twins with identical 78-84 records. The Brewers struggled most of the year, but a strong finish in August and September pulled them up in the standings and even briefly into wildcard contention. The offense was pedestrian, but did lead all of baseball with 227 stolen bases. Paul Molitor, mostly playing DH, had a fine year hitting .325 with 13 home runs, 95 runs and 28 stolen bases. Other players on offense included Greg Vaughn (21 HR, 67 RBI), Kevin Seitzer (.268, 80 RBI), Pat Listach (.275, 94 runs, 49 steals) and Robin Yount (.254, 84 RBI). Cal Eldred, in limited time, was outstanding, going 6-4 with a 1.95 ERA. Full-time starters included Bill Wegman (13-11, 4.00 ERA), Jamie Navarro (14-12, 3.82 ERA) and Chris Bosio (14-12, 3.71 ERA). Doug Henry collected 30 saves, but his 4.92 ERA was very poor.
Kirby Puckett was again outstanding for the Twins, contending all year for the AL batting title, and finishing with a .321 average, 14 homers, 91 runs and 80 RBI. Shane Mack also was among batting leaders most of the year, and finished up hitting .305 with 18 homers and 73 RBI. Other offense came from Chili Davis (23 HR, 87 RBI), Kent Hrbek (19 HR, 84 RBI) and Chuck Knoblauch (.284, 75 runs, 20 steals). The pitching was decent, with Scott Erickson going 15-11 with a 3.42 ERA and Kevin Tapani going 13-15 with a 3.53 ERA. Jack Morris was somewhat disappointing, going just 13-16 with a 4.06 ERA despite 197 strikeouts. Rick Aguilera recorded 28 saves and posted a low 2.11 ERA. The '93 Kansas City Royals finished last, with a 66-96 record tied for the worst in the league with Montreal. Highlights included pitchers Kevin Appier, who went 15-11 with an AL best 2.14 ERA and fellow starter David Cone, who posted a 16-11 record with a 2.96 ERA and 192 strikeouts. Hipolito Pichardo had a good start, but struggled as the season wore on, finishing just 5-13 with a 4.66 ERA. Jeff Montgomery had an ugly 1-11 record, but recorded 25 saves, and his 3.80 ERA was not awful.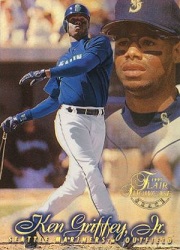 The 1990 Oakland A's pulled away from Texas and Seattle to win the AL West with an 88-74 record. This all-around team was led by Rickey Henderson, who would hit .315 with 24 homers, 88 runs scored, 74 RBI and 61 stolen bases in an MVP caliber season. Power came from the Bash Brothers, Mark McGwire (30 HR, 91 RBI) and Jose Canseco (.264, 35 HR, 95 RBI, 16 steals), while Dave Henderson (18 HR, 61 RBI) and Carney Lansford (.259, 65 runs scored) also contributed. The pitching featured ace Dave Stewart who went 20-12 with a 2.56 ERA and 188 strikeouts, as well as Bob Welch (18-14, 3.53 ERA), Scott Sanderson (11-12, 4.55 ERA) and Mike Moore (11-16, 5.45 ERA). Dennis Eckersley was excellent out of the bullpen, picking up 34 saves with a microscopic 0.69 ERA. The '96 Texas Rangers finished 82-80, good for second place in the West, but failed to qualify for the playoffs. This was another team led by their powerful offense, namely slugger Juan Gonzalez, who would hit .298 with 42 home runs and 119 RBI. Several other players had good years offensively, including Dean Palmer (30 HR, 96 RBI), Mickey Tettleton (25 HR, 89 RBI), Kevin Elster (25 HR, 88 RBI), Rusty Greer (.320, 79 runs, 71 RBI) and Pudge Rodriguez (.284, 92 runs, 83 RBI). Pitching was less reliable, and only Ken Hill (17-13, 3.92 ERA) had a standout year. Other starters included Darren Oliver (13-7, 4.90 ERA), Roger Pavlik (12-15, 4.88 ERA) and Bobby Witt (11-15, 5.49 ERA). Mike Henneman recorded 32 saves with an ugly 4.80 ERA. Dennis Cook was better in 62 relief appearances, posting a 3.08 ERA.
One of the more exciting teams figured to be the '97 Seattle Mariners. They finished in third place with an even 81-81 record and led all of baseball with 233 home runs. When you think of this team, you have to think of Ken Griffey Jr. and Randy Johnson. Both were outstanding. Griffey led the AL with 49 home runs, hit .286 and collected 137 RBI. Johnson led the AL in strikeouts with 272, went 20-4 and posted a 2.56 ERA. Beyond Griffey, the offense had other contributors in Edgar Martinez (.311, 32 HR, 115 runs, 112 RBI), Jay Buhner (32 HR, 97 RBI), Alex Rodriguez (.286, 18 HR, 109 runs, 29 steals), Paul Sorrento (30 HR, 91 RBI) and Joey Cora (.296, 90 runs scored). Beyond Johnson, the pitching was abysmal, finishing second worst only to Colorado. Notable starters included Jamie Moyer (14-9, 3.23 ERA) and Jeff Fassero (13-12, 3.90 ERA), but it was the bullpen that was disastrous as Norm Charlton, Heathcliff Slocumb and Bobby Ayala all struggled. The '97 Anaheim Angels finished last at 77-85 but were an entertaining team. Like most from the late 1990s, their hitting was much better than their pitching. Notable seasons included Tim Salmon (.289, 30 HR, 115 RBI), Jim Edmonds (24 HR, 90 RBI), Garret Anderson (.312, 94 runs, 72 RBI), Dave Hollins (.273, 20 HR, 82 RBI) and Darin Erstad (.295, 86 runs, 24 steals). The pitching struggled, particularly hard-luck Allen Watson who went 7-21 with a 5.30 ERA. Other starters included Chuck Finley (11-10, 4.10 ERA), Dennis Springer (9-16, 4.21 ERA) and Jason Dickson (10-10, 4.50 ERA). Troy Percival collected 28 saves and a mediocre 3.61 ERA.
---
HIGHLIGHTS
---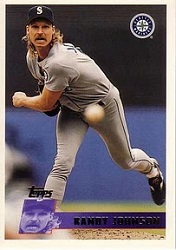 Once again, there were no perfect games in this replay, but we did get one no-hitter. On June 26, Florida's Al Leiter no-hit the Montreal Expos, although he did walk an astounding eight batters! Leiter was also represented on the '99 Mets, and threw a one-hitter for them. San Diego's Kevin Brown threw a pair of one-hitters. The season high for strikeouts in a single game came from Baltimore's Mike Mussina, striking out 16 against the Seattle Mariners on August 15th.
Kansas City's George Brett had the season's longest hit streak at 22 games, just edging St. Louis' John Mabry who had a 21 game hitting streak. Ten players hit three home runs in one game, but none hit four. Among those hitting three was Florida catcher Charles Johnson, who drove in eight runs in the same game. Two players hit for the cycle, San Francisco's Barry Bonds and St. Louis' Gary Gaetti.
The All Star game was held July 8th at Yankee Stadium. Greg Maddux started for the National League against Randy Johnson for the American League. The American League wins this time by a 6-1 score. Boston's Nomar Garciaparra collected two hits and two RBI and Oakland's Rickey Henderson takes MVP honors with three hits, three runs and a stolen base. Three errors doomed the National League, who could not get much offense against the American League pitching. Oakland's Dave Stewart took the win, Maddux the loss.
All Star Game: American 6; National 1
See the complete daily posts on the Action! PC message board
---