Best of 1990s NFL Football Replay
Standings
AFC Leaders
NFC Leaders
Team by Team Stats
Team Offense
Team Defense
Awards
---
THE PLAYOFFS
---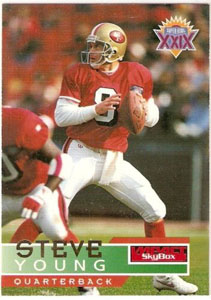 The 1994 San Francisco 49ers defeated the 1998 Denver Broncos for the Best of 1990s title, a somewhat surprising win given that the 49ers were the NFC's 6th seed and final playoff team. This Super Bowl was played in sunny San Diego, and the Broncos came in a slight favorite. Denver scored first on a 43 yard field goal by Jason Elam, and then scored the game's first touchdown on a 47 yard run by Terrell Davis, taking a 10-0 lead after one quarter. Early in the 2nd quarter, Steve Young hit Brent Jones on a three yard touchdown pass to cut the lead to 10-7, and a few minutes later Young hit Jones again, this time from eight yards out putting the 49ers ahead 14-10. Elam then hit a 47 yard field goal making 14-13 with three minutes to halftime. However, San Francisco drove the length of the field and scored another touchdown, this time a Young TD pass to John Taylor making it 21-13 at halftime.
Elam kicked his third field goal midway through the 3rd quarter, cutting the deficit to 21-16, but the 49ers scored another touchdown when Ricky Watters ran it in from five yards out making it 28-16 heading into the final period. Early in the 4th quarter Denver again settled for an Elam field goal (from 27 yards) making it 28-19. The 49ers next series resulted in a long drive that would take ten minutes off the clock and end with a short Doug Brien field goal making it 31-19 and leaving Denver very desperate. The Broncos would get two more possessions, but neither resulted in anything useful, and the 49ers would win the championship.
Steve Young would take the MVP with a 25 for 30, 284 yard, three touchdown (and one interception) game. In defeat, Terrell Davis was outstanding rushing 21 times for 170 yards and a touchdown. Other fine performances came from 49ers TE Brent Jones (7 catches, 104 yards, two touchdowns), 49ers WR Jerry Rice (8 catches, 106 yards) and Broncos LB John Mobley (11 tackles, interception). John Elway had a very mediocre day, throwing for just 133 yards as Denver converted just 2 of 10 third downs.
Super Bowl: '94 49ers 31; '98 Broncos 19
The AFC playoffs began with 5th seeded 1991 Houston visiting and beating 4th seeded 1997 Kansas City in a wildcard game 34-20. Oilers QB Warren Moon throws for 308 yards and three scores in the game, with WR Drew Hill having the big day receiving (9 catches, 162 yards, two scores). Oilers safety Bubba McDowell adds seven tackles and an interception. In the second AFC wildcard game, the 3rd seeded 1999 Jacksonville Jaguars host and beat the 6th seeded 1999 Indianapolis Colts by a 38-20 score. Jaguars QB Mark Brunell throws for 235 yards and two scores and rushes for another score. Jags RB James Stewart rushes for 141 yards and a touchdown and WR Jimmy Smith has a fine outing with 8 catches for 119 yards and both TD recepitions. Edgerrin James has a fine game in the loss, rushing for 74 yards, and catching six passes for 108 yards.
One week later in the divisional round, the top seeded 1998 Denver Broncos host the Oilers and win a close one 27-24. Trailing 24-20, Broncos LB Bill Romanowski returns an interception 20 yards for the score that would prove to be the difference. Broncos RB Terrell Davis rushes for 136 yards, and WR Ed McCaffrey catches six passes for 180 yards and a touchdown. Another big game for Moon and Hill in defeat for Houston. In the second divisional game, the Jaguars travel to 2nd seeded 1990 Buffalo to play the Bills, and fall by a 24-3 score. Bills QB Jim Kelly goes 22 of 26 for 216 yards and two scores, and RB Thurman Thomas adds 116 yards rushing and another score. Bills DE Bruce Smith records two of Buffalo's five sacks in a defensive gem, where the Jaguars explosive offense struggles, netting just 85 total yards on the day.
The AFC Championship is played in Denver as the '98 Broncos host the '90 Bills. The Broncos take control early, as Terrell Davis scores on a 10 yard touchdown run, then Elway hits Rod Smith on a 58 yard touchdown pass. Just before halftime, Elam kicks a short field goal making it 17-0 for Denver. After a scoreless 3rd quarter, Buffalo is finally on the board in the 4th quarter when Kelly hits James Lofton on a 45 yard touchdown cutting the lead to 17-7. That is as close as the Bills would get however, as Elam kicks another field goal to make it 20-7, which would be the final score.
Davis earns MVP honors, rushing 34 times for 139 yards and a touchdown. Protecting a lead Elway throws just 16 passes, completeing 10 for 157 yards and a touchdown. Mobley records 12 tackles to lead the defense. In defeat, James Lofton does catch four passes for 108 yards and a score, while Jim Kelly is 14 of 23 for 221 yards. Third down conversions and timely penalties would prove to doom the Bills, who again come up short in their championship quest. The 1998 Broncos advance to represent the AFC in the Super Bowl.
AFC Championship: '98 Broncos 20; '90 Bills 7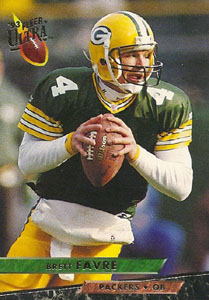 The NFC playoffs start with 6th seeded 1994 San Francisco visiting and upsetting the 3rd seeded 1998 Minnesota Vikings 14-12. Vikings QB Randall Cunningham struggles against the outstanding 49ers secondary throwing two interceptions as Minnesota has multiple chances to win it late but cannot score (including a Gary Anderson missed FG). In the second wildcard game, it's a rematch of a fine Week 1 game I played as the 5th seeded 1992 Dallas Cowboys visit the 4th seeded 1997 Green Bay Packers. After a scoreless 1st quarter, Brett Favre puts the Packers up first on a TD pass to Robert Brooks, but Dallas answers when QB Troy Aikman throws touchdown passes to Alvin Harper and Michael Irvin to make it 14-7 at halftime. After a Dallas field goal makes it 17-7, Green Bay scores 10 straight with the touchdown coming on a 59 yard pass from Favre to Antonio Freeman to tie the game 17-17. Another Lin Elliott FG puts Dallas back up 20-17, but Favre strikes again with Freeman on a touchdown from 64 yards making it 24-20. Dallas RB Emmitt Smith scores to make it 26-24 with three minutes left, but Elliott misses the PAT, leaving the door open for the Packers to win on a 22 yard Chris Jacke kick... an instant classic!
The divisional round begins with the 49ers visiting top seeded 1991 Washington. With the game tied 10-10 after three quarters, San Francisco takes over in the 4th quarter with a pair of Ricky Watters scores giving the 49ers a 24-10 victory. Watters finishes with 103 yards on the day, and for the second straight week the 49ers secondary is outstanding limiting Redskins QB Mark Rypien to just 94 yards and an interception. In the second divisional game, the Packers visit the 2nd seeded 1999 St. Louis Rams. Green Bay is up 21-10 going into the 4th quarter, but the Rams score late on a Kurt Warner long touchdown pass to Isaac Bruce and two point conversion making it 21-18. After recovering an onside kick, the Rams appear to have hope needing just a field goal to force overtime, but an Az Hakim fumble recovered by the Packers would finish the game and advance the Packers to meet the 49ers in the NFC Championship. Packers QB Brett Favre finishes the game throwing for 256 yards and three touchdowns, while Packer safeties LeRoy Butler and Eugene Robinson combine for 15 tackles and two interceptions.
The NFC Championship is played at a cold, windy Green Bay as the 4th seeded Packers host the 6th seeded 49ers. The 49ers score first on a Steve Young touchdown pass to Jerry Rice in the first quarter. The Packers respond with a Chris Jacke field goal. The 49ers score again in the 2nd quarter on a William Floyd touchdown run making it 14-3. Before halftime, Green Bay cuts the gap when Brett Favre throws a touchdown pass to Edgar Bennett making it 14-10. In the 3rd quarter, Green Bay takes the lead for the first time on a 22 yard TD pass from Favre to Don Beebe, making it 17-14. The 49ers would take the lead early in the 4th quarter on a one yard Ricky Watters touchdown run. The Packers would have their chances, but a final drive stalls on a failed 4th down and the 49ers move on to the Super Bowl to play the Broncos.
49ers WR Jerry Rice took the game MVP honors with a ten catch, 126 yard and one touchdown performance. Steve Young throws for 226 yards and DT Bryant Young records seven tackles and a sack. Favre struggles, completing just 12 of 23 for 116 yards (but two touchdowns and no interceptions). Packers RB Edgar Bennett rushes for 106 yards and catches four passes. As is so often the case, the losing Packers struggled on third down conversions and had penalty problems.
NFC Championship: '94 49ers 21; '96 Packers 17
---
LEAGUE FORMAT
---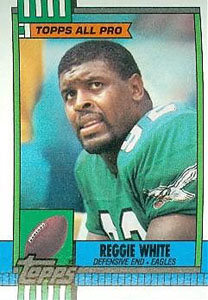 The Best of 1990s NFL league was a 30 team league with 15 teams in the AFC and 15 teams in the NFC. The idea was to pick the best team for each franchise from 1990 to 1999, omitting any strike shortened seasons (there were none in the 1990s). In some cases, where there wasn't a clear best team, the most interesting team (in my opinion) was selected, and you may disagree with some of the teams I selected.
As always, several franchises were very difficult to choose from… the Dallas Cowboys had three Super Bowl winners, all of which were very close statistically – in the end, I chose the 1992 team. The Pittsburgh Steelers had numerous very good but not great teams. The 1995 team lost in the Super Bowl, but I felt the 1994 team was the best on paper. The Buffalo Bills had four Super Bowl losing teams, but the 1990 team seemed to be the best on paper, and the one that came the closest to winning a title. I chose the 1997 Kansas City Chiefs, who were on paper their best team. In hindsight, I might have picked the 1993 team with Joe Montana and Marcus Allen that lost in the AFC Championship. The 1999 Colts were a tough choice over their 1995 AFC Championship losing team. I chose the 1995 Lions over their 1991 NFC Championship losing team. Perhaps the toughest choice was picking the 1991 Houston Oilers over the 1999 Tennessee Titans – my reason being that the 2000 Titans team (possibly better than the '99 team) will be represented in my Best of 2000s league.
By the late 1990s the NFL had expanded to 30 teams (Jacksonville and Carolina). There were 15 in each conference - in three divisions of five teams. This made for easy scheduling, and one team per franchise. The Cleveland Browns, who moved to Baltimore in the 90's, came back as an expansion team in 1999, giving the NFL 31 teams. I chose the team from both franchises that seemed best, and that was the 1994 Cleveland squad.
Teams play a full 16 game schedule, with division winners earning the 1,2 and 3 seeds (with the 1 and 2 seeds earning a playoff bye). The next three best records, regardless of division, earn the wildcards (seeds 4,5 and 6). Like the current NFL, the 6 plays the 3 in one wildcard game, and the 5 plays the 4. Winners advance with the 1 seed hosting the worst remaining seed. For this particular project, the Super Bowl was awarded to San Diego and Qualcomm Stadium.
---
THE TEAMS
---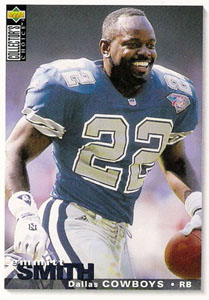 The 1990 New York Giants, with a record of 13-3 and a win in Super Bowl XXV were an easy choice for this franchise. The squad, coached by Bill Parcells, included QB Phil Simms, RBs Ottis Anderson and Dave Meggett, TE Mark Bavaro and LB Lawrence Taylor and DE Leonard Marshall on defense. This would be a division loaded with heavyweight teams however, and as good as that Giants team was, there might be two better teams. The 1991 Washington Redskins coached by Joe Gibbs went 14-2 and cruised to a win in Super Bowl XXVI. Statistically one of the best single-season teams ever, this squad was led by QB Mark Rypien and WRs Gary Clark, Art Monk and Ricky Sanders and an offensive line featuring Jim Lachey and Mark Schlereth. The defense featured DE Charles Mann, LB Wilber Marshall and CB Darrell Green. The 1992 Dallas Cowboys figure to be another championship contender from this division. The first of three Super Bowl winning teams from the team of the decade, this Dallas squad was coached by Jimmy Johnson went 13-3 and won Super Bowl XXVII. The offense was led by "the triplets" – QB Troy Aikman, RB Emmitt Smith and WR Michael Irvin, but featured numerous other stars in TE Jay Novacek, T Erik Williams, C Mark Stepnoski and G Nate Newton (part of one of the great offensive lines of all time). The defense was not as well-known, but featured numerous play-makers in DE Charles Haley and DE Jim Jeffcoat, LB Ken Norton Jr. and S James Washington.
Rounding out the division were two less spectacular, but still solid teams. The 1992 Philadelphia Eagles coached by Rich Kotite featured a swarming defense led by DE Reggie White, DE Clyde Simmons, LB Seth Joyner and CB Eric Allen. The offense was led by QB Randall Cunningham, RB Herschel Walker, WR Fred Barnett and pass-catching FB Keith Byars. After years of futility, the 1998 Arizona Cardinals reached the playoffs as a wildcard led by coach Vince Tobin. Led by QB Jake Plummer and a big play offense featuring WRs Frank Sanders and Rob Moore, the Cards put up plenty of points. The ground game featured RB Adrian Murrell and pass-catching FB Larry Centers. The defense featured DE Simeon Rice and a fine secondary led by CB Aeneas Williams and S Kwamie Lassiter.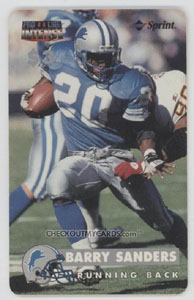 The NFC Central featured the 1990 Chicago Bears, coached by Mike Ditka. Far from their peak in the 1980s, the Bears were still a playoff team led by QB Jim Harbaugh, RBs Neal Anderson and Brad Muster, and an aging but still good offensive line featuring T Jim Covert and C Jay Hilgenburg. The defense, still the strength of the team, featured DE Richard Dent, LB Mike Singletary and a fine secondary led by S Mark Carrier and CBs Lemuel Stinson and Donnell Woolford. The 1995 Detroit Lions, coached by Wayne Fontes, featured a big-play offense. QB Scott Mitchell had major targets in WR Herman Moore and WR Brett Perriman, but it was the running of all-world RB Barry Sanders that most remember this era of the Lions for. Sanders ran behind a good offensive line that featured T Lomas Brown and C Kevin Glover. The defense was not great, but had a few quality players in DT Henry Thomas, DE Tracy Scroggins and S Willie Clay and Bennie Blades. Jason Hanson was one of the better kickers of this era. The 1996 Green Bay Packers, winners of Super Bowl XXXI and coached by Mike Holmgren, figure to be one of the favorites to win the championship. Led by MVP QB Brett Favre, the offense comes loaded with WRs Antonio Freeman, Robert Brooks, TEs Mark Chmura and Keith Jackson, RB Edgar Bennett and C Frank Winters. The defense features DE Reggie White (who makes appearances on two teams in this league), DT Gilbert Brown and excellent safeties Eugene Robinson and LeRoy Butler. Punt returner Desmond Howard was one of the best at his craft, scoring three times on returns this year.
The 1998 Minnesota Vikings, coached by Dennis Green, set a then-record for points scored with a ridiculous offense featuring QB Randall Cunningham and WRs Cris Carter, Randy Moss and Jake Reed. RB Robert Smith had a big year and helped balance the offensive attack. The offensive line featured Pro Bowlers in T Todd Steussie, G Randall McDaniel and C Jeff Christy. The defense featured All Pro DT/DE John Randle, LB Ed McDaniel and a secondary led by S Robert Griffith and CB Jimmy Hitchcock. Kicker Gary Anderson had an outstanding season, that is until the NFC Championship game. The 1999 Tampa Bay Buccaneers round out the Central. Coached by Tony Dungy, this team was lead by it's defense and made it to the NFC Championship game before being beaten. The defense featured DT Warren Sapp, LBs Derrick Brooks and Hardy Nickerson, to go with S John Lynch and CB Donnie Abraham. The offense was much less impressive, but featured a solid rushing attack with RBs Warrick Dunn and Mike Alstott. QB Trent Dilfer (and Shaun King after Dilfer injury) lead a shaky passing attack that featured WR Jacquez Green. C Tony Mayberry was a Pro Bowl talent, and K Martin Gramatica had a good year.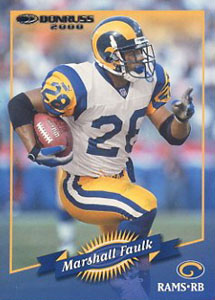 The NFC West features two Super Bowl champions and three more very solid playoff teams. The 1992 New Orleans Saints, coached by Jim Mora, feature QB Bobby Hebert, RB Dalton Hilliard, C Joel Hilgenberg and WR Eric Martin. The strength of the team however was its defense, most notably LBs Rickey Jackson, Sam Mills, Vaughn Johnson and Pat Swilling, all of whom made the Pro Bowl. DE Wayne Martin and CB Toi Cook, as well as K Morten Anderson were solid contributors as well. The 1994 San Francisco 49ers, coached by George Seifert, won Super Bowl XXIX behind the great play of QB Steve Young, RB Ricky Watters, TE Brent Jones and WRs Jerry Rice and John Taylor. The offensive line featured Pro Bowlers G Jesse Sapolu and C Bart Oates. The defense featured a great secondary – most notably CB Deion Sanders, to go with safeties Tim McDonald and Merton Hanks. The defensive line included Dana Stubblefield and rookie Bryant Young. Dexter Carter returned both a kickoff and a punt for a score this year. The 1996 Carolina Panthers, in just their second year, reached the NFC Championship game coached by Dom Capers. QB Kerry Collins had respectable talents in TE Wesley Walls and WR Mark Carrier, and a solid defense including LBs Kevin Greene, Sam Mills and Lamar Lathon. The secondary included All Pro CB Eric Davis, while K John Kasay and KR Michael Bates were also Pro Bowl players.
The 1998 Atlanta Falcons upset the heavily favored Vikings to advance to Super Bowl XXXIII, where coach Dan Reeves lost to his former team (Denver). This was a very solid team, led by QB Chris Chandler, RB Jamal Anderson (the year of the dirty bird end zone dance) and WRs Terrance Mathis and Tony Martin. T Bob Whitfield and K Morten Anderson both had good years. The defense featured LB Jesse Tuggle, CB Ray Buchanan and S Eugene Robinson. KR Tim Dwight returned a kick for a touchdown during the season. The 1999 St. Louis Rams, coached by Dick Vermeil, were one of the surprise teams of the decade, riding a backup QB to a Super Bowl championship. QB Kurt Warner, filling in for Trent Green, had a huge season, capped off with a Super Bowl MVP. RB Marshall Faulk may have been the best player in the NFL at this time, while WRs Isaac Bruce and Torry Holt gave Warner top notch targets. T Orlando Pace made the Pro Bowl while Az Hakim and Tony Horne were outstanding returning punts and kicks. The defense included DE Kevin Carter, DT D'Marco Farr, CB Todd Lyght and a young LB London Fletcher.
The AFC East features the 1990 Buffalo Bills (coached by Marv Levy), the first of their four Super Bowl losing teams, and probably, on paper at least, their best team and a solid candidate to represent the conference in my Super Bowl. Led by QB Jim Kelly, RB Thurman Thomas and WR Andre Reed this was a top notch offense playing at what was then a very fast pace. Other notable offensive players included WR James Lofton, C Kent Hull and T Will Wolford. The defense was led by DE Bruce Smith, one of the all-time greats. LBs Shane Conlan, Cornelius Bennett and Darryl Talley were formidable, and CB Nate Odomes and S Mark Kelso led the secondary. The 1994 Miami Dolphins were a tough choice over their 1990 squad (which was better on paper, but I went with 1994 as that was Marino's return from injury year, and had they not blown the game in San Diego would have gone to the AFC Championship). Of course, led by QB Marino and coach Don Shula, the team featured RB Bernie Parmalee, pass-catching RB Keith Byars, and a good core of receivers with Irving Fryar, Mark Ingram and TE Keith Jackson. The line was led by All Pro T Richmond Webb and G Keith Sims. The defense was not so spectacular, but did feature some good players in DE Jeff Cross, LB Bryan Cox and CB Troy Vincent. Kicker Pete Stoyanovich was one of the better kickers of this era. The 1996 New England Patriots, coached by Bill Parcells, lost Super Bowl XXXI and were an easy choice for the franchise for this decade. QB Drew Bledsoe threw often, with WRs Terry Glenn, Shawn Jefferson and TE Ben Coates proving reliable targets. RB Curtis Martin had a good year, and RB Keith Byars, with a different team, again was a major receiving target. Pro Bowl T Bruce Armstrong led the offensive line. The defense was solid but not spectacular, led by pass rushers Willie McGinest and Chris Slade. The secondary featured many good young players, including Ty Law, Lawyer Milloy and Willie Clay. A rookie Adam Vinatieri handled the kicking duties, while Dave Meggett made the return game exciting.
The 1998 Jets, also coached by Bill Parcells, lost in the AFC Championship that year, and featured QB Vinny Testeverde in what was probably the best year of his long career. RBs Curtis Martin and Keith Byars had both come over from the Patriots, while WRs Keyshawn Johnson and Wayne Chrebet and TE Kyle Brady provided Vinny with good targets. T Jumbo Elliott and C Kevin Mawae led the offensive line, while DE Anthony Pleasant and DT Jason Ferguson led the defensive line. MLB Mo Lewis had a great year, and CB/KR Aaron Glenn played to a Pro Bowl level. The 1999 Indianapolis Colts were a tough choice over the 1995 team that lost, ever so close, to the Pittsburgh Steelers in the AFC Championship game. Since I already had Jim Harbaugh represented with the Bears, and Marshall Faulk represented with the Rams, I opted for the first Peyton Manning playoff team. Coached by Jim Mora, this team went 13-3 before an early playoff loss. QB Manning was outstanding in his second year, and had help from ace RB Edgerrin James and WR Marvin Harrison, who would both be among the best at their positions for many years to come. WR/KR Terrence Wilkins and TEs Ken Dilger and Marcus Pollard also proved to be good targets for Manning. The defense featured DE Chad Bratzke, LB Cornelius Bennett and DBs Tyrone Poole and Jason Belser. Mike Vanderjagt handled the kicking duties wonderfully until the 2005 post-season.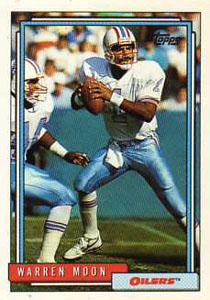 The 1991 Houston Oilers were the best of an era of solid but not championship teams. Coached by Jack Pardee, the offense was extremely pass heavy. QB Warren Moon threw often to a slew of WRs including Haywood Jeffires, Drew Hill, Curtis Duncan and Ernest Givins. When they did run, Allen Pinkett and Lorenzo White handled the duties. The offensive line featured All Pros Mike Munchak and Bruce Matthews. The defense had pass rushers in William Fuller, Sean Jones and DT Ray Childress. MLB Al Smith was a pro bowler, and the secondary was solid with pro bowl CB Cris Dishman, and safeties Bubba McDowell and Bo Orlando. The 1994 Cleveland Browns, coached by Bill Belichick, featured a balanced offense with QB Vinny Testeverde, RBs Leroy Hoard and Eric Metcalf (also a standout punt returner) and WR Derrick Alexander. The strength of the team however was their defense, with All Pro DLs Rob Burnett and Michael Dean Perry up front, another pro bowler in MLB Pepper Johnson, and a secondary featuring All Pro safety Eric Turner and CBs Antonio Langham and Don Griffin. I picked the 1994 Steelers team over their very worthy 1992, 1995 and 1997 teams as I thought they had the best combination of players I wanted in the replay. Coached by Bill Cowher and led by a strong running game featuring Barry Foster and Bam Morris, the Steelers were perennial AFC title contenders for much of the decade. QB Neil O'Donnell had receivers in all pro TE Eric Green, RB John L Williams and WR Charles Johnson and Yancey Thigpen. The offensive line featured G Duval Love and C Dermontti Dawson, both pro-bowlers. The defense was very strong, led by pass rushing OLBs Kevin Greene and Greg Lloyd, and ILBs Levon Kirkland and Chad Brown. NT Joel Steed led the DL, while the secondary featured safeties Carnell Lake and Darren Perry and the great CB/returner Rod Woodson.
The 1996 Cincinnati Bengals were the best of a mediocre decade. Coached first by David Shula, who was fired after a 1-6 start, and then by Bruce Coslet who finished 7-2, this team was generally very average. QB Jeff Blake had quality receivers in WR Carl Pickens and Darnay Scott, and the running of Garrison Hearst. Left tackle Willie Anderson was in his rookie season. The defense was led by linebackers James Francis, Steve Tovar and Ricardo McDonald, and cornerback Ashley Ambrose. Young DT Dan Wilkinson was the best of a mediocre defensive line. Tom Coughlin coached the 1999 Jacksonville Jaguars to a 14-2 record but they were upset in the AFC Championship by Tennessee. QB Mark Brunell had a fine year, with WRs Jimmie Smith and Keenan McCardell his favorite targets. RBs James Stewart and Fred Taylor shared the rushing duties behind a strong offensive line featuring all pro tackles Tony Boselli and Leon Searcy. The defense was no slouches either. DT Gary Walker and DE Tony Brackens had fine years, each with double-digit sacks. Linebacker Kevin Hardy had his best year as a pro, and the secondary with Aaron Beasley, Donovin Darius and Fernando Bryant was very good. Despite the real-life playoff upset, this figures to be one of the strongest teams in the replay.
The 1990 Oakland Raiders, coached by Art Shell, were easily their best team of the decade. QB Jay Schroeder was not spectacular, but had a solid year with good deep targets in WRs Mervyn Fernandez and Willie Gault. The running game featured Marcus Allen and part-time Bo Jackson who had a great year in limited playing time. Center Don Mosebar and G Steve Wisniewski both made the Pro Bowl. The defensive line was strong with Howie Long, Scott Davis and Greg Townsend. The secondary was also quite good with CB Terry McDaniel and S Eddie Anderson. The 1994 San Diego Chargers won the AFC title after an upset in Pittsburgh. Coached by Bobby Ross, this team was something of a one-hit wonder. QB Stan Humphries had a solid year throwing to WRs Mark Seay, Tony Martin and Shawn Jefferson, and RB Ronnie Harmon out of the backfield. RB Natrone Means handled most of the rushing duties behind an average offensive line. The defensive line was strong, with Chris Mims and Leslie O'Neal both hitting double figures in sacks. LB Junior Seau was one of the best defensive players in the league in this decade, and the secondary was solid with CBs Darrien Gordon, Dwayne Harper and Safeties Darren Carrington and Stanley Richard. Kick returner Andre Coleman was outstanding and kicker John Carney was one of the best in the league. The 1997 Kansas City Chiefs were their best team of the decade, but I had difficulty not picking the 1993 team with Joe Montana and Marcus Allen. Nevertheless, the '97 team, coached by Marty Schottenheimer was 13-3 before losing to eventual Super Bowl champion Denver. Elvis Grbac and Rich Gannon were unspectacular at QB, but the team was strong in many other areas. RBs Greg Hill, Marcus Allen, Donnell Bennett and Kimble Anders shared the rushing duties, with Anders an excellent pass catcher. Andre Rison had a great year receiving while young tight end Tony Gonzalez was just starting to emerge. The offensive line was strong with guards Dave Szott and Will Shields. The defense was also very good, led by the great OLB Derrick Thomas. Other defenders of note included LB Donnie Edwards, All Pro cornerbacks Dale Carter and James Hasty and safety Jerome Woods. Tamarick Vanover returned both punt and kicks for scores, while Pete Stoyanovich was a top notch kicker.
Mike Shanahan coached the 1998 Denver Broncos to their second straight Super Bowl title. In his final year, QB John Elway was solid, but it was RB Terrell Davis who rushed for 2,000 yards and took the league MVP title. Receivers Ed McCaffrey and Rod Smith and tight end Shannon Sharpe were all excellent. The offensive line had pro bowlers in tackle Tony Jones, guard Mark Schlereth and center Tom Nalen. The defensive line added Neil Smith in 1997 and had solid players in DT Trevor Pryce and Ma'a Tanuvasa. Linebackers Bill Romanowski and John Mobley were solid, and the secondary was strong with CB Ray Crockett and safety Steve Atwater. Jason Elam was one of the game's best kickers and Vaughn Hebron was a good kick returner. This team figures to be one of the AFC favorites. Mike Holmgren coaches another team in this replay, as he leads the Seattle Seahawks best team of a pretty mediocre decade. QB Jon Kitna had a good year throwing to WRs Derrick Mayes and Sean Dawkins, while RB Ricky Watters came over from San Francisco and had an outstanding year. The offensive line was led by Pro Bowl tackle Walter Jones. The defensive line was strong with DTs Cortez Kennedy and Sam Adams and pass rushing ends Michael Sinclair and Phillip Daniels. Linebackers Chad Brown and Anthony Simmons were solid, and the secondary featured CBs Shawn Springs and Willie Williams, and Safeties Darryl Williams and Jay Bellamy.