Best of 1980's College Football Replay
Standings
Leaders
Team by Team Stats
Team Offense
Team Defense
Awards
---
THE PLAYOFFS
---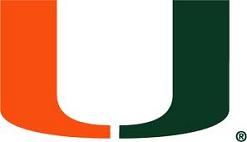 The 1987 Miami Hurricanes won the Best of 1980's College Football Replay with a 29-17 victory over the 1985 Oklahoma Sooners. Miami QB Steve Walsh only completed 8 of 24 passes, but he did throw for 186 yards with Michael Irvin catching four passes for 135 yards and a touchdown, claiming game MVP honors. The Hurricanes defense forced three fumbles by the Sooners including two by QB Jamelle Holieway.
Miami took a 13-10 lead into the half, with the biggest play coming on a 79 yard touchdown from Walsh to Irvin early in the 1st quarter. The Hurricanes then added a couple field goals by Greg Cox to take a 19-10 lead in the 3rd quarter, and then took command when Melvin Bratton scored on a one yard touchdown run late in the 3rd quarter. Troy Aikman, in relief of Holieway, did throw a late TD pass to Keith Jackson but it was not nearly enough for Oklahoma.
Championship Box Score: Miami 29; Oklahoma 17
Miami got to the finals with a hard-fought 20-17 victory over 1980 Georgia in the semi-final. Miami built a 10-0 lead early, watched Georgia roar back to take a 17-13 lead late before Walsh led the offense on an 11 play, 79 yard drive culminating in a 7 yard TD pass to Brett Perriman with two minutes remaining. Walsh threw for 257 yards and two scores (also two interceptions), while Bulldogs RB Herschel Walker ran for 103 yards while the passing game struggled.
Semi-final Box Score: Miami 20; Georgia 17
Oklahoma got to the final with a 41-14 win over 1985 Michigan in the other semi-final. Jamie Morris scored first on a three yard TD run for the Wolverines, but after that it was all Sooners. Leon Perry ran just nine times for 108 yards and three touchdowns as Oklahoma scored 35 unanswered points in the first half. Jim Harbaugh struggled against the Sooner defense, while Oklahoma totaled 295 yards rushing. All-America LB Brian Bosworth added ten tackles and a sack for the victorious Sooners.
Semi-final Box Score: Oklahoma 41; Michigan 14
In the West opening round Oklahoma beat 1984 BYU 27-7 as Jamelle Holieway ran for 118 yards and two scores and Brian Bosworth added 14 tackles and a sack. Michigan beat 1983 Nebraska in a close one 24-21 as Jamie Morris scored the winning TD in the final minute. Jim Harbaugh threw for 330 yards and a score in the win, while Nebraska rolled up 235 yards on the ground.
In the East opening round Georgia beat 1986 Penn State 13-6 in a defensive battle. In a reversal of the 1987 Fiesta Bowl, Penn State dominates yardage (345 to 165) but three forced turnovers help the Bulldogs steal the win. In the other opening round playoff game Miami beat 1981 Clemson 16-9 limiting the Tigers to just 172 yards of offense.
---
REGULAR SEASON
---
The regular season consisted of a 16 team league, with four geographical divisions of four teams each. Teams play divisional opponents twice (home and home). Teams then play all teams in one other division (Northeast vs Southeast, Midwest vs West) and play one game against a team from each of the other divisions. Unlike the real 1980's NCAA, there is overtime as in the modern college game to avoid ties.
For the playoffs, the West and Midwest are paired on one half of the bracket, while the Southeast and Northeast are paired on the other. Division winners are seeded 1 and 2, with the next two best records seeded 3 and 4 as wildcards. Thus, for the West/Midwest bracket seeding was 1- Oklahoma (9-3); 2- Michigan (9-3); 3- Nebraska (8-4); 4- BYU (7-5) and for the Southeast/Northeast bracket seeding was 1- Penn State (10-2); 2- Miami (8-4); 3- Clemson (9-3); 4- Georgia (7-5).
The "Northeast" Division included the 1981 Clemson Tigers (12-0, AP #1), the 1981 Pittsburgh Panthers (10-2, AP #4 - I screwed this up and should have done their 1980 team with Hugh Green that finished #2 - sorry Pitt fans!), the 1986 Penn State Nittany Lions (12-0, AP #1) and the 1988 West Virginia Mountaineers (11-1, AP #5). The "Southeast" Division included the 1980 Georgia Bulldogs (12-0, AP #1), the 1983 Auburn Tigers (11-1, AP #3), the 1987 Florida State Seminoles (11-1, AP #2) and the 1987 Miami Hurricanes (12-0, AP #1).
The "Midwest" Division included the 1981 Texas Longhorns (10-1-1, AP #5), the 1982 SMU Mustangs (11-0-1, AP #2), the 1983 Nebraska Cornhuskers (12-1, AP #2) and the 1985 Oklahoma Sooners (11-1, AP #1). The "West" Division included the 1984 BYU Cougars (13-0, AP #1), the 1984 Washington Huskies (11-1, AP #2), the 1985 Michigan Wolverines (10-1-1, AP #2) and the 1988 Notre Dame Fighting Irish (12-0, AP #1). As you can imagine, sometimes the geography of the teams works out well for divisions, sometimes it does not and you have to place teams like Michigan and Notre Dame in a division that doesn't make a ton of sense.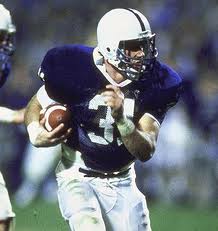 Penn State started off the year with a big home win over Miami as John Shaffer threw for two touchdowns and the defense limited the Canes to just 220 yards. The Nittany Lions would be on the road at Clemson, both teams at 9-2, in the final week of the regular season with the division title on the line. The Lions would get a 20-17 win, stopping Clemson inside the 20 in the final seconds. Penn State's defense would finish the year ranked 3rd overall. Pittsburgh was respectable finishing third with a 6-6 record, while West Virginia struggled all year finishing with just one win, a last weekend upset of the Panthers ruining their playoff chances.
Penn State was led by RB D.J. Dozier who ran for 815 yards and nine touchdowns on the year, while also catching 25 passes. QB John Shaffer was quietly efficient (a league best 100.0 rating) throwing 13 touchdowns to just two interceptions. LB Shane Conlan had a team best 82 tackles and forced four fumbles. DT Bob White had a team best nine sacks, and multiple players tied for the team lead with three interceptions each. Clemson leaders included RB Cliff Austin (872 yards, eight touchdowns), WR Perry Tuttle (53 catches, 905 yards, seven touchdowns) and QB Homer Jordan who passed for 1,710 yards and 11 touchdowns while also running for 457 yards. DE Jeff Bryant led the team with seven sacks, LB Jeff Davis led the team with a staggering 221 tackles, and DBs Terry Kinard and Hollis Hall tied for the team lead with six interceptions each.
Pittsburgh's offense was led by future NFL star QB Dan Marino who would throw for 2,480 yards, 15 touchdowns, but a horrible 24 interceptions. WR Julius Dawkins was Marino's favorite target catching 48 passes for 702 yards and six touchdowns. RB Bryan Thomas helped balance the offense with 830 yards rushing and 11 touchdowns. Even without Hugh Green and Rickey Jackson, the defense featured a great pass rush, headed by DE Chris Doleman (11 sacks) and Tony Woods (9 sacks, 8 forced fumbles). LB Rich Kraynak led the team with 118 tackles, and three players tied for the team lead with just two interceptions each. West Virginia featured QB Major Harris who threw for 1,425 yards and just three touchdowns to go with 17 interceptions! Harris also added 359 yards on the ground. RB Anthony Brown led the team with 705 yards rushing and eight scores. DE Renaldo Turnbull was a disappointment, as his real life 12 sacks fell to just two.
Miami claimed the Southeast division with an 8-4 record, one game ahead of the Georgia Bulldogs. The Hurricanes featured the league's top rated defense (235.8ypg) and the league's top run defense (115.8), but out-of-conference losses to Penn State and Nebraksa kept them from acheiving a better record. Miami split their two games with Florida State (neither decided by a missed field goal) and pulled a big road win 17-13 at Notre Dame in heavy rain. In a classic, Auburn beat Georgia 43-40 in four overtimes, wasting a 162 yard, three touchdown day for Herschel Walker.
Warren Williams (657 yards, 10 TDs) and Melvin Bratton (533 yards, five touchdowns) paced Miami's ground game, while QB Steve Walsh threw for 2,414 yards, 13 TDs and 12 Ints. Michael Irvin was his primary target, catching 49 passes for 728 yards and five touchdowns. DE Danny Stubbs led the team with nine sacks and DB Bennie Blades three interceptions were tops for the league's top defense. No surprise RB Herschel Walker dominated the Georgia offense, putting up 1,548 yards and 17 touchdowns. QB Buck Belue threw for a modest 1,316 yards and three touchdowns, with no receiver catching more than 14 passes. K Rex Robinson led all kickers with 116 points, connecting on 30 of 36 field goals. OLB Jimmy Payne led the team with five sacks and DB Jeff Hipp had a league best seven interceptions.
Florida State was a mild disappointment with just five wins. DB Deion Sanders intercepted a team high three interceptions and returned two punts for touchdowns. DL Odell Haggins registered a team best six sacks, while LB Paul McGowan recorded a league best 255 tackles. The offense featured RB Sammie Smith who ran for 1,014 yards and eight scores. QB Danny McManus threw for 1,670 yards, 11 touchdowns and 11 interceptions. WR Herb Gainer caught a team best 34 passes for 441 yards and one touchdown. K Derek Schmidt had an outstanding year hitting 30 of 30 field goals and scoring 115 points. Auburn featured a young Bo Jackson, two years before he would win the Heisman. Jackson led the team with 1,069 yards and six touchdowns while fellow RB Lionel James put up 594 yards and seven touchdowns. QB Randy Campbell was unspectacular throwing for just 779 yards and three touchdowns. DE Gerald Robinson led the defense with six sacks, and LB Gregg Carr recorded 220 tackles.
Oklahoma edged Nebraska in the Midwest division, while Texas and SMU struggled. Oklahoma featured the 2nd best defense (best overall vs the pass) in the league, while Nebraska had the league's 2nd best offense and best rushing attack. The teams split their two games with the road team winning both times. The Sooners won in Lincoln 31-21 as Jamelle Holieway threw for 223 yards (130 to Keith Jackson) and Spencer Tillman scored twice. The Cornhuskers returned the favor with a 21-17 win in Norman as Mike Rozier ran for 184 yards, and QB Turner Gill scored three times.
Oklahoma RB Lydell Carr led the team with just 562 yards, but the team piled up 2,311 yards on the ground. QB Jamelle Holieway ran for 487 yards and threw for 700. TE Keith Jackson led the team with 19 catches for 492 yards and a touchdown. LB Brian Bosworth led the defense with 178 tackles and four forced fumbles, while Kevin Murphy recorded a team best seven sacks. Nebraska RB Mike Rozier led the league with 1,827 yards and 20 touchdowns while QB Turner Gill ran for 368 yards and threw for 1,351 yards and 11 touchdowns. WR Irving Fryar led the team with 27 catches for 479 yards and four scores. DT Rob Stuckey led the defense with six sacks, while LB Mike Knox registered 178 tackles and recorded two interceptions.
Texas rushing attack featured A.J. Jones (662 yards, five scores) and John Walker (557 yards, three scores). The QBs (Rick McIvor and Robert Brewer) struggled, throwing for only 978 yards, five touchdowns and 16 interceptions! The Defense featured DE Kiki DeAyala (seven sacks), DT Ken Sims (four sacks) and LB Doug Shankle (138 tackles). SMU was led by their two-headed rushing attack of Eric Dickerson (1,561 yards, 12 touchdowns) and Craig James (587 yards, seven touchdowns). QB Lance McIlhenny struggled throwing for just 696 yards, one touchdown and six interceptions. WR Gary Smith led the team with 19 catches for 365 yards. DE Anthony Beverly led the team with seven sacks, while LB Gary Moten recorded 202 tackles and S Wes Hopkins led the team with four interceptions.
The West division was a geographic mess as few western teams qualified. Given Rose Bowl ties, I moved Michigan to this division as well as Notre Dame who made a good partner for the Wolverines out west. Michigan took the division at 9-3, with BYU edging Notre Dame by a game for the final playoff spot. As you might expect, BYU featured the league's top rated passing attack, while Michigan's balanced attack was the third best offense in the league.
For the Wolverines, RB Jamie Morris ran for a team best 937 yards and six touchdowns, while QB Jim Harbaugh threw for 2,122 yards, 15 touchdowns and nine interceptions - a 93.4 rate that was second best in the league. WR Paul Jokisch (46 receptions, 643 yards, four scores) and TE Eric Kattus (42 catches, 566 yards, four scores) were his primary targets. DE Mark Messner led the defense with eight sacks, LB Andy Moeller led with a team best 177 tackles, and DB Ivan Hicks led the team with four interceptions. He wasn't Jim McMahon or Steve Young, but BYU QB Robbie Bosco had a solid year with 3,444 yards, 29 touchdowns and just six interceptions. Numerous receivers had big years, with TE David Mills (64 catches, 946 yards, 11 touchdowns) and WR Glen Kozlowski (63 catches, 758 yards, seven touchdowns) the primary targets. RB Lakei Heimuli recorded a team high 572 yards rushing.
Notre Dame QB Tony Rice had a great year, passing for 1,207 yards and seven touchdowns while also rushing for a team high 772 yards and ten more scores. RB Mark Green (656 yards, six scores) and Reggie Brooks (617 yards, four scores) helped the Irish offense. TE Derek Brown (18 catches for 285 yards and two scores) was the top receiver. Young WR Raghib "Rocket" Ismail caught 15 passes and one touchdown, while also returning two kicks for scores. Frank Stams and Gerald Williams tied for the team lead with four sacks, while LB Mike Stonebreaker recorded 200 tackles. Washington struggled all year, but did get a win against Oklahoma. RB Jacque Robinson led the team with 771 yards rushing and two scores, while QB Hugh Millen threw for 939 yards, two touchdowns and 15 interceptions! WR Danny Greene led the team with 31 catches for 383 yards and three scores. LB Fred Small recorded a team best seven sacks, while LB Joe Kelly led the team with 171 tackles.