Best of 2000s NFL Football Replay
Standings
AFC Leaders
NFC Leaders
Team by Team Stats
Team Offense
Team Defense
Awards
---
THE PLAYOFFS
---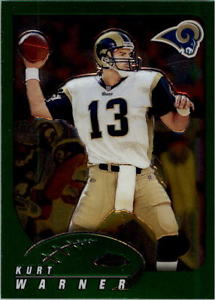 The 2001 St. Louis Rams defeated the 2004 New England Patriots for the Best of 2000s title by a 31-19 score at University Stadium in Phoenix, Arizona. The matchup featured the top seeded team in each conference. New England gets the ball first, but reliable Adam Vinataeri misses a long field goal. After an exchange of punts, the Rams get on the board on Jeff Wilkins' 46 yard field goal. The Rams score on their next series when Marshall Faulk caps a long drive with an eight yard TD run, but the Patriots respond quickly when Bethel Johnson returns the kickoff 95 yards for a touchdown. After a long pass interference call on Asante Samuel, the Rams find the end zone again on a 29 yard TD pass from Kurt Warner to Faulk. Before the half ends, Vinataeri kicks a 32 yard field goal that makes it 17-10 Rams at the break.
The Rams get the ball to start the 3rd quarter, and on the very first play Warner again finds Faulk out of the backfield for a 63 yard touchdown pass to make it 24-10. After another exchange of punts, the Patriots put together a nice drive, but have to settle for a 32 yard Vinataeri field goal to make it 24-13. The teams exchange punts again as the 3rd quarter ends. Rodney Harrison then intercepts Warner, but the Rams defense holds, and Vinataeri kicks a 41 yard field goal that makes it a one-score game at 24-16. The Rams next series again sees Warner throw an interception to Harrison, and again, the Rams defense forces a field goal, Vinatarei's 4th of the game, that makes it 24-19 with half the final quarter to play. The Patriots defense forces a punt, but when Tom Brady is sacked by Adam Archuleta, he fumbles and Mark Fields recovers deep in New England territory. Warner quickly throws a TD pass to Torry Holt that puts it away at 31-19 with just over two minutes to play. New England drives but fails on a 4th down and the game ends.
Marshall Faulk is named MVP with nine catches for 126 yards and two touchdowns as well as 15 carries for 44 yards and a touchdown. Kurt Warner throws for 264 yards and three scores, but his two interceptions could have been disastrous. Tom Brady throws for 320 yards in the loss, while Corey Dillon adds 95 yards rushing. Top defenders include Rams' Aeneas Williams (eight tackles) and Grant Wistrom (six tackles, sack) and Patriots' Tedy Bruschi (eight tackles, sack) and Rodney Harrison (two tackles, two interceptions). Penalty yardage is 95-15 in favor of the Rams.
Super Bowl: '01 Rams 31; '04 Patriots 19
The wildcard round started with the 6th seeded 2001 Raiders going to 3rd seeded 2006 Chargers. This one would go to overtime, where Chargers K Nate Kaeding would win it with a 46 yard field goal. Chargers star RB LaDainian Tomlinson finishes with 129 yards rushing and a touchdown while Raiders RB Charlie Garner rushes for 66 yards and catches 15 passes for 104 yards in the loss. Despite the loss, Raiders LB Eric Barton collects 18 tackles, while Chargers LB Shawne Merriman collects six tackles and a sack in a very good game.
The second AFC wildcard game sees Super Bowl champions meet when the 5th seeded 2008 Pittsburgh Steelers visit the 4th seeded 2000 Baltimore Ravens, two excellent defenses. Pittsburgh takes a 10-0 lead in the 2nd quarter, but it's all Baltimore after that as Jamal Lewis rushes for 197 yards and scores a touchdown as the Ravens put up 24 un-answered points while limiting Pittsburgh to just 188 total yards of offense. Baltimore QB Trent Dilfer isn't sharp, throwing for a TD, but also throwing two interceptions. Pittsburgh's offense gets 74 rushing yards from Willie Parker, but Ben Roethlisberger throws for just 139 yards with an interception. Steelers LB Larry Foote leads both teams with 11 tackles, while the Ravens get eight tackles from Ray Lewis and two sacks from Peter Boulware.
The first AFC divisional game sees the 2nd seeded 2005 Indianapolis Colts hosting the Chargers. San Diego jumps to a quick 10-0 lead and Peyton Manning struggles playing from behind. LaDainian Tomlinson rushes for 147 yards and three scores and Philip Rivers throws for 257 yards and two more scores as the Chargers rout the Colts, 38-13. Manning throws for just 164 yards with an interception, while Edgerrin James rushes for 69 yards and the Colts' lone touchdown. Impressive performance from the San Diego defense, which limits Indy to just 225 yards and 17 first downs. One of the few bright spots for Indy is safety Bob Sanders, who has a game high nine tackles. Chargers LBs Shawne Merriman and Shaun Phillips both record sacks of Manning.
The second AFC divisional sees champions meet when the Ravens visit the top-seeded 2004 Patriots. This one is close all the way - Baltimore takes a 6-0 lead after a pair of Matt Stover field goals, but New England comes right back with a TD pass from Tom Brady to David Patten and adds an Adam Vinataeri field goal to make it 10-6 at the half. Two more Stover field goals put Baltimore up 12-10 early in the 4th quarter, but again the Patriots respond as Vinataeri kicks a field goal to go up 13-12, then puts the game away with another FG in the final minutes for a 16-12 final. Brady throws for 203 yards and a TD in the win, while Corey Dillon adds 60 tough yards on the ground. Jamal Lewis with 99 yards rushing for Baltimore, but Trent Dilfer struggles, posting just 132 yards. Linebackers Ray Lewis (12 tackles) and Tedy Bruschi (14 tackles) both with big games on defense.
The AFC Championship sees the '06 Chargers visiting the '04 Patriots. New England takes a 6-0 lead at the half on a pair of Vinataeri field goals in a surprisingly defensive-dominated game. Just before the half, threatening to take the lead, Chargers FB Lorenzo Neal fumbles and the Patriots recover to maintain their lead. The Chargers first drive of the 3rd quarter goes 91 yards, right to the one yard line, but when Neal's TD run is reversed by replay (with Tomlinson sidelined with injury), the Chargers settle for a field goal that makes it 6-3. The close call wakes up the Patriots, who drive right down the field and score on Corey Dillon's one yard TD run for a 13-3 lead early in the 4th quarter. The Chargers next drive stalls, and Kaeding shanks a short field goal that could have made it a one-score game. The Patriots then run out the clock and add another Vinataeri field goal that makes it a 16-3 final score. Dillon is the star, rushing for 167 yards and a touchdown in the win while his counterpart Tomlinson posts just 70 yards and is out with injury at a critical time of the game. Dixon Edwards collects 14 tackles in the loss for San Diego, while Rodney Harrison (eight tackles) and Tedy Bruschi (six tackles, sack) again lead the Patriots defense.
AFC Championship: '04 Patriots 16; '06 Chargers 3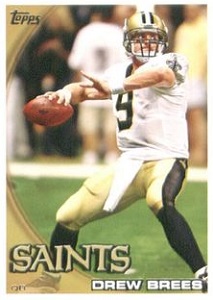 The NFC Wildcard round begins with the 3rd seeded 2007 Green Bay Packers hosting the 6th seeded 2009 Minnesota Vikings, as Brett Favre goes against Brett Favre. Minnesota gets an early 14-3 lead behind a TD run from Adrian Peterson and a Favre TD pass to Bernard Berrian, but the rest of the game belongs to the home Packers. Green Bay's Favre throws for 293 yards and three long touchdowns - one each to James Jones, Greg Jenning and Donald Driver. Packers DB Charles Woodson seals the game with a 74 yard fumble recovery for a score in the final quarter as the Packers get a 34-17 victory. The Packers defense collects six sacks in the win, while the Vikings best performance comes from Adrian Peterson, who rushes for 88 yards and hauls in seven passes for 97 yards, while their Favre throws for 309 yards.
The second wildcard game features the 4th seeded 2004 Philadelphia Eagles, who beat the 2007 Cowboys in the final week to win the division, as they host the 5th seeded 2002 Tampa Bay Buccaneers. Tampa builds an early 10-0 lead at the half as Martin Gramatica kicks a field goal and Michael Pittman scores on a TD run. After Tampa controls the first half, the Eagles pull even early in the 4th quarter behind a Brian Westbrook TD run and a David Akers field goal. The Eagles have momentum, but Tampa QB Brad Johnson slings a long TD pass to Keenan McCardell to put Tampa back up 17-10. Philly drives back for another Akers field goal to make it 17-13, but Tampa cranks out some first downs and runs out the clock. Westbrook finishes with 120 yards rushing in the loss.
The first NFC Divisional game puts the Packers at the 2nd seeded and Super Bowl champion 2009 New Orleans Saints. After the teams exchange field goals in the 1st quarter, New Orleans pours on the offense with 24 straight points - a short FG from John Carney, a Mike Bell TD run, a Darren Sharper interception return for TD and a long TD pass from Drew Brees to Robert Meacham. Green Bay cuts the lead to 27-13 with a Mason Crosby field goal and a TD pass from Favre to Driver, but Brees drives right back down the field, finding Jeremy Shockey for a TD pass that makes the final score 34-13 for New Orleans. Brees finishes with 238 yards passing and two scores, with Shockey catching nine passes for 81 yards. Saints DE Charles Grant records a pair of sacks and forces a fumble in the win.
The second NFC Divisional game sees the Buccaneers at the top seeded 2001 St. Louis Rams. These two played in the '99 NFC title game, and this one was also close. After a scoreless 1st quarter, the Rams jump to a 14-0 lead with a one yard run from Marshall Faulk and then a fumble recovery TD from London Fletcher. Tampa gets back in the game with a Pittman TD run that cuts the lead in half, but before halftime the Rams score again on a Kurt Warner to Isaac Bruce TD pass to make it 21-7. The Buccaneers defense steps up in the second half, and Martin Gramatica starts kicking field goals - four of them - as Tampa gets back in the game, making it 21-19 with just over three minutes to play. Unfortunately for the Buccaneers, the Rams convert a pair of third downs and run out the clock to advance to the title game against the Saints. Faulk finishes with 129 rushing yards for the Rams, while McCardell catches five balls for 121 yards. Fletcher (12 tackles) and Derrick Brooks (11 tackles) are the top defenders.
The NFC Championship pits two prolific offenses against each other as the '09 Saints visit the '01 Rams, but this one gets out of hand quickly. The Rams get the ball first and drive down the field and score on Faulk's TD run. The Rams next series sees Warner throw a long TD pass to Torry Holt that makes it 14-0. On the Saints next series Pierre Thomas fumbles and the Rams recover, scoring quickly on Faulk's five yard TD run, making it 21-0 as the 1st quarter ends. In the 2nd quarter, Leonard Little sacks Brees, forcing a fumble that again the Rams recover, and again they put in the end zone on another Faulk TD run that makes it 28-0 at the half. The Saints get the ball to start the second half, but they have to punt, and it is blocked! The Rams quickly find the end zone again on a TD pass from Warner to Ricky Proehl and a 35-0 lead. Brees gets pulled for Mark Brunell and the Rams begin to play the second unit. New Orleans manages some garbage points - a Carney field goal, a TD run from Reggie Bush and an interception return for TD from Mike McKenzie to make the final a more respectable 35-16. Faulk posts 162 total yards along with his three scores while Warner throws for 219 yards and two scores.
NFC Championship: '01 Rams 35; '09 Saints 16
After the season, I put the 2001 Rams against the 2007 Patriots, playing enough games until I thought one team had a pretty clear advantage. I played 12 games and the 2007 Patriots won eight, the 2001 Rams four - so as many believe and I suspected, the 2007 Patriots were probably the best team of the decade (rationale for picking the 2004 team instead of the 2007 team is below).
---
LEAGUE FORMAT
---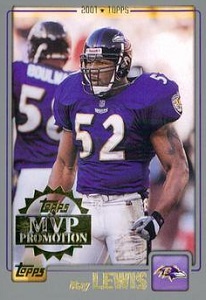 The Best of 2000s NFL league was a 32 team league with 16 teams in the AFC and 16 teams in the NFC. The idea was to pick the best team for each franchise from 2000 to 2009, omitting any strike shortened seasons (there were none in the 2000s). In some cases, where there wasn't a clear best team, the most interesting team (in my opinion) was selected, and you may disagree with some of the teams I selected.
I selected the 2004 New England Patriots championship team for this replay over their 2007 unbeaten but Super Bowl losing team as the '04 team was also historically high-ranking and had a little better mix of players from their 2001-04 run. The '07 team has a good argument for best single-season team despite the Super Bowl loss. I picked the 2005 Indianapolis Colts over their championship 2006 team as they were better on paper and still had Edgerrin James. Neither Peyton Manning's 49 TD season nor Tom Brady's 50 TD pass season are in this replay - I didn't want one but not the other. The Pittsburgh Steelers won championships in 2005 and 2008, but the 2008 team was better on paper so I went with them (the '01 and '04 teams were also very good). The 2000 Baltimore Ravens were a pretty easy choice with a title and a historically great defense, but the 2006 team was also very good and included Ed Reed, I wish I could have included them too.
In the NFC, the Green Bay Packers presented a couple of very good teams, but I picked the 2007 team ahead of solid teams from 2001, 2003 and 2009. The Carolina Panthers reached the Super Bowl in 2003, but the 2005 team was better on paper by enough of a margin that I picked them instead. Brett Favre appears on both the 2007 Packers and the 2009 Vikings and Kurt Warner appears on the 2001 Rams and the 2008 Cardinals. Terrell Owens appears on three teams - the 2001 49ers, 2004 Eagles and 2007 Cowboys!
With the expansion Houston Texans, the NFL went to 32 teams in 2002. There were 16 teams in each conference - in four divisions of four teams - North, South, East and West.
Teams play a full 16 game schedule, with division winners taking the top four seeds, with the best records claiming seeds 1 and 2 and a bye week in the playoffs. The next two best records, regardless of division, earn the wildcards (seeds 5 and 6). Like the current NFL, the 6 plays the 3 in one wildcard game, and the 5 plays the 4. Winners advance with the 1 seed hosting the worst remaining seed. For this particular project, the Super Bowl was awarded to Phoenix's University Stadium.
---
THE TEAMS
---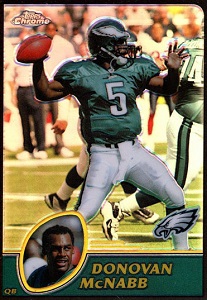 The Philadelphia Eagles had several good teams at the start of the decade - you could even make an argument that the 2002 team was the best on paper - but it is the 2004 team coached by Andy Reid that went 13-3 and lost in the Super Bowl that is most memorable. QB Donovan McNabb was a quality passer and a dangerous runner. Brian Westbrook was the primary rusher, while also proving to be a very good pass catcher. Terrell Owens joined the Eagles this season and backed up his big mouth with a big season, including a huge Super Bowl performance despite an injury. Players like Todd Pinkston, L.J. Smith and Dorsey Levens added depth to the offense. Tra Thomas was the best of an offensive line that included veterans like Hank Fraley, Jon Runyan and Jermane Mayberry. The defense was also solid, but not spectacular, aside from safety Brian Dawkins. Lito Sheppard and Michael Lewis added to a strong secondary, while LB Jeremiah Trotter, DT Corey Simon and DE Jevon Kearse were other big names along the roster. Veteran David Akers provided a reliable kicker. The 2000s were not a great decade for the Washington Redskins, but the 2005 team coached by Joe Gibbs did go 10-6 and win a playoff game. QB Mark Brunell, both a threat passing and running thru his career, led the offense which featured workhorse RB Clinton Portis and highlight reel WR Santana Moss. TE Chris Cooley had a fine year, and the offensive line included pro bowl T Chris Samuels along with Casey Rabach and Jon Jansen. The defense wasn't particularly high-end, but had some quality players in Sean Taylor, Marcus Washington and Phillip Daniels, as well as contributions from Walt Harris, Sean Springs and Lemar Marshall. LaDell Betts was a dangerous kick returner and capable backup RB, while the kicking and punting were inconsistent.
The Dallas Cowboys franchise was up and down for most of this decade, but Wade Phillips' 2007 team was very strong, finishing 13-3 before being upset in the playoffs by New York. QB Tony Romo had a fine year, throwing for 36 touchdowns and taking advantage of some great receivers - namely Terrell Owens and TE Jason Witten, both among the best in the game at their positions, along with fellow WR Patrick Crayton. Marion Barber and Julius Jones shared the running duties, and both proved to be capable receivers as well. The offensive line was excellent, and had three pro bowlers in Andre Gurode, Flozell Adams and Leonard Davis. The defense had a strong pass rush with DeMarcus Ware and Greg Ellis, while players like Jay Ratliff, Bradie James and Marcus Spears were also solid. The secondary was also strong with Anthony Henry, Terence Newman, Ken Hamlin and Roy Williams. Nick Folk and Mat McBriar provided strong kicking and punting, although the return game was not particularly dangerous. The 2007 New York Giants, coached by Tom Coughlin, shocked the world when they upset the perfect 18-0 New England Patriots in the Super Bowl. Statistically there were better Giant teams I could have taken, with the 2008 team probably the best on paper, but that team didn't have a key player - Michael Strahan - who retired after the Super Bowl win. QB Eli Manning was sometimes maddeningly inconsistent for the Giants, but he had two quality receivers in Plaxico Burress and Amani Toomer, along with a good TE in Jeremy Shockey. The running game was handled by Brandon Jacobs and Derrick Ward. The offensive line featured no pro bowlers, but five quality starters who were veterans in David Diehl, Rich Seubert, Shaun O'Hara, Chris Snee and Kareem McKenzie. The defense was dominant in the Super Bowl, but during the regular season they were not statistically great. Osi Umenyiora, Justin Tuck and Strahan provided a strong pass rush while Antonio Pierce and Kawika Mitchell were both solid linebackers. The secondary had playmakers in Gibril Wilson, Sam Madison and Aaron Ross. Lawrence Tynes was a consistent kicker and ageless Jeff Feagles handled the punting. The '07 team also knocked off two 13 win teams before the Super Bowl, beating both the Cowboys and Packers in the playoffs, both of whom are in this project.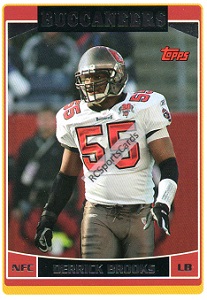 Coach Tony Dungy helped rebuild the Buccaneers into a playoff team in the late 1990s, and his replacement, John Gruden took them over the top in 2002 with a great team. The 2002 Buccaneers finished 12-4, won the NFC title game at Philadelphia, then thrashed the Raiders in the Super Bowl behind one of the great defenses in NFL history. Warren Sapp and Simeon Rice anchored the defensive line, while Shelton Quarles and the great Derrick Brooks were the standout linebackers. The secondary also was good, with John Lynch, Dexter Jackson, Ronde Barber and Brian Kelly. After years of being in the defense's shadow, the offense was quite respectable in 2002. QB Brad Johnson minimized mistakes and was an effective passer, throwing often to receivers Keyshawn Johnson and Keenan McCardell, as well as Joe Jurevicius and TE Ken Dilger. Michael Pittman and Mike Alstott shared the rushing duties and both were capable receivers as well. The offensive line wasn't great, but players like Roman Oben, Kerry Jenkins, Jeff Christy, Cosey Coleman and Kenyatta Walker got the job done. Martin Gramatica and Tom Tupa provided a solid kicking game. The Buccaneers faded quickly, and never came close to their success from the 2002 season. Although they were just a plus three in point differential, the 2004 Atlanta Falcons were the choice for this replay ahead of the 2002 or 2008 teams. They finished 11-5, coached by Jim Mora, and made it to the NFC Championship game behind the electric running and inconsistent passing of Michael Vick. Besides Vick, Warrick Dunn and T.J. Duckett provided a rushing attack that was among the best in the league. The pass receivers included TE Alge Crumpler, Peerless Price, Dez White and Brian Finneran, along with Dunn - who was always a good pass catcher. The offensive line lacked stars, but had a consistent group with Kevin Shaffer, Roberto Garza, Todd McClure, Kynan Forney and Todd Weiner. Patrick Kerney and Roderick Coleman provided a good pass rush from the defensive line, and Keith Brooking was one of the best LBs of this era. The secondary didn't have a lot of interceptions, but rookie DeAngelo Hall would go on to have a fine career. Allen Rossum was a good kick returner, while Jay Feely and Chris Mohr provided adequate but not great kicking.
The 2003 Carolina Panthers may have made it to the Super Bowl, but the 2005 team (as well as the 2008 team) were much better on paper - so I selected the 2005 team coached by John Fox to represent them in this project. A balanced offense was led by the very average Jake Delhomme, who threw often to All-Pro Steve Smith, but the rest of the receivers were underwhelming - Ricky Proehl, Keary Colbert and TE Kris Mangum. The running game was lead by DeShaun Foster and Stephen Davis - with Foster the better receiver and speed guy, while Davis had more power and got the goal line carries. Guard Mike Wahle made the pro bowl, the line was pretty solid with Jordan Gross and Jeff Mitchell. Julius Peppers and Mike Rucker were a top pass rush tandem, and Brentson Buckner plugged up the running lanes, while injury-prone Dan Morgan and Will Witherspoon led the linebacking corps. Ken Lucas and Chris Gamble were opportunistic cornerbacks, and Marlon McCree and Mike Minter were quality safeties. The return game was average, but John Kasay and John Baker gave Carolina a better-than-average kicking game. The New Orleans Saints had good teams in 2000 and 2006, but it was their Super Bowl winning 2009 team that went 13-3 behind Sean Payton that was an easy choice. The 2009 Saints had the league's highest scoring offense, led by QB Drew Brees who threw for 34 TDs and over 4,300 yards. Brees had many targets - receivers Marques Colston, Devery Henderson and Robert Meacham, as well as TE Jeremy Shockey. The rushing game was split between Pierre Thomas, Mike Bell and explosive Reggie Bush, with Thomas and Bush very capable pass catchers as well. Most championship teams have solid offensive lines, and this team was no different - as three players made the Pro Bowl - Jonathan Goodwin, Jahri Evans and Jon Stinchcomb. The defense didn't rate particularly high, but they had top pass rushers in Charles Grant and Will Smith. Jonathan Vilma, Scott Fujita and Scott Shanle led the good LB corps while the secondary had very good players in Darren Woodson, Roman Harper and Super Bowl hero Tracy Porter. Courtney Roby was a good kick returner, while John Carney and Garrett Hartley handled kicking duties well, and Thomas Morstead was a good punter.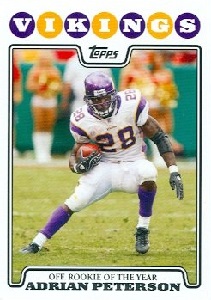 The 2000s were not kind to the Detroit Lions - no ten win seasons, and topped off with an 0-16 mark in 2008. The 2000 season was easily their best with a 9-7 mark under Bobby Ross and Gary Moeller - they are one of the very few teams in this replay who didn't actually make the playoffs for that season. Charlie Batch was the QB for this team, while James Stewart provided a 1,000 yard rusher, albeit with a low average per carry. Stewart was also a decent pass catcher, but the primary threat was Johnny Morton, along with Herman Moore, Germane Crowell and David Sloan. The offensive line was a mix-and-match group, with guard Jeff Hartings the most consistent player. Defensive ends Tracy Scroggins and Robert Porcher provided the bulk of the pass rush, while DT Luther Elliss went to the Pro Bowl. Stephen Boyd and Chris Claiborne were tackle machines in the linebacking unit, while the secondary while CB Bryant Westbrook and S Kurt Schulz had plenty of interceptions. Jason Hanson and John Jett were both excellent in the kicking game. The 2006 Chicago Bears were a fairly easy choice to represent that team, with only the 2001 team a serious contender to replace them. The 2006 team went 13-3 behind coach Lovie Smith, losing in the Super Bowl. QB Rex Grossman was inconsistent and an easy target for fans, while the running game was led by Thomas Jones and Cedric Benson. Grossman had capable receivers in Muhsin Muhammad, Bernard Berrian and TE Desmond Clark. The offensive line had All Pros in Ruben Brown and Olin Kreutz, while John Tait, Roberto Garza and Fred Miller were all consistent starters. LBs Brian Urlacher and Lance Briggs were the leaders of a strong defense that included good line play from Tommie Harris and DEs Adewale Ogunleye, Alex Brown and Mark Anderson. The secondary was also strong, led by Charles Tillman and Nathan Vasher, along with Ricky Manning. Special teams were outstanding and a big part of the Bears success with Devin Hester returning kicks and punts for five touchdowns and Robbie Gould among the best kickers in the game. Brad Maynard was also an outstanding punter.
The Green Bay Packers had several very good teams in the decade, but no truly great, championship teams. I gave consideration to several, particularly the 2003 and 2001 teams, but decided on the 13-3 team from 2007, coached by Mike McCarthy. Brett Favre was in his final season as the QB for the Packers, and he had a big year throwing to Donald Driver, Greg Jennings, James Jones and TE Donald Lee. Ryan Grant had a fine year rushing the ball, also proving to be a good pass catcher. The offensive line had a pro bowler in T Chad Clifton, but other capable starters in Daryn Colledge, Scott Wells, Jason Spitz and Mark Tauscher. Aaron Kampman, Corey Williams and Kabeer Gbaja-Biamila provided a strong pass rush, while Nick Barnett and A.J. Hawk were solid in the linebacking. Charles Woodson, Al Harris, Atari Bigby and Nick Collins made for a very strong secondary. The special teams were good - multiple players returned kicks for scores, while Mason Crosby and Jon Ryan were both excellent in the kicking game. This Packer team would lose, at home, to the New York Giants in the NFC Championship Game in one of Eli Manning's upset wins that postseason. After a rough season with the New York Jets in 2008, Favre moved to the Minnesota Vikings for 2009 - and they would go 12-4, barely losing in the NFC Championship Game to the eventual champion Saints. Favre's final season was excellent, throwing for 33 scores against just seven interceptions. Favre had many quality targets - Sidney Rice, Bernard Berrian, Visanthe Shiancoe and they dynamic Percy Harvin. He also had a great young runner in the backfield in Adrian Peterson. The left side of the offensive line included pro bowlers Bryant McKinnie and Steve Hutchinson, while John Sullivan, Anthony Herrera and rookie Phil Loadholt manned the other positions well. The defense had a strong line led by Kevin Williams, Pat Williams and edge rusher Jared Allen. Chad Greenway, E.J. Henderson and Ben Leber were adequate as starting linebackers, while the secondary wasn't great at forcing turnovers, but had quality players in Cedric Griffin, Antoine Winfield, Madieu Williams and Tyrell Johnson. Harvin returned two kicks for scores, while Ryan Longwell and Chris Kluwe were outstanding with their kicking duties.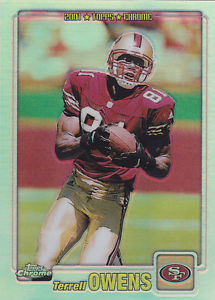 The 2001 San Francisco 49ers had the misfortune of being in the same division as the St. Louis Rams, thus a 12-4 finish was only good enough to get them in the Wildcard game, which they lost to the Green Bay Packers. Coach Steve Mariucci's team featured QB Jeff Garcia, a threat both throwing and running, and a strong backfield with Garrison Hearst and Kevan Barlow. WR Terrell Owens had become a star at this point, and was the primary receiver, while J.J. Stokes, Eric Johnson and Hearst out of the backfield were all capable pass catchers. Center Jeremy Newberry and G Ray Brown made the Pro Bowl, while Derrick Deese, Dave Fiore and Scott Gragg were quality starters on the line. The defensive line didn't generate much pass rush, but DT Bryant Young made the Pro Bowl and rookie DE Andre Carter showed promise as a rusher. The LBs included Julian Peterson, Derek Smith and Jeff Ulbrich while the secondary got many interceptions from Zack Bronson and Ahmed Plummer, with Jason Webster and Lance Schulters also performing well. The return game lacked game-breakers, and the kicking duo of Jose Cortez and Jason Baker was probably below average. The 2001 St. Louis Rams finished 14-2, sweeping both games from the 49ers to claim the division, and rolling to the Super Bowl behind a historically great offense led by coach Mike Martz (three straight seasons over 500 points). Probably better than their championship team of 1999, Kurt Warner had another banner year passing, albeit with a few too many interceptions. He had top notch receivers in Torry Holt and Isaac Bruce, with Ricky Proehl and Ernie Conwell in support. What really made the offense click however was Marshall Faulk, an explosive threat running the ball as well as catching the ball. When Faulk missed a few games with injury, Trung Candidate was a decent backup. The offensive line was led by T Orlando Pace and G Adam Timmerman, both pro bowlers, as well as Tom Nutten, Andy McCollum and Ryan Tucker. The defense also ranked high, and featured pass rushers Grant Wistrom and Leonard Little. Reliable London Fletcher and young Tommy Polley led the linebackers, while veteran Aeneas Williams led the secondary, with Dre' Bly leading the team in interceptions and Dexter McCleon having a fine year. The return game wasn't as good as in '99, but Jeff Wilkins and John Baker were good in the kicking game.
The Seattle Seahawks franchise were consistent winners in the 2000s, but the easy choice was their 2005 team that went 13-3 and lost in the Super Bowl. Paul Holmgren coached a high-ranking offense that featured work-horse RB Shaun Alexander, who scored a then-NFL record 27 touchdowns in the season. QB Matt Hasselbeck had a good season passing too, throwing to Bobby Engram, Joe Jurevicius, Darrell Jackson and TE Jerramy Stevens. Offensive linemen Walter Jones, Steve Hutchinson and Robbie Tobeck all went to the Pro Bowl, while Chris Gray and Sean Locklear were also solid. The defensive side of the ball was merely average, and not yet at the level they would achieve in the next decade. Bryce Fisher, Rocky Bernard and Grant Wistrom led the DL, with Fisher the top sacker. Lofa Tatupu was the top LB, with young Leroy Hill showing much promise. The secondary had some quality players with Marcus Trufant, Michael Boulware and Jordan Babineaux leading the way. The return game was not particularly dangerous, and the kicking game with Josh Brown and Tom Rouen was merely average. The Arizona Cardinals struggled for most of the decade before becoming dangerous late in the period with the arrival of Kurt Warner. The 2008 team went 9-7, but got hot at the right time, and nearly won the Super Bowl before a last minute Steelers TD. You could make a good argument for the 2009 team that won one more game but didn't fare as well in the playoffs. Warner threw often, with three receivers surpassing 1,000 yards - Larry Fitzgerald, Anquan Boldin and Steve Breaston. The running game was weak however, with an aging Edgerrin James and Tim Hightower leading the way. The OL had no pro bowlers, but all five players made 16 starts, with Mike Gandy and Reggie Wells the best of the group. The defense wasn't great, but was slowly improving. Darnell Dockett was the best on the DL, while LB Karlos Dansby was a tackling machine, as well as being a quality pass rusher and pass defender. The secondary was led by All Pro safety Adrian Wilson and rookie CB Dominique Rodgers-Cromartie, along with Antrel Rolle. J.J. Arrington was a dangerous kick returner, and kicker Neil Rackers was among the best in the game at this time, particularly from long range.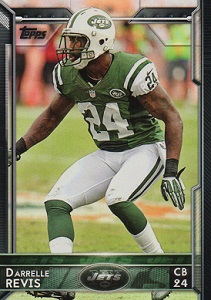 The Miami Dolphins had some solid teams in the start of the decade, then fell off before a brief resurgence in 2008. While the 2000 and 2001 teams made the playoffs and had slightly better records, I found the 2002 team to my liking, namely with the addition of Ricky Williams. Williams put up monster numbers rushing the ball, with a very high number of carries, running behind a line that included Tim Ruddy, Todd Wade and Todd Perry. The passing game was handled by Jay Fiedler, with Ray Lucas filling in for several games with Fiedler injured. They had some good receivers in Chris Chambers, James McKnight, TE Randy McMichael and FB Rob Konrad. Williams also was a decent pass catcher. DE Jason Taylor had a monster year, and Adewale Ogunleye was also an effective pass rusher, with Tim Bowens and Larry Chester on the inside. Zach Thomas was a tackling machine at MLB, with Derrick Rodgers and Morlon Greenwood at his sides. The secondary was very solid with corners Patrick Surtain and Sam Madison and reliable safety Brock Marion. Olindo Mare and Mark Royals were decent but not great kickers, while the return game was unspectacular. The Buffalo Bills never won ten games in the 2000s, with their best effort coming in a 9-7 season in 2004. Drew Bledsoe had come over from New England, and posted some big numbers in 2002, but the '04 team, coached by Mike Mularkey, was their best overall squad. Bledsoe kept throwing, with WR Eric Moulds having big numbers, and other contributions coming from WR Lee Evans but little else. Willis McGahee and Travis Minor made a formidable running combination, and the line was racked with injuries, and only Chris Vilarrial starting all 16 games. DE Aaron Schobel led an average line that included pluggers Sam Adams and Pat Williams. London Fletcher and Takeo Spikes were both excellent linebackers in this era, and Jeff Posey also made contributions. The secondary was a strength with corners Nate Clements and Terrence McGee, as well as safety Lawyer Milloy, also acquired from the Patriots. McGee returned three kicks for TDs in 2004, and Nate Clements returned a punt for a score as well. Rian Lindell and Brian Moorman were solid kickers, giving Buffalo one of the best special teams units in this project.
I detailed above the reasons for picking the 2004 Patriots team over the 2007 team, but it's worth noting that like Pittsburgh and Indy, there were several candidates, not the least of which were title winning teams from 2001 and 2003. The 2004 team was of course led by coach Bill Belichick and QB Tom Brady, but had several other key players - RB Corey Dillon had a monster year rushing the ball, setting a Patriots single-season rushing mark, while Kevin Faulk and Patrick Pass provided depth and versatility. David Givens, David Patten and Deion Branch weren't Randy Moss level, but produced good numbers, while TE Daniel Graham provided another target. The offensive line was led by Matt Light, Joe Andruzzi and Dan Koppen. The defense had many good players - on the line Richard Seymour and Ty Warren led the way, while the LB position had many playmakers in Tedy Bruschi, Mike Vrabel, Ted Johnson and pass rushers Willie McGinest and Roosevelt Colvin. The secondary was anchored by S Rodney Harrison and injured CB Ty Law, with Eugene Wilson and Asante Samuel also making many plays. Bethel Johnson was a threat on kick returns, and K Adam Vinataeri was probably the best kicker of the decade on what was the best franchise of the decade. The New York Jets had several playoff teams in the 2000s but it was their 9-7 team from 2009 that lost in the AFC title game that was the choice based on their outstanding point differential that none of their other decade teams could match. Coach Rex Ryan built a team heavy on defense, with the biggest star being CB Darrelle Revis. Kerry Rhodes, Jim Leonhard and Lito Sheppard joined Revis in an outstanding secondary. LB David Harris was the team's top tackler, with fellow LB Bart Scott right behind him. The defensive line was led by DE Shaun Ellis, and the top pass rusher was DE/OLB Calvin Pace. Young Mark Sanchez was the QB, and he was very inconsistent, arguably the worst starting QB in this project. WRs Jerricho Cotchery, Braylon Edwards and TE Dustin Keller were his top targets. The running game was a strength, as Thomas Jones and Shonn Greene and Leon Washington were an outstanding group. The offensive line was outstanding, with three pro bowlers in D'Brickashaw Ferguson, Alan Faneca and Nick Mangold. Cotchery, Washington and Brad Smith made for a decent return game, while Jay Feely and Steve Weatherford were adequate in the kicking game.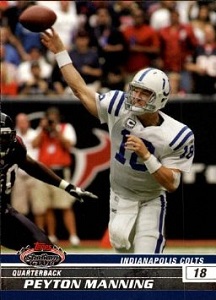 After coming up just short in the Super Bowl for the 1999 team, the 2000 team followed with a matching 13-3 record for coach Jeff Fisher and much better point differential - they were the choice, although the 2003 and 2008 teams were both very good too. QB Steve McNair was a dual-threat QB and Eddie George was a workhorse runner for the Titans. The offense also featured good targets in TE Frank Wycheck and WRs Derrick Mason and Chris Sanders. The offensive line was a strength, with Brad Hopkins and Bruce Matthews earning Pro Bowl accolades, while Kevin Long, Benji Olson and Fred Miller were all solid. The defense didn't have the big names that Baltimore did, but they actually ranked ahead of the Ravens in the regular season. Jevon Kearse and Kenny Holmes provided pressure off the edge while John Thornton and Jason Fisk plugged the lanes. Randall Godfrey, Greg Favors and Eddie Robinson made a solid linebacking trio and the secondary was excellent with Samari Rolle, Blaine Bishop and Marcus Robertson. The kicking game was good with Al Del Greco and Craig Hentrich, and Mason provided a boost on punt returns. The Indianapolis Colts won ten or more games every season of the decade except for 2001 behind QB Peyton Manning. The 2006 team won the Super Bowl, but it was pretty easy to argue that the 2004, 2005 and 2007 teams were all better. I opted to pick the 2005 team, which was laden with star players in their prime and a quality coach in Tony Dungy. Manning was superb, posting incredible passing stats year-after-year. In 2005 he had a wealth of talent around him too - receivers Marvin Harrison, Reggie Wayne, Brandon Stokley and TE Dallas Clark, as well as Edgerrin James as the primary rusher in his final season with the Colts. The offensive line had All Pros in T Tarik Glenn and C Jeff Saturday, but Ryan Lilja, Jake Scott and Ryan Diem were also of quality. The defense was led by edge rushers Dwight Freeney and Robert Mathis, with good contributions from interior guys like Monte Reagor and Raheem Brock. Gary Brackett, Cato June and David Thornton made a very solid trio of linebackers, and the oft-injured Bob Sanders led the secondary along with Nick Harper and Mike Doss. Mike Vanderjagt and Hunter Smith formed an excellent kicking unit, though Vanderjagt had an ugly miss in the 2005 playoff loss to Pittsburgh. The return game lacked any home run threats. Even with just one title, this was easily one of the most formidable teams of the decade.
The Jacksonville Jaguars had several good seasons in the decade - and they were very close statistically. I picked the 2005 team that was coached by Jack Del Rio and finished 12-4, but a case could have been made for 2006 or 2007. Byron Leftwich was the primary QB, another dual-threat guy, while David Garrard saw some time as well, and was more of a pocket passer. For this season, Fred Taylor and Greg Jones shared the rushing load behind a line that didn't have big names but was still solid with guys like Brad Meester and Chris Naeole. Jimmy Smith was still a reliable receiver and youngsters Ernest Wilford and Reggie Williams provided depth. Matt Jones played a variety of positions and was a good receiver as was RB Alvin Pearman. The defensive line featured two excellent interior players in John Henderson and Marcus Stroud, while the pass rush came from Reggie Hayward and Paul Spicer. Mike Peterson led the LB unit with assistance from Daryl Smith and Akin Ayodele. The secondary had quality players in Rashean Mathis, Terry Cousin and Deon Grant. Derrick Wimbush was a threat on kick returns, while Josh Scobee and Chris Hanson did well in the kicking game. The Houston Texans joined the NFL in 2002 - long enough to qualify for this project - and it is probably no surprise that their 2009 team, 9-7 behind coach Gary Kubiak was the choice. QB Matt Schaub put up good passing numbers throwing to the great WR Andre Johnson, as well as other capable players like Kevin Walter and TE Owen Daniels. The running game was inconsistent, with Steve Slaton, Ryan Moats, Chris Brown and Arian Foster all taking turns as the primary runner. Young T Duane Brown was the best of the offensive line, along with Chris Meyers and Eric Winston. Mario Williams was an excellent pass rusher, with Antonio Smith and Amobi Okoye contributing as well. Linebackers DeMeco Ryans and Brian Cushing both made the Pro Bowl while the secondary featured Bernard Pollard, Dunta Robinson and Glover Quin. Kris Brown was an inconsistent kicker this year, while punter Matt Turk was solid. Jacoby Jones was a dangerous return man, especially on kick returns.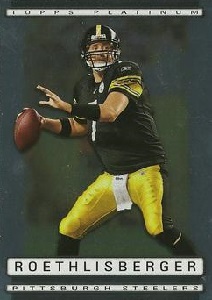 The 2000 Baltimore Ravens were a fairly easy choice, with a historically dominant defense and Super Bowl championship - however, the 2006 team was outstanding too, and included Ed Reed, who is one of the players you certainly think of with the Ravens at this time, and he wasn't on the 2000 team. Nevertheless, Brian Billick's 2000 team gets the nod. They featured a defense that dominated in the playoffs like we haven't seen since the '85 Bears. LB Ray Lewis was outstanding, surrounded with Jamie Sharper and Peter Boulware. The DL was also strong, with Rob Burnett, Michael McCrary, Sam Adams and Tony Siragusa. The secondary didn't have Reed yet, but Chris McAllister, Duane Starks, Rod Woodson and Kim Herring were all excellent. The offense was more inconsistent - Tony Banks, then later Trent Dilfer played QB. The primary passing target was TE Shannon Sharpe, although Qadry Ismail and Travis Taylor were also decent. Jamal Lewis carried the running game, and both he and reserve Priest Holmes were capable pass catchers out of the backfield. The offensive line was led by the great tackle Jonathan Ogden, while Jermaine Lewis was a dangerous kick returner, and kicker Matt Stover was excellent - punter Kyle Richardson was just average. After a rough start to the decade, the Cincinnati Bengals put it together in 2005 behind young QB Carson Palmer and a top notch passing game for coach Marvin Lewis. Unfortunately an ill-timed injury on the first play of the playoffs doomed Palmer and the Bengals for several years. Palmer, a top draft pick and Heisman Trophy winner threw often to Chad Johnson and T.J. Houshmandzadeh, with Chris Henry and RB Chris Perry also capable receivers. Rudi Johnson handled the bulk of the rushing behind a line that featured All Pro Willie Anderson, as well as Levi Jones, Eric Steinbach, Rich Braham and Bobbie Williams. The defense didn't generate a lot of pass rush, with Justin Smith best of an average defensive line. The strength of this team was the secondary, where Deltha O'Neal and Tory James intercepted many passes. LB Odell Thurman didn't have a dominant career, but he was very good in this season, along with LBs Brian Simmons and Landon Johnson. Shayne Graham and Kyle Larson were both reliable, above average kickers, but the return game lacked game-breakers.
The Cleveland Browns struggled for most of the 2000s, but the 2002 and 2007 teams were respectable - I picked the 2007 team, coached by Romeo Crennel, that featured a short-lived but potent offense led by QB Derek Anderson, who had quality targets in Braylon Edwards, Joe Jurevicius and TE Kellen Winslow Jr. The running game was strong behind Jamal Lewis and helped make for a balanced attack. The offensive line featured rookie T Joe Thomas, as well as reliable blockers in Eric Steinbach, Hank Fraley and Kevin Shaffer. The defense wasn't spectacular, and generated minimal pass rush behind Kamerion Wimbley, Robarie Smith and an aging Willie McGinest. D'Qwell Jackson was the top tackler in the LB corps while Leigh Bodden and Sean Jones were the best of an average secondary. Josh Cribbs was explosive returning kicks, with both kick and punt return TDs in 2007. Phil Dawson and Dave Zastudil were both good kickers and helped give Cleveland a strong special teams. The Pittsburgh Steelers had a great decade and a wealth of teams to pick from - the 2005 and 2008 teams both won Super Bowls, but of those teams I preferred the 2008 team with a more seasoned Ben Roethlisberger and a top notch defense. The 2001 and 2004 teams didn't win titles, but went 13-3 and 15-1 respectively and deserved consideration, but in the end I preferred the '08 team. Mike Tomlin replaced Bill Cowher and led the team to a 12-4 record and Super Bowl title. The defense was ranked tops in the league behind a fierce pass rush led by LBs James Harrison and LaMarr Woodley. The DL had pluggers in Casey Hampton, Aaron Smith and Brett Keisel, while ILBs Larry Foote and James Farrior were both outstanding. Hard-hitting safety Troy Polamalu was the leader in the secondary, with support from Ike Taylor and Ryan Clark. The offense wasn't nearly as high-ranking as the defense, but still put up good numbers behind Roethlisberger throwing to targets Hines Ward, Santonio Holmes, Nate Washington and TE Heath Miller. Willie Parker and Mewelde Moore shared the running duties behind a line featuring Max Starks, Chris Kemoeatu and Justin Hartwig. Jeff Reed and Mitch Berger were adequate in their kicking duties, and the return game had no notable performers.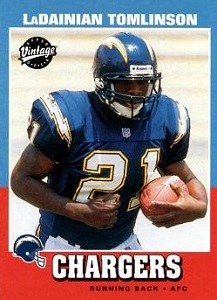 The Oakland Raiders had three straight seasons of 10 or more wins to start the decade, but lost the AFC title game at home in 2000, were victims of the ridiculous Tuck Rule in 2001, then were pummeled in the Super Bowl for the 2002 season. The team has not won more than eight games in a season since then. QB Rich Gannon was one of the best in the game at his position at this time, with a dynamic offense that included receivers Jerry Rice, Tim Brown and Jerry Porter, as well as TE Doug Jolley. Charlie Garner was a threat both rushing and receiving, while Tyrone Wheatley and Zack Crockett provided depth and tough running. The offensive line was led by Barrett Robbins and Lincoln Kennedy, while Barry Sims and Frank Middleton were also very good. DT Roderick Coleman was the best along the defensive line, but it was the linebacking unit that was a real strength with Eric Barton, Bill Romanowski and Napoleon Harris. The secondary also had top players in Charles Woodson, Tory James, Rod Woodson and Derrick Gibson. Terry Kirby and Phillip Buchanon were dangerous return men, and the kicking game was very strong behind Sebastian Janikowski and Shane Lechler. The Kansas City Chiefs weren't one of the great franchises in this decade, but the 2003 team was very strong on paper, posting a 13-3 mark and a high point differential with coach Dick Vermeil. QB Trent Green, who lost his job in St. Louis to Kurt Warner, was the starting QB and he posted big numbers passing to All Pro TE Tony Gonzalez and receivers Eddie Kennison, Johnnie Morton and Dante Hall. Priest Holmes was a monster running the ball, posting 27 touchdowns in this season. A strong offensive line where all starters played all 16 games was key - with Willie Roaf, Brian Waters, Casey Wiegmann, Will Shields and John Tate doing the job. The defense was not a strength, ranking near the bottom of the league. Linebackers Scott Fujita and Shawn Barber led the team in tackles, with Barber tying with DE Eric Hicks for the team lead in sacks. The pass rush was weak, and the defensive line had no standouts besides Hicks. The secondary had better talent, with Greg Wesley, Dexter McCleon, Jerome Woods and Eric Warfield providing many interceptions. Outstanding Dante Hall returned four kicks or punts for touchdowns in 2003, but the kicking game was mediocre with aging Morten Anderson and Jason Baker handling duties.
The Denver Broncos were consistently good throughout the decade, with the 2005 team that went 13-3 for Mike Shanahan the best single season team. QB Jake Plummer was often inconsistent, but played probably his best ball in 2005, minimizing mistakes. He was aided by a tandem rushing attack that featured Mike Anderson and Tatum Bell running behind a typical Shanahan line where all starters stayed healthy for 16 games - with Matt Lepsis, Ben Hamilton and Tom Nalen the best of the unit. WRs Rod Smith and Ashley Lelie posted big plays receiving while Jeb Putzier was the top TE. The defense had a strong secondary, with CB Champ Bailey among the best in the game at his position, and John Lynch, Dominique Foxworth, Nick Ferguson and Darrent Williams in support. LBs Ian Gold and Al Wilson were very solid, while the DL struggled with only Trevor Pryce standing out. The return game lacked major threats, but the kicking game was strong with Jason Elam and Todd Sauerbrun benefitting from the thin air in Denver. One of the more interesting stories of the decade was the 2006 Chargers, who went 14-2 before blowing a home playoff game to the Patriots, and then firing coach Marty Schottenheimer - the team has not reached this level since (although 2009 team did go 13-3). Young QB Philip Rivers had replaced Drew Brees as the team's starter, and he had arguably the best RB of the decade with LaDainian Tomlinson running and catching the ball for a total of 31 touchdowns. His receivers weren't bad either, with All Pro TE Antonio Gates the primary target, but WRs Eric Parker, Keenan McCardell and Vincent Jackson all putting up good numbers. The offensive line had all pros in Marcus McNeill and Nick Hardwick, while G Kris Dielman was just as good. The defense featured the pass rushing of OLBs Shawne Merriman and Shaun Phillips, while the defensive line included All Pro Jamal Williams and Luis Castillo. LB Donnie Edwards led the team in tackles, while the secondary lacked stars but had solid players in Quentin Jammer, Drayton Florence, Marlon McCree and Clinton Hart. Backup RB Michael Turner and Cromartie made good kick returners, while Nate Kaeding and Mike Scifres made an above average kicking team.
See the complete daily posts on the Action! PC message board